Music festivals pledge 50/50 gender equality
By Mark Savage
BBC Music reporter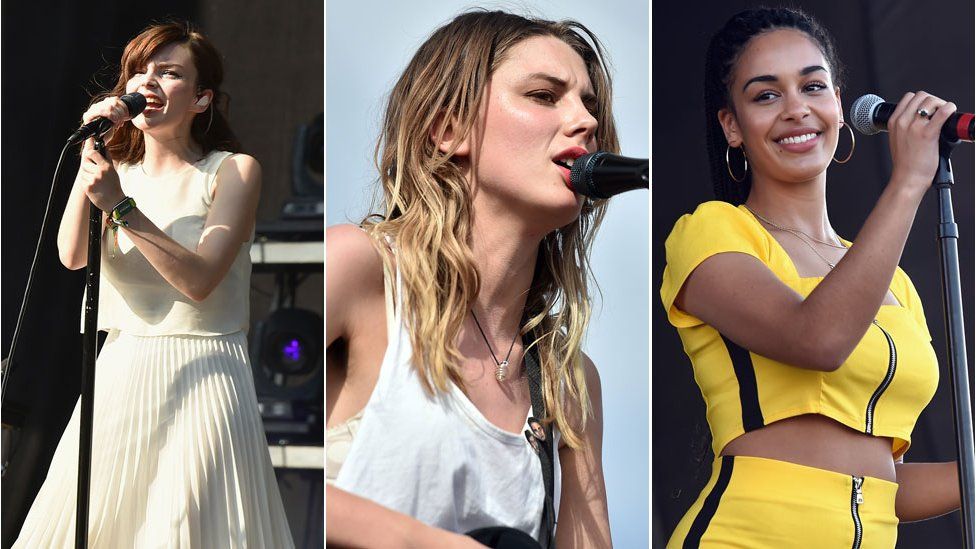 The days of male-dominated music festivals could be drawing to a close, after 45 events pledged to achieve a 50/50 gender balance by 2022.
Brighton's Great Escape, the Cheltenham Jazz Festival, Liverpool Sound City and the BBC Proms are among those who have signed up to the initiative.
It is supported by Garbage star Shirley Manson, who recently called the music industry's lack of equality "insane".
The commitment to gender equality was drawn up by Keychange and the PRS Foundation, with the aim of creating a "better, more inclusive music industry for present and future generations".
"Last year, on average, women made up 26% of the festival line-ups in the UK, so we're talking about doubling that in a five-year timeframe," said Vanessa Reed, CEO of the PRS Foundation.
"That's quite ambitious but it's achievable."
The pledge has been adopted by BBC Music Introducing, which hosts stages for new artists at festivals including Glastonbury and Reading & Leeds. However, those festivals have yet to sign the pledge on a wider scale.
The movement comes after an outcry over the lack of female performers at festivals across the UK.
The Wireless festival, in particular, came in for criticism when it announced its initial line-up, featuring just three women.
Lily Allen posted a doctored version of the event's poster, with all the male names erased. "The struggle is real," she noted. DJ Annie Mac responded, calling the situation "appalling".
Melvin Benn, MD of Festival Republic, which arranges the event, told the BBC that his bookers had tried to secure more female acts.
"18 female artists were approached to play Wireless Fest this year, only three of which were secured for our first announcement." he said.
"Certain artists were unable to commit due to touring schedules or other reasons. In an ideal world, all 18 would have confirmed and we would be having a different conversation."
So is it possible to achieve gender equality by 2022? Rapper Little Simz, who curates her own festival, Wonderland, thinks so.
"I believe its possible. It seems to be heading that way," she told BBC Two's Victoria Derbyshire programme.
"At my festival, it's 75% women. So if I'm able to do it at my level, then the big festivals are."
Melvin Benn was less sure about the idea of imposing a quota.
"Is that the right way to go about it - to say it's got to be 50/50? I don't know that it is," he said.
Instead, he has launched a project called ReBalance, which will provide 36 female artists with one week's studio recording time over the next three years.
The aim is to "create a bigger pool of female acts" so that festivals have a "greater choice" when it comes to booking their line-ups.
"So actually, I do support the principle of it [gender equality]. I've chosen a slightly different way to go about it, but with the same principal aim."
Reed said that Keychange would have succeeded "when it's not needed any more".
"I'm hoping that in five or 10 years from now, we'll have got to a point where we don't need to keep talking about this, and the stages better reflect the audiences they're serving."
Related Internet Links
The BBC is not responsible for the content of external sites.