Why success still smells sweet for Britney Spears
By Steven McIntosh
Entertainment reporter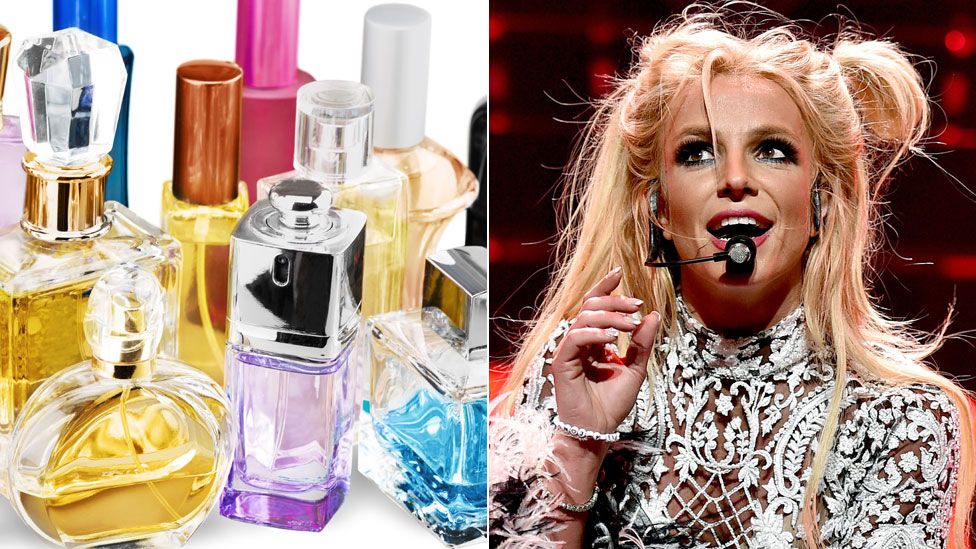 For Britney Spears, the opportunity to expand into the fragrance market was heaven-scent.
Think back to 2004. MSN Messenger, Janet Jackson's wardrobe malfunction, the end of Friends and the start of X Factor.
Britney was at the top of her game as a singer, having just released Toxic - the latest in a long line of utterly colossal pop bangers.
But this was also the year she expanded into perfumes, with the launch of her debut fragrance Curious.
Fast forward to 2018, and Britney's sweet-smelling scents have become so successful she's now released 23 in total, one of which (Fantasy In Bloom) has just been named fragrance of the year at the Hollywood Beauty Awards.
"When I was getting ready this evening, my sons were like: 'Mum, are you going to the Oscars?'" Britney explained during her acceptance speech.
"I said: 'Well, it's kind of like the Oscars, and I won the biggest award there.'
"They were jumping up and down, and I felt really proud - but they were just ready to get me out of the house."
Britney's fragrances have been raking in hundreds of millions of dollars over the last 14 years, despite her dwindling presence in the top 10. (It's estimated she makes around $50m [£36m] from her fragrances alone every year.)
"The Britney fragrances have three things going for them," says Jeetendr Sehdev, celebrity branding expert and author of the Kim Kardashian Principle.
"Firstly, they have a great scent. They're authentic, ultra-feminine, youthful fragrances, and that is savvy when it comes to marketing.
"Secondly, they have great packaging, which is in line with her overall brand and appeal. And thirdly, they target a specific market - teenage girls in particular who are drawn towards the more classically feminine types of scents."
Jo Fairley, co-founder of The Perfume Society, agrees that the liquid actually in the bottle is far more important than Britney's name being on the box.
"They smell more expensive than they are," she says of Britney's scents. "They have a kind of Californian brightness, lightness to them."
Celebrity fragrances: A brief history
Audrey Hepburn and Joan Crawford famously endorsed fragrances by Givenchy and Estee Lauder respectively, while Catherine Deneuve became the face of Chanel no 5 in the 1970s
Sophia Loren was one of the first to have a fragrance of her own - releasing Sophia by Coty in 1981
Elizabeth Taylor later released her own range of perfumes, and her 1991 White Diamonds scent went on to become the best-selling celebrity fragrance of all time
But Jennifer Lopez's Glow, released in 2002, was a turning point - inspiring hundreds of famous faces to get in on the act
The trend made its way to the UK, with British celebrities such as David Beckham, Alesha Dixon, Little Mix and Tulisa all releasing their own fragrances.
In 2016, celebrity fragrances made up 4% of the prestige fragrance market, with fashion brands like Boss or Armani making up 53% and around a third coming from couture brands like Chanel or Prada
Britney's line of fragrances were developed with Elizabeth Arden - the cosmetics, skin care and fragrance company - which may have been the key to making them go mainstream.
"Britney's association with Elizabeth Arden gave her more than credibility," Sehdev says. "It gave her the quality control process and bringing something to market that is actually a quality fragrance."
It may well have gained her more respect within the industry, but Fairley argues that the general public broadly wouldn't be aware of the link.
"To be honest, I don't think there's a single consumer out there that would know of that association. I think they're genuinely unaware of the parent company. But I think that matters not one jot."
Many fragrance fans may be unaware that the same factories produce scents for both celebrities and luxury fashion brands, Fairley says.
"These celebrity fragrances are made by the same people who make a vast majority of the perfumes that we wear, it's only companies like Chanel and Dior who have their own factories - everything else is generally made by these commercial perfume houses.
"They will work on everything from the high street brand that you buy right through to the designer brands. And the best perfumers are working on them."
It's telling that Britney's fragrances have succeeded where other celebrity scents have failed - a testament, perhaps, to Britney's level of involvement in their development.
"I think there's a bit of a problem if a celebrity thinks a fragrance is going to do well just by slapping their name on it," Sehdev tells BBC News.
"Britney is involved in the selection of the various different fragrances that go into her perfumes."
The attention to detail is likely to be the driving factor behind the biggest-selling celebrity scents of recent years.
"Elizabeth Taylor was one of the first celebrity fragrances, and I think she made way more out of that than she did out of films. White Diamonds is still on the market because it's a good smell," Fairley says.
"One Direction's fragrance was one of the biggest of that year, it knocked everything else into a cocked hat."
She adds: "A pop star's life can be quite short lived, so they want to capitalise on that. If I were a pop star and bringing out my own fragrance, I'd be keen to find something that stood up in its own right, without my name on it. Because that seems to be what ensures enduring success."
Sehdev says that this is likely to be precisely the reason that Britney has been embraced by the Hollywood Beauty Awards, which he says are "very well respected" within the industry.
"Celebrities today are entrepreneurs, they're looking at ways to monetise their fame. Stars that do that well are respected, and the Hollywood Beauty Awards are very much about achievement."
But the market for celebrity fragrances has been shrinking in recent years - with sales declining by 22% in 2016.
Fairley admits: "We're not seeing nearly as many celebrity launches as we used to, definitely."
"Perfume is subject to fashion. Hem lines go up, hem lines go down. Similarly, celebrity perfumes come into favour, and go out of favour.
"But no question, if you're someone who has got a successful fragrance, it's the gift that keeps on giving. Britney is a smart cookie."