Stormzy's producer Fraser T Smith shares his best stories from the studio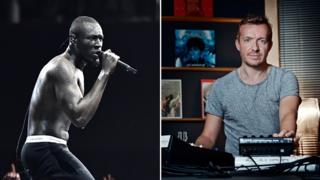 When you picture Stormzy in the studio, you probably don't imagine his chief collaborator to be a 47-year-old dad from rural Buckinghamshire.
But record producer Fraser T Smith is one of the star's closest confidants, helping him create Gang Signs & Prayer in almost complete secrecy last year.
It followed his work with acts like Kano, James Morrison and Adele.
"It sounds strange, but there are great similarities between what Stormzy does and what Adele does," says Smith.
"You couldn't think of two more different-sounding artists, but they come from the same place, in that they're huge characters and they're not afraid to put themselves completely on the line.
"You're backing them the whole way because you believe every word they say."
Last week, Smith was at the O2 arena when Gang Signs & Prayer beat Ed Sheeran's ÷ to win the Brit Award for best British album.
Stormzy paused to give Smith a massive hug on his way to the podium, where he thanked the producer ("my brother, I love you so much") in his speech.
The producer is still reeling.
"It's a week today and I don't think it's quite sunk in," he says. "It's taken a week for it not to sink in.
"I knew the album was good enough to win but it did feel like the underdog choice - so when it was called out it was literally one of the best moments of my life."
Smith developed a close bond with Stormzy over the 12 gruelling months it took to record Gang Signs And Prayer in 2016.
"In the making of the record, it was literally four people who had heard the album, which is really unusual," says Smith, who was born and raised in Marlow - a far cry from Stormzy's upbringing in Croydon.
"There were no people casually dropping in to hear it. No record companies, no anything. So when it reached the point where we did the final track listing and Stormzy and I came to play it to people, it was absolutely nerve-wracking.
"Luckily, the reactions were all incredible."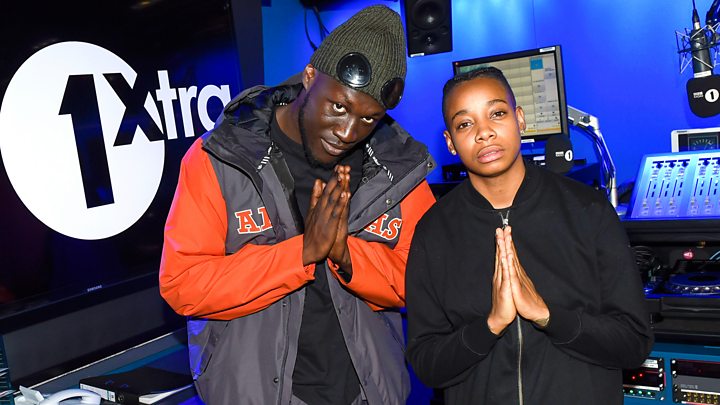 The pair have already started work on the follow-up, putting down some early ideas towards the end of 2017.
But when we speak on a snowy London morning, he's waiting for Craig David to arrive in his south London studio.
Most people thought Ed Sheeran was going to win best album at the Brits last week. Did you think the same?
I did! Ed was on the next table, and he was making crazy bets with us. He really thought Stormzy was going to get it, but I felt the global success of Ed's record would be recognised. So it was a bit like David and Goliath - not that you can call a six-foot-six man like Stormzy David!
It took a year to make the album - which is quite long by modern standards.
It is. It was split really into two six-month blocks because Stormzy had some shows in the middle and we took a little time apart.
In the studio, we had these huge whiteboards with all the music we'd done, and all the things we had left to do. One day, Stormzy said, "I'm not sure this track works... and I'm not sure this track works," and we literally wiped off about 50 per cent of the record. Then we set about building on the half we knew was working, and strengthening it and improving it.
He said in his acceptance speech at the Brits that he put everything into this record. And that was 110% true. He was completely spent at the end of it. He couldn't have done anything more. So, it's so wonderful when it's recognised.
The record is really diverse, with hard club tracks rubbing shoulders with gospel and R&B. Was that the idea from the start?
When we first met, Stormzy said he loved the work I'd done with Kano on Made In The Manor. That showed me that he wanted to make a personal record - because the driving force behind Made In The Manor was taking away the bravado and stripping back to the raw emotion of the artist.
The first week in the studio, we came up with Blinded By Your Grace Pt 1 and Cigarettes and Cush. We just knew from that week that we wanted to make the whole record together.
You've become the go-to producer for UK rap - but you have a really diverse CV. What makes you want to work with an artist?
I think it's the emotional factor. How far an artist is prepared to put themselves and their emotions on the line. People love Adele for the same reason they love Stormzy - because they're completely authentic.
What do you remember about recording Set Fire To The Rain with Adele?
Adele was looking for a rhythmic track. That's why she approached me in the first place - because she'd heard the stuff I'd done with hip-hop artists, but she knew I'd also co-written Broken Strings by James Morrison and Nelly Furtado.
So I got a drum loop going - I was actually thinking about early U2, Under A Blood Red Sky or Sunday Bloody Sunday - and I came up with the piano line. Adele came in and started singing these incredible melodies over the top, which were the basics of the verse into the pre-chorus.
Then, Adele's way of writing lyrics is very, very agonising because she puts herself back into the place of pain and emotion when she was splitting up with her boyfriend. She would disappear into my kitchen, smoke a few cigarettes, come out and say, "OK, I've got a few more lines, let's do it again".
The chorus is a scene from her life, is that right?
Yes. She'd just split up with her boyfriend and it was raining so hard she couldn't even light her cigarette. It just captured the hopelessness of it all.
But it was really on a knife-edge whether the song would ever get finished. I could tell it was so raw that she might not be able to bring herself to finish it.
I saw on Instagram that you had Nile Rodgers in the studio last week...
That was…. I mean, last week was one of the best weeks I've ever had in my life. Stormzy winning two Brits, and then suddenly Nile Rodgers is around and he wants to come into the studio with me and Craig David..?
I just was absolutely in awe of him. He carries his guitar on his back like it's a packed lunch, or something. He put it down on the sofa, so I picked it up and started playing. And I asked him, "How many guitars have you got?" expecting him to say 20 or something.
He said, "Well I've got a few, but this is the one." And I almost froze.
I said, "What do you mean the one?" And he said, "Well, I've had this since 1971. This is the guitar I've played on everything.'
"Le Freak?"
"Yeah."
"Yeah."
"Let's Dance... with Bowie?"
"Yeah! Everything!"
I could hardly play it after that. It literally blew my mind. It's the billion dollar guitar, he calls it.
When will we get to hear this song?
Craig's actually coming in today, so we'll get to hear it soon.
You've mostly worked with UK acts.. Why is that?
Nothing other than the fact that I love British music. I love London. I think it's an amazing melting pot of culture and music. That's what draws me to it.
One big US artist who stands out in your discography is Britney Spears. What was your experience of working with her?
That was amazing. We got a call one Wednesday to say Britney was loving a track I'd written six months earlier [the song was called Trouble For Me] with an artist in America; and could I come over the next day?
So me and my engineer went straight home to pack our bags; caught the flight, got off the plane in LA, and straight into a limousine. We walked into the studio and the first person we saw was this diminutive blonde girl who said, "Hi, I'm Britney. Are we ready to record?"
I went to get a very strong cup of coffee and we did the session. Then she said, "I'll be back tomorrow morning at 11 to hear it," so we worked through the night to make her vocals sound as good as they could be - which was great, because she gave us loads of takes. And, as you know, her sound is very much about vocal production, so we used a lot of tricks.
And how did she react?
I'd heard stories before that if she wasn't feeling a song, she'd say, "I need to go to the bathroom," then get in the car and go home. So there was quite a lot of pressure!
When she came in at 11, we both had matchsticks propping open our eyes and I played the song, not knowing how she was going to react. As it got to the chorus I took a very sly glance over my shoulder and she was dancing, which was just an amazing sign. When we got to the end and she said, "I absolutely love it".
So that was a great experience. Literally 48 hours, and we slept on the flight home.
What's a song you've recorded that you wish more people had heard?
There's a record called Icons by The Kooks, which was on the extended version [of Listen, their fourth album].
I started with a weird drum machine loop, which was actually a vocal sample of a computer saying "Kate Moss, Kate Moss". Then Luke [Pritchard] said, "Why don't we write a song about supermodels and icons, and how hard it is for them to get older?"
So we wrote the song about that, and it's got all the Radiohead Kid A influences that I absolutely love, and a very Bowie-esque vocal. So it's all my old influences worn on my sleeve, and Luke's sleeve. We had a great time writing that song but not many people heard it.
There's been a lot of discussion about gender equality in the music industry recently. How can we tackle the lack of female producers and engineers in the studio?
I think it will change. I've had two female engineers over the past 10 years, and those engineers - Beatriz Artola and Manon Grandjean - go out and talk to women and show that it's possible to be an engineer. The doors are open.
This is art: It shouldn't be any sort of boys club, or male-dominated atmosphere.
When there are more strong female artists coming through, that really helps, too. You know, Dua Lipa and Raye and Mabel and Anne-Marie. They're very strong voices and they're very strong people and I think that'll help break down some of the barriers.
Follow us on Facebook, on Twitter @BBCNewsEnts, or on Instagram at bbcnewsents. If you have a story suggestion email entertainment.news@bbc.co.uk.