Dior's Paris show channels 1960s feminist spirit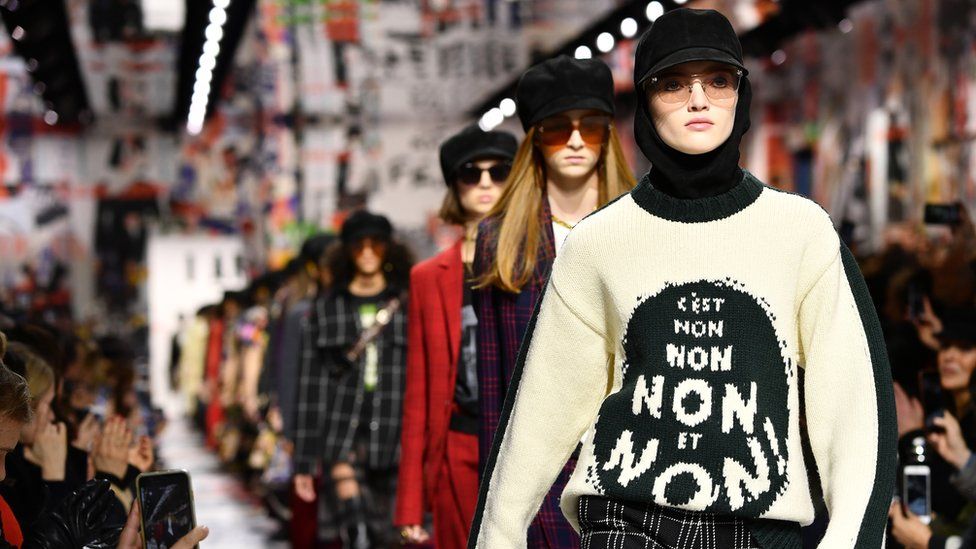 Dior filled the catwalk with political statements inspired by 1960s youth culture in its Paris Fashion Week show.
Maria Grazia Chiuri, Dior's first female creative director, drew parallels with today, saying "changing the world also means changing clothes".
She also put a spotlight on feminism. British model and activist Ruth Bell led a line of models with a slogan jumper reading "Non, non, non et non!"
Slogans like "Women's Rights Are Human Rights" were written on the walls.
This is the Italian designer's fourth collection at Dior - her first is remembered for the introduction of the cult "We should all be feminists" slogan T-shirts.
The latest show, staged in the Musee Rodin garden, also featured wallpaper using a 1968 Vogue magazine cover, which Chiuri found in the Dior archives.
It showed a "fun" demonstration by female activists outside Dior's London boutique.
The British Society for the Protection of Mini Skirts had picketed the shop two years earlier after Dior failed to include any mini skirts in its collection.
The protest prompted then designer Marc Bolan to create the younger and fresher Miss Dior line - including mini skirts.
"I thought it was so interesting to see fashion listening to women," Chiuri said. "And there is something about now that is similar to 1968. This is another moment when everything is changing."
The designer said she was also inspired by the "Youthquake" that US Vogue editor Diana Vreeland wrote about in the late 1960s, and how it mirrored the Me Too and Times Up movements today.
"She wrote that there is a new generation who are changing our view about sexuality about women and about men. In some ways [what is happening] now is another moment like this," Chiuri told AFP.
Chiuri's Autumn/Winter 2018 collection showcased the return of gavroche caps, thigh-high boots, clogs and patchwork coats.
Actresses Cara Delevingne and Isabelle Huppert looked on from the front row, as did 1960s icon Bianca Jagger.