Finnish pop star Alma: 'People keep throwing bras at me'
By Mark Savage
BBC Music reporter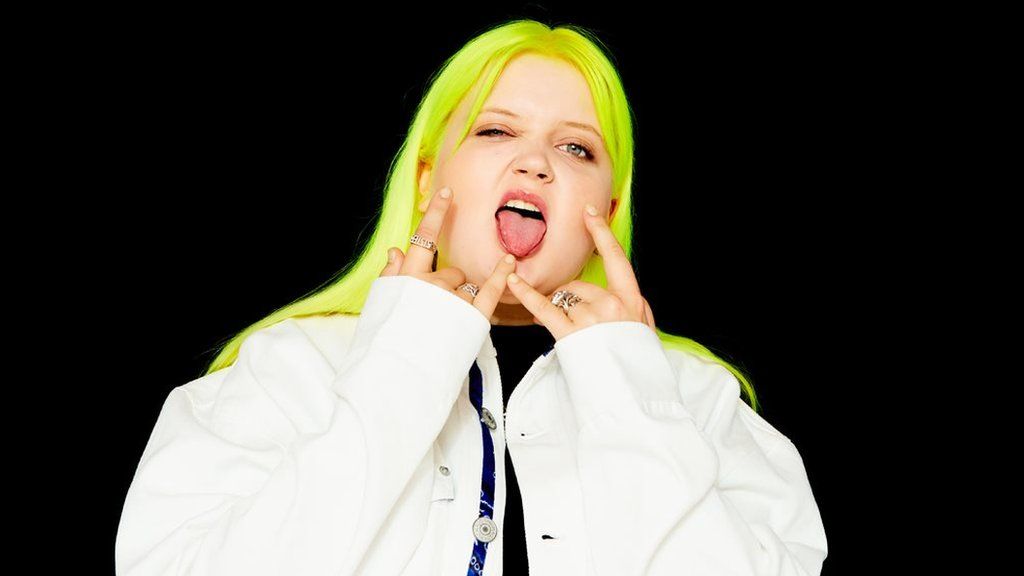 Does Alma matter? If you like great pop music, the answer's a resounding, fluorescent "yes".
The Finnish singer seemingly came out of nowhere last year with the club anthem Chasing Highs - which clocked up more than 100 million streams, and earned her a place on the BBC's Sound of 2018.
She's also caught the attention of pop's biggest female voices.
Charli XCX is helping produce her debut album, while Dua Lipa invited her to join an all-star Live Lounge performance last week, alongside Charli, Zara Larsson and MØ.
"I felt like I was in the Spice Girls," laughs Alma.
"Those girls have so many great stories for me, because I'm a newcomer.
"They're the best teachers for me to conquer the world. Maybe... Some day."
The next step in her quest for global domination arrives on Friday with the release of a mixtape, Heavy Rules, and the new single Dance For Me.
Before she takes over the planet, here's everything you need to know about the 21-year-old singer.
Fans keep giving her their bras
For reasons that Alma can't quite understand, British fans have started throwing underwear on stage when she plays live.
"Is that a UK thing? Like a rock and roll thing?" she asks.
Assured that it's not, she seems bewildered.
"Well, there's a couple of fans who do that in the UK. They always throw bras on our stage."
Sadly, the singer hasn't been impressed with the sartorial standard of the garments so far.
"They've mainly been cheap ones. We want some designer ones. Gucci."
She almost won Finnish Idol
As a teenager, Alma made the final of Finland's version of The X Factor - but it wasn't the best experience.
"It was 50/50, you know?" says the singer. "People didn't like me there because I was always trying to do things my own way.
Still, the singer made one important ally. Rapper Sini Sabotage was one of the judges, and invited Alma to tour with her after the show ended in 2013.
"We were touring Finland and doing teenage stuff and it was very much fun. But after three years, I was like, 'OK, now I need to focus on my own thing' and I started writing more."
Would she recommend the talent show route to other aspiring singers?
"I'm not the biggest fan of those programmes," she says. "They're not real. But it helped me to get to know Finnish producers and stuff like this."
She grew up believing Finns couldn't be pop stars
"I've always been making music," says Alma, "but I've never, like, gone, 'I want to be a star'.
"Writing and singing just made me feel better."
In fact, before auditioning for Idol, she'd never considered that a career in pop was feasible.
"In Finland you can't dream about those things because it never happens to anyone," she says. "We don't have any big stars in Finland so it seems unreachable.
"So now I feel very grateful every day - just overwhelmed. How did I get here?"
Her twin sister inspired her punk style
"These are vintage, cheap clothes," says Alma, indicating her black t-shirt and leather jacket. "I don't know how to buy expensive stuff."
But it's her neon yellow hair that really makes her stand out. The singer says it was her twin sister Anna (who sings in her band) that convinced her to go day-glo.
"She did it first," she laughs. "I was like, 'You can't do it, it's going to be horrible!'
"And then she walks out from the bathroom and I'm like, 'Damn! I need to do it also'. I thought it was so cool."
The unconventional colouring also inspired a song, Dye My Hair, in which she tells her partner, "I will dye my hair blonde for you".
"Someone said, 'Hey, we should write a love song'. And I was like [sharp intake of breath] 'scary'.
"I didn't want to write any cheesy lyrics - but we were listening to that Bruno Mars song, 'I would catch a grenade for you,' and I started singing, 'I would dye my hair blonde for you'.
It's that idea that, when you're in love and you go crazy, and you'd do anything for someone. But dyeing my hair blonde would be a disaster."
Elton John championed her on his radio show
"I think a lot of pop music should be called poop music," said Sir Elton after playing Alma's Chasing Highs on his Beats 1 show.
"But that is a great pop record, and I love it."
The star's endorsement marked a major turning point for the singer.
"That's the point where my mum and dad said, 'OK, now we believe in you'," she says.
"If a legend like Elton John says something like that, it's a big thing."
"She's amazing," says Alma of the British singer - who co-wrote her new single, Dance For Me, and directed the video for Phases.
"It's hard to find people in this industry who you can really trust - but we can talk about anything. It's like a true friendship."
Charli also gave the singer a piece of sisterly advice when Chasing Highs started to take off.
"She said, 'What you're doing with your sister is the most important thing'," Alma recalls. "'Even now you're going very fast, and very high up there, and you're going to see those stars - always keep your family close'.
"At that time, Chasing Highs was blowing up and I was getting invited to all these parties - so I think it was good advice for me to remember.
"You get so busy, you could easily go months without talking to your family and friends and, for me, that's not healthy."
Her new single was recorded in an Air B&B
Dance For Me, which is a duet with Lean On singer MØ, was written with Charli XCX and Noonie Bao "in an over-the-top Air B&B in LA".
"We were planning to have a big house party at the same time as we were writing the track," she says, "so we were all definitely in a party mood".
"As soon as it was finished I knew MØ would be an amazing collaborator, we texted her and she was hyped about the idea."
She's got that Hel-sinking feeling
Despite recording her new single in LA, Alma's insisting that the rest of her album will be made at home in Helsinki.
"That was a big thing for me," she says. "I said to my managers, 'I'm going to go home', and I wrote for two weeks in my garage, where I have a studio and where I started everything.
"I don't want the whole album to be, 'I'm in a plane and I'm at a cool party'. I want it to be about my friends, what I do in Finland, my local bars and memories. Who I love, who I'm angry with and why I'm sad.
"All the stories need to be about me and my culture," she adds. "Because it's a weird culture."
Alma's Heavy Rules mixtape is out now.
Related Internet Links
The BBC is not responsible for the content of external sites.