Band who became The Stone Roses get Record Store Day release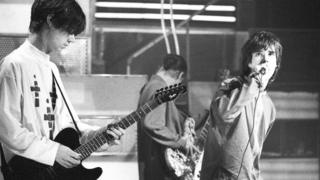 Before The Stone Roses came The Waterfront - the band where John Squire developed a guitar sound that would define a generation of indie bands.
They only existed for a year, but their two-track demo cassette has become a touchstone for Roses fans.
Now, 35 years after it was recorded, the demo is getting an official release for Record Store Day.
It will be available on 12-inch vinyl, with proceeds going to The Christie, the largest cancer centre in Europe.
The Waterfront were formed in late 1982 by future Stone Roses stars Andy Couzens, Squire and Mani, alongside David "Kaiser" Carty (vocals) and Chris Goodwin (bass).
They never played live, mainly because Squire was working as an animator on The Wind in the Willows. But they found time to record two songs, Normandy (On A Beach) and Where The Wind Blows, in 1983.
Normandy, in particular, presages the Roses' jangly guitar sound, with Squire's sinuous riffs swirling around Kaiser's romantic lyrics.
The song was inspired by a trip to France where, according to Mani, "everyone around our way all chipped [took] the train and ferry and went to live in Port Grimaud, just outside St Tropez, for the summer".
The tape was distributed to friends and venues around Manchester, and Couzens tried to convince future Stone Roses singer Ian Brown to join the band.
"John and I had an idea of having Ian and Kaiser at the front trying to do a counterpoint with one another," he told the band's biographer, Simon Pence.
"That's what we were trying to push, this question-and-answer thing with these two lads at the front singing sweet pop music."
Brown eventually joined the band "for a couple of weeks", but the band split up soon after.
Couzens went on to form The Stone Roses with Squire and Mani, though he eventually left in a dispute over royalties.
Carty joined the army, while Goodwin played with the Inspiral Carpets and Couzens' post-Roses band, The High.
New mixes
The Waterfront's songs have circulated on bootlegs ever since The Stone Roses' breakthrough in 1989.
They are scrappy and lo-fi, with the rhythm section suffering a few timing issues, while the vocals lack confidence. But one can certainly hear the musicians' potential.
For their first official release, the songs have been remastered from the original studio recording.
"It was a bit of a shock to be asked if I minded the songs being released after all this time," said Carty in a statement.
"When I found out we don't get anything and the money goes to The Christie cancer charity, I was over the moon.
"Having lost both my parents and numerous friends to cancer, it was only right we said, 'Yes, go ahead.'"
Record Store Day, an annual event celebrating independent record stores, takes place on 21 April.
The full list of releases and exclusives will be unveiled on 6 March.
Follow us on Facebook, on Twitter @BBCNewsEnts, or on Instagram at bbcnewsents. If you have a story suggestion email entertainment.news@bbc.co.uk.