Artist quits Tate role and hits out at 'victim-shaming' remarks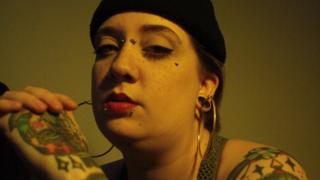 An artist-in-residence at Tate has resigned, accusing the art institution of failing survivors of sexual abuse.
Liv Wynter was one of four artists-in-residence for the schools workshops run by Tate's London galleries for 2017-18.
She said she felt "disrespected" by comments Tate director Maria Balshaw made about handling sexual harassment. Critics felt Balshaw was blaming women.
Balshaw has apologised, saying it was "absolutely not my intention to say that women are in any way to blame".
Wynter is an artist and activist and describes herself as a survivor of domestic violence.
She took issue with remarks by Balshaw in an interview with The Times last month, in which the galleries' director said she hadn't personally experienced sexual harassment.
"Then, I wouldn't," she added. "I was raised to be a confident women who, when I encountered harassment, would say, 'Please don't'... or something rather more direct."
Referring to her time as a waitress in the 1980s, she said: "Then, when men had got a bit drunk, they thought it entirely appropriate to put their hand up your skirt." Her response was to tip a tray of drinks over them.
In an open letter, Wynter said she could no longer make artwork about abuse and survival for "someone who considers the abuse I suffered to be my fault".
Balshaw's comments were "a huge slap in the face", she wrote.
"I cannot describe to you the personal shame I feel as a survivor of domestic violence, to work for someone who could think so little of me whilst simultaneously profiting off of my 'survivorness' and the work I dare to make about it."
After the Times article was published, campaign group We Are Not Surprised told her to "blame the perpetrator, not the victim".
In reply to one of the group's Instgram messages, Balshaw said she was "sorry if this has been misunderstood".
She added: "To be clear, it is the perpetrators who are responsible for their behaviour and not the women who are subjected to it."
A Tate statement said: "She also apologised during an open discussion with staff and restated her commitment to inclusivity and diversity, which staff support."
'Truly committed' to vision
In a further statement, Balshaw said: "Throughout my career I have been dedicated to addressing issues of gender, race and equality and I apologise if my recent comments have offended anyone.
"When I became director of Tate, I set out my vision to make this the most culturally inclusive museum organisation in the world, and I am truly committed to that vision."
Wynter said her art had more power outside the Tate's walls, and that the institution must do more to support grassroots activist artists and movements that are "not packageable or profitable" such as IMKAAN and Sisters Uncut.
She also said the art institution had failed to foster diversity, with 13% of staff being BAME and every director being white.
Follow us on Facebook, on Twitter @BBCNewsEnts, or on Instagram at bbcnewsents. If you have a story suggestion email entertainment.news@bbc.co.uk.