Why is Netflix's Queer Eye connecting so much with viewers?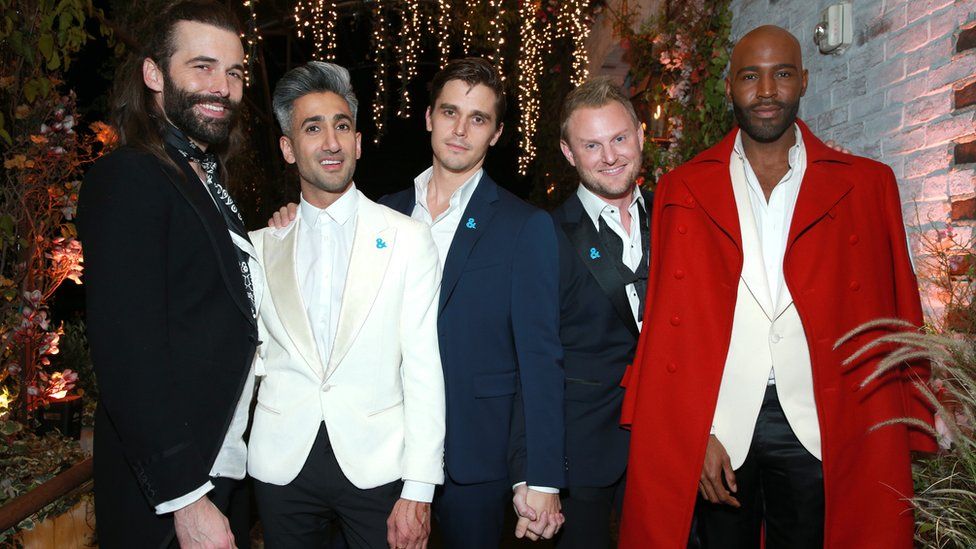 Reboots generally make people groan.
The entertainment landscape is littered with them - from Jumanji and Ocean's Eight on the big screen to Will & Grace and Roseanne on the small.
Often, they're criticised as a lazy way for TV and film companies to cash in on an idea which they know already has an existing audience, regardless of how it might damage the reputation and integrity of the original.
But every so often, there's an exception that proves the rule.
The original Queer Eye For The Straight Guy launched in 2003, and saw five gay men give a straight man a makeover. And not just physically - they would also offer advice about how they might change their attitude or general demeanour.
It was a ratings success, and ran until 2007. But Netflix's new iteration of the show has been going down a storm with critics and on social media - which is unusual for a reboot, and especially for one which has an arguably dated format.
"I think it's what people really need right now," Scott Bryan, BuzzFeed's TV editor, tells BBC News.
"There's not much else on TV that's so positive. You do have Bake Off, in a competitive format, but this show is very much about guys helping each other.
"It's unusual to see a man opening up, crying on camera, and other guys helping him go through a difficult situation. It's very supportive and you don't see that often on TV."
For the latest incarnation of Queer Eye, producers have employed a whole new "Fab Five", who each have their own specialist areas - culture, fashion, grooming, food and design.
The basic format of the show remains the same, but producers have moved it from New York to America's Deep South in an attempt to reach out to more conservative men, who may not necessarily have had much contact with gay people in the past.
The BBC is not responsible for the content of external sites.
"It's a makeover show, but it's unlike any other makeover show I've ever seen," Bryan says.
"With this, they spend equal, if not more, time working on the struggles of that person, it's as much about their emotional wellbeing as the physical space they live in. It makes viewers think very much about themselves, their own lives, what they need.
"For example, when I watched one episode, I went to go and buy stuff for my flat because for so long I felt I'd been neglecting buying stuff for myself. And the central theme of the episode had been about how you can look after yourself as well as others."
Queer Eye 2018: What the critics say
"Queer Eye debuted to little fanfare, and it seemed as if the reboot was destined to drift into the endless Netflix abyss of unwatched shows. But as word of mouth began to spread, it became clear that the streaming giant had something special on its hands." - Digital Spy
"In spite of my misgivings, I'm glad I kept watching Queer Eye, in part because any attempt at masculine self-reflection is worthwhile right now, even if it's packaged inside a show designed to create perfect endings." - Vulture
"Queer Eye is definitely the best TV show to premiere so far this year and one of the most important TV shows for a long, long time. What it is really about is masculinity and the problems it causes - and it seems to me there is no more important subject on our planet right now." - The Guardian
People were sceptical about the Queer Eye reboot. Cast members of the original show gave it their blessing and even filmed some new footage, but Carson Kressley said the new episodes wouldn't quite be the same.
"There's never a way to recreate that same magic, so it'll be a different kind of magic," he said last year when the new series was first announced.
"It was a great time for us, because people were like, 'Let's see what the gays are about', so it was kind of voyeuristic and now I hope we're a little more advanced."
It's certainly true that society has progressed on the gay rights front since the original series came to an end.
The BBC is not responsible for the content of external sites. YouTube content may contain adverts.
President Obama repealed Don't Ask Don't Tell in the US in 2011 - a policy which prevented gay people from serving in the military - while, in the UK, gay marriage was legalised by the coalition government in 2014.
But, as several viewers have pointed out - there's still a long way to go with the perception of LGBT people in the public eye, and there's a risk that bringing the show back could actively set the gay community back - reinforcing camp and flamboyant stereotypes.
"My instinct is the new queer eye is regressive - it was nice in the early 00s but ultimately the concept is still 'gays know fashion and live healthy lives,'" wrote Christopher Evans on Twitter.
"As a gay guy I find Queer Eye to be tantamount to Black Face. 'Oh, you're gay? You must know all about fancy foods and matching your belt with your shoes.' Can't believe this is on in 2018. Thought the fairy godmother gay best friend trope was outdated - guess not," added Nads.
But, Bryan tells the BBC: "There's no right or wrong way to act if you happen to be gay, so I don't accept any accusation that the guys in Queer Eye are too camp or stereotypical. You live life the way you want."
He also pushes back against accusations on social media that the premise of the show itself is problematic - namely that a person must change their physical appearance or elements of their personality to make either themselves or someone else happy.
"They don't try to change a person too much - it's more about finding their positive qualities and enhancing them," Bryan says.
"The message of the whole show is improving what you have, not changing who you are. That's what makes it stand out."
The current season is relatively short - eight episodes - and a second hasn't yet been officially confirmed (we checked in with Netflix on Thursday and this was still the case).
But if critical and fan reaction is anything to go by, it's difficult to imagine this is the last we've seen of Queer Eye's Fab Five.