Craig Mack: Rapper and P Diddy protege dies aged 47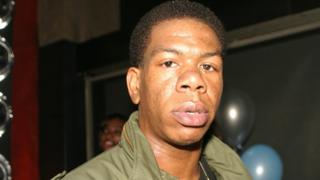 Rapper Craig Mack has died at his home in South Carolina, at the age of 47.
The hip-hop star rose to fame in 1994 with the hit single Flava In Ya Ear, and was the first artist to release an album on P Diddy's Bad Boy Records.
After splitting with Diddy, he released a second album, Operation: Get Down, but eventually left music and devoted his life to religion.
LL Cool J, Funkmaster Flex and DJ Scratch were among those paying tribute to the star.
"I just got a disturbing phone call. I cannot believe this dude is gone," said Scratch on Instagram.
"He just reached out a couple of weeks ago for me to speak on his documentary about his life.
"Craig was my roadie on tour. He would set up & break down my turntables every night... Rest In Peace Lil Bro."
"Rest in power Craig," tweeted LL Cool J. "It was a pleasure to know you & rock with you. You stepped away from the game & did it your way. I always respected that."
According to the New York Daily News, Mack died of heart failure.
Richard Harvey, the Colleton County coroner, said the death was "natural" and did not otherwise give the cause.
Grammy nominee
Hailing from Brentwood, Long Island, he cut his first single while still a teenager, under the name MC EZ.
After it failed to make an impact, he worked as an assistant to local hip-hop heroes EPMD, acting as a roadie for DJ Scratch and doing various odd jobs.
Then he bumped into Sean Combs, then known as Puff Daddy, outside the New York nightclub Mecca, and took the opportunity to rap for him.
Suitably impressed, Combs put him on a remix of Mary J Blige's You Don't Have To Worry; and subsequently offered him a recording contract.
Bad Boy Records released Mack's laid-back debut album, Project: Funk da World, in 1994.
It was propelled into the charts by the success of Flava In Ya Ear - especially the remix, which featured verses from Notorious BIG, LL Cool J and a then-unknown Busta Rhymes.
The single was certified platinum and nominated for a Grammy the following year, while the follow-up single, Get Down, went gold.
However, Mack soon parted ways with Bad Boy Records - allegedly because of tense relations with Combs' fellow protege Notorious BIG - and his subsequent releases failed break the top 40.
After his second album, he largely retreated from the public eye and in 2012 was filmed at a church service denouncing the "wickedness" of his former life.
Fervently religious, he became a follower of in South Carolina's Overcomer Ministry - whose leader, Ralph G Stair, was arrested on several charges last year, including criminal sexual conduct.
Mack returned to music last year, releasing the 18-track Mack World Sessions album; while EPMD's Erick Sermon said the rapper had been working on new material at the time of his death.
"I'm devastated over the news of Craig Mack," he wrote on Twitter. "We just finishing up his new album... Rest in Power Craig."
"God bless my friend," added Alvin Toney, an executive producer on Project: Funk Da World.
Toney told the New York Daily News he had seen Mack in South Carolina last week.
"He was prepared for whatever comes, to go home to the Lord," he said. "He was prepared to do that. He wasn't scared. He was ready."
Follow us on Facebook, on Twitter @BBCNewsEnts, or on Instagram at bbcnewsents. If you have a story suggestion email entertainment.news@bbc.co.uk.