How The Greatest Showman defied the critics to become an enduring smash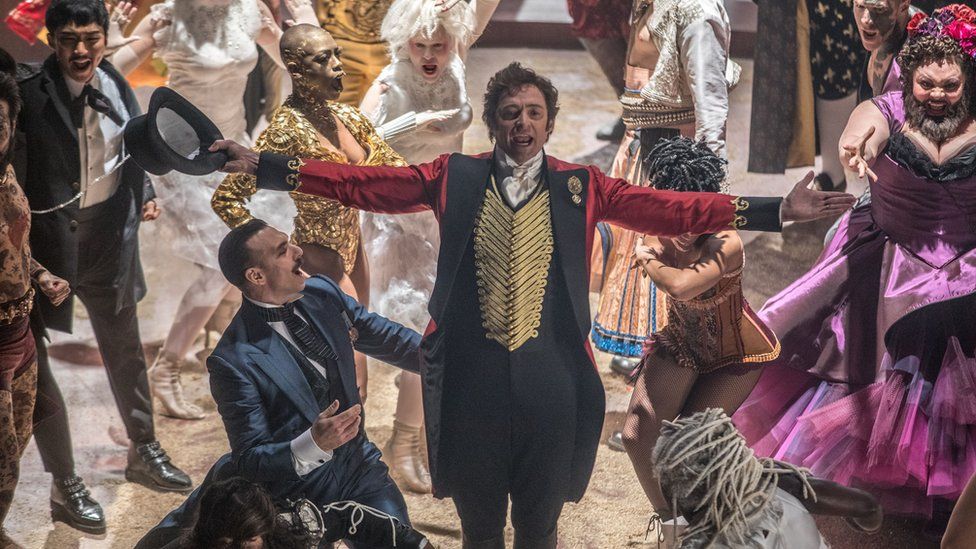 Being panned by some critics hasn't stopped Hugh Jackman's infectious movie musical The Greatest Showman from becoming the most enduring film hit for a decade.
Last weekend, The Greatest Showman posted a huge 26% upturn in its takings in the UK and Ireland compared with the previous weekend.
That's in its 11th week of release, taking its total to £37.3m - and giving it a longevity that's virtually unheard of in the world of here today, gone tomorrow popcorn fodder.
What makes it more surprising is that the musical extravaganza was met with mediocre reviews when it was released just before Christmas.
Its opening weekend saw the film take £4.75m in the UK, putting it in a respectable third spot behind Star Wars: The Last Jedi and Jumanji: Welcome to the Jungle.
But over the course of three months, Jackman & co have sung and danced their way into our hearts - and our wallets.
It's now in second position in the UK box office chart - a "remarkable" performance, according to Tom Grater at movie trade publication Screen International.
"Normally a film is expected to see the numbers of cinemagoers drop off by as much as 50% after its opening weekend," says Grater.
But The Greatest Showman only fell by 7% in week two and hasn't suffered the usual weekly major drop-offs. "It has even had multiple upticks," Grater says. "That basically never happens."
"Last weekend, it went up by a massive 26% - which is huge. No film since Avatar [in 2009] has been posting these kinds of numbers beyond week nine - and Avatar was a massive draw because everyone wanted to see the new 3D technology.
"It's just been incredibly consistent over its 11-week run."
How The Greatest Showman compares with last year's biggest film hits
UK & Ireland box office. Source: BFI/Comscore
Another surprising fact is how widely the film is still showing.
"Of the 766 cinemas in the UK, The Greatest Showman was still being shown in 579 as of last Friday. That's enormous." says Grater.
For comparison, Black Panther - which was released just a month ago - is playing at 594 sites.
"It's cinema programmers reacting to what people want - they put films on that run and run."
So did the film critics get it wrong?
Anna Smith is the president of the Critics' Circle Film Section. "I thought it was an efficient mainstream musical," she says.
But the film "whitewashes some of the darker aspects" of the personality of circus promoter PT Barnum, played by Jackman, she explains. "That is the problem I had with it - and perhaps why some of the critics weren't so keen on it.
'Nice, comfortable viewing'
"Obviously Hugh Jackman is a big draw - so it didn't particularly surprise me it's done well. What's surprising is just HOW well its done."
Smith puts the success down to word of mouth recommendations and people making multiple trips to the cinema to see it.
"The repeat business is key," she says. "People want to go along and take their family and friends to see it and sing along.
"It's the familiarity of the songs. And it's nice, comfortable viewing."
Grater agrees: "It proves word of mouth can have results, compared to huge marketing budgets.
"It's almost unprecedented for a film to have made this amount of money after such a soft launch."
The sing-a-long sessions have become events in their own right and have helped its continued success.
Grater says: "Cinemas have done a good job of promoting the sing-a-longs - it's the sort of thing you can imagine working equally well as a girls' night out, or for teenagers or families to go to. The appeal is huge."
How The Greatest Showman compares with other hits of the last 20 years
UK & Ireland box office. Source: BFI/BBC research
The popularity of the soundtrack has also undeniably fed the snowballing interest.
The big number, This is Me, may have been passed over for an Oscar last week, but The Greatest Showman album has spent nine weeks at the top of the UK's Official Albums Chart.
It now matches Ed Sheeran's Divide as having the second longest unbroken run at number one for the last 20 years - behind only Adele's album 21.
"Subtlety be damned - these are refrains configured to flatten everything within a 50-mile radius; you can almost feel the shock waves from the massed voices," he wrote.
"It's music designed to take you from ennui to euphoria in the fastest possible time, with the least possible complication. And there will always be a market for that.
Anna Smith agrees that the film is "a slick, well-produced package of pure escapism".
But the apparent disconnect between what critics make of a movie and what hits the right buttons for the film-going public is not concerning her.
"Its rating on Rotten Tomatoes is 55 - which is by no means bad," Smith says.
"It's simply that, if you're paid to watch a film and think about all of its flaws - quite rightly, the critics will point them out.
"And it's not the job of awards ceremonies like the Oscars to necessarily reward films that are commercially very successful. It's an award in its own right to do really well."
As for the success of The Greatest Showman, is there an end in sight?
"I've been predicting it to tail off for weeks," admits Grater. "Last week's massive surge was possibly due to people going back to the cinema after they couldn't make it out in the snow.
"Mother's Day may also have had an effect, so I would definitely be surprised if we saw any more upticks."
But as Jackman's character in the film says: "No one ever made a difference by being like everyone else."