Halsey: Singer speaks about tour miscarriage trauma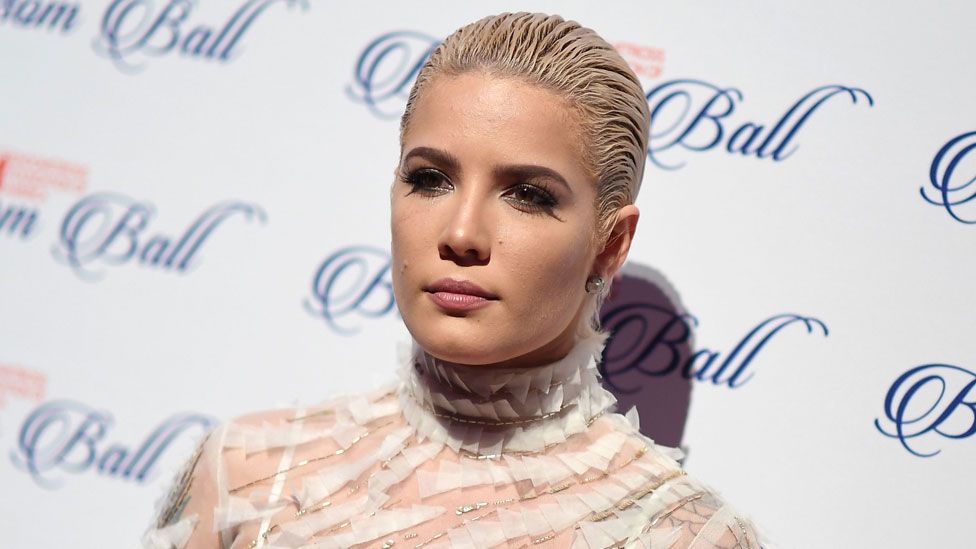 US singer Halsey has spoken about the moment she realised she was having a miscarriage during a concert.
She was talking on a TV show in a segment about endometriosis, a condition she revealed she has in 2016.
"I was on tour, and I found out I was pregnant," Halsey told The Doctors.
"Before I could really figure out what that meant to me and what that meant for my future... the next thing I knew I was on stage miscarrying in the middle of my concert."
An estimated 1.5 million women in the UK live with endometriosis - where cells like those that line the womb develop in other parts of the body. It can cause painful and heavy periods, as well as infertility, fatigue and bowel and bladder problems.
Halsey continued: "The sensation of looking a couple hundred teenagers in the face while you're bleeding through your clothes and still having to do the show, and realising in that moment... I never want to make that choice ever again of doing what I love or not being able to because of this disease.
"So I put my foot down and got really aggressive about seeking treatment and I had surgery about a year ago and I feel a lot better."
During the interview, Halsey - real name Ashley Nicolette Frangipane - also revealed she plans to freeze her eggs so she can have children in the future.
"When I tell people that, they're like, 'You're 23, why do you need to do that? Why do you need to freeze your eggs?'" she said.
"Doing an ovarian reserve is important to me because I'm fortunate enough to have that as an option, but I need to be aggressive about protecting my fertility, about protecting myself."
She also discussed the "bittersweet" feeling when she was diagnosed with endometriosis - which she described in January 2016 as "excruciatingly painful".
She told the CBS TV show: "My tour manager had to take me to a hospital. And the whole time I was there, no-one knew what to tell me. Dehydration, stress, anxiety.
"And I was saying, 'What about my pain?' A lot of the time they can make you think it's in your head."
Speaking about finally getting the diagnosis, she continued: "It was the relief of knowing that I wasn't making it up, and I wasn't being sensitive, and it wasn't all in my head, but it also kind of sucked to know that I was going to be living with this forever.
"The thing with endometriosis is that it comes down to that doctors can tend to minimise the female experience when it comes to dealing with it," she added.
"My whole life, my mother had always told me, 'Women in our family just have really bad periods.' It was just something she thought she was cursed to deal with and I was cursed to deal with, and that was just a part of my life."
Halsey's debut album Badlands reached number nine in the UK in 2015, while her most recent single Him & I - a collaboration with G-Eazy - peaked at number 22 earlier this year.