Cynthia Nixon and 10 other celebrities who entered politics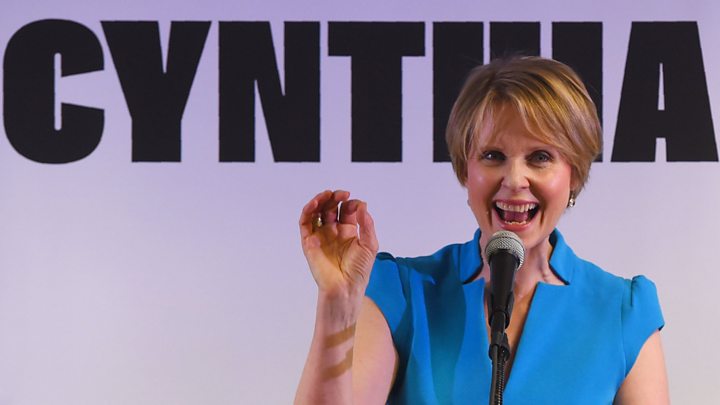 Sex and the City actress Cynthia Nixon announced on Monday she will run for governor of New York, challenging incumbent Andrew Cuomo for the Democratic nomination.
It follows the announcement last month that Clueless actress Stacey Dash is running for congress in California on a Republican ticket.
Plenty of famous faces have campaigned for candidates in the past - but why do so many celebrities decide to enter politics themselves?
"The facts show that people like Ronald Reagan and Donald Trump have had great success in politics," says Dr Sharon Coen, senior lecturer in media psychology at the University of Salford.
"If they are already in the public eye, they are already present on people's radar - we feel like we're friends with them, or a version of them.
"This increases the feelings of likeability, familiarity and trust - which are all key factors that are determinant in the success of a political candidate."
In addition, Dr Coen says the backgrounds of many actors and celebrities in performance make them particularly suited to the political sphere.
"These individuals are trained to communicate effectively with audiences. And research shows non-verbal skills are just as important, when it comes to voters, as what people actually say."
Another key factor is already being in the limelight. "Politicians frequently say they feel like they are under siege by the media," Dr Coen explains.
"This means normal people who may have the calling to go into politics, who actually care about society, and who want to make a change are discouraged by this.
"What stops them is the toll that they - and the people close to them - would have to pay. Celebrities already know how to deal with this and have developed strategies to help them cope. I sincerely believe politicians should have training in this area too."
Many celebrities who don't necessarily become politicians themselves are often keen to make their political beliefs known, sometimes by actively campaigning for a particular candidate.
Katy Perry and Beyonce were among those to openly back Hillary Clinton during the US presidential election of 2016.
But Matteo Bergamini, from the political advocacy Shout Out UK, argues that relying on celebrities to make politics more "attractive" to young people is a "tired trope".
Writing for the Huffington Post, he claims it "perpetuates the myth that young people are simply not interested enough in their own futures to get involved unless someone wraps it up in a shiny bow. Surely our young people deserve more credit than that?"
So, is it a good idea for celebrities to dabble in politics, and how many have managed to make the transition?
Here are just some of the celebrities who have turned their hand to politics - some more successfully than others...
---
1. Arnold Schwarzenegger
Famous for:
The young Austrian bodybuilder won Mr Universe, aged just 20. He went on to star in numerous films - most famously the Terminator franchise.
Career in politics:
Was elected Governor of California in 2003, serving two terms.
Nickname:
Arnie, The Governator.
---
2. Katie Price
Famous for:
Her surgically-enhanced glamour modelling career. Her numerous marriages. Being a best-selling author. Coming runner-up in the selection process to represent the UK at the 2005 Eurovision Song Contest. Her outspoken comments on just about everything.
Career in politics:
She pledged free plastic surgery for all, more nudist beaches and a ban on parking tickets in her campaign as an independent candidate in the Manchester seat of Stretford and Urmston in 2001.
Despite promising "a bigger, betta [sic] future", Ms Price won just 713 votes and lost her deposit.
Key quote:
"I know it will take a big swing but there's no bigger swinger than me," said Price in 2001.
---
3. Manny Pacquiao
Famous for:
World champion boxer who won 11 major world titles - and the first in history to do so across four weight classes of boxing: flyweight, featherweight, lightweight and welterweight.
Career in politics:
Pacquiao was elected to the Philippines House of Representatives in 2010. In 2016 he was elected as a senator.
Nickname:
Pac Man, The Destroyer.
---
4. Ronald Reagan
Famous for:
Film actor who starred in westerns, including Santa Fe Trail with Errol Flynn and Olivia de Havilland, and the Oscar-nominated King's Row.
Career in politics:
Hollywood actor Reagan went on to serve first as governor of California and then as US president from 1981 to 1989.
Nickname:
The Great Communicator. His Secret Service codename was "Raw Hide".
---
5. Glenda Jackson
Famous for:
Jackson won two best actress Oscars over a 30-year career for Women in Love and A Touch of Class. She also received an Emmy for the TV drama Elizabeth R.
Career in politics:
Elected Labour MP for Hampstead and Highgate in 1992, she became a junior minister in Tony Blair's 1997 government. Jackson stood down at the 2015 election, saying it was time for someone else to have a turn - and declared she would return to acting.
Key quote:
"The important thing in acting is to be able to laugh and cry. If I have to laugh, I think of my sex life. If I have to cry, I think of my sex life."
---
6. Al Murray
Famous for:
Being a regular on the stand-up and television satire circuits. Murray's outspoken character The Pub Landlord was featured in many comedy sketch shows before the British comedian landed his own chat show, Al Murray's Happy Hour.
Career in politics:
Murray announced he would run in the 2015 election in the South Thanet constituency - the same seat being contested by UKIP leader Nigel Farage. He won just 318 votes.
Key quote:
"It seems to me that the UK is ready for a bloke waving a pint around, offering commonsense solutions."
---
7. Imran Khan
Famous for:
Being a Test cricket fast bowler for Pakistan. In 1992 Khan led his team to victory in the Cricket World Cup, defeating England - it's the only time Pakistan has won the competition. He's also known for marrying British journalist and activist Jemima Goldsmith.
Career in politics:
In 1996, Khan founded the political party PTI in Pakistan.
He was defeated in the 2013 elections, but Khan says he still wants to fulfil his ambition of becoming Pakistan's next prime minister following parliamentary elections, due in July this year.
Nickname:
The Lion of Lahore.
8. Wyclef Jean
Famous for:
The Haitian rapper/singer/producer won three Grammys as part of hip-hop group The Fugees. He went on to have a successful solo career.
Career in politics:
In 2010, after helping with the earthquake relief effort, Wyclef formally filed papers as a candidate for the Haitian presidential election.
He was disqualified, however, after it emerged he did not fulfil the residency requirement of living in the country for five years before the election.
Key quote:
"It was important that I became successful. People say they do it for the love, and yes, you do it for the love, but you want to be successful."
9. Shirley Temple
Famous for:
Finding international fame, at the age of seven, in Bright Eyes and becoming the first child star to be honoured with a miniature Juvenile Oscar for her film accomplishments in 1935.
Career in politics:
The actress ran unsuccessfully for congress in 1967. She was appointed US ambassador to Ghana in 1974 and to Czechoslovakia in 1989.
Key quote:
"I stopped believing in Santa Claus when I was six. Mother took me to see him in a department store and he asked for my autograph."
---
And of course not forgetting...
10. Donald Trump
Famous for:
Firing dozens of unsuccessful candidates in the US version of The Apprentice. Golf courses. Trump University.
Career in politics:
Donald Trump became the 45th president of the United States of America without any prior political qualification.
Nicknames used by him:
Crooked Hillary - Hillary Clinton. Rocket Man - Kim Jong-un. Pocahontas - US senator Elizabeth Warren.
---
Follow us on Facebook, on Twitter @BBCNewsEnts, or on Instagram at bbcnewsents. If you have a story suggestion email entertainment.news@bbc.co.uk.