Millie Bobby Brown and five other famous fan surprises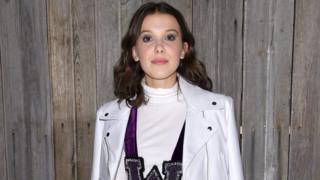 Millie Bobby Brown has promised to help out a fan after no one showed up at his Stranger Things party.
Aaron Alambat had invited eight friends to his birthday party, which was themed around the supernatural Netflix drama.
Alambat's brother Ayen posted pictures of the party on social media, which included a themed cake and punch bowl.
The photos went viral and caught the attention of Brown, who plays Eleven in the show, prompting her to ask for an invitation to next year's party.
She tweeted: "What!!!! Oh well you can let them all know that everyone on behalf on Stranger Things would've come! I think you're awesome and next year I would like an invite… Please?"
Fellow cast member Gaten Matarazzo, who plays Dustin, also got involved in the action and said he would like to come along too.
This isn't the first time a celebrity has reached out to a fan in need.
Some of the world's biggest stars have made goodwill gestures in order to give something back to their supporters.
Mila Kunis
One of the most memorable gestures came in 2011, when actress Mila Kunis accepted Sergeant Scott Moore's offer to join him as his date at the Marine Corps Ball.
He posted the invitation on YouTube whilst serving in Afghanistan and to date it has had nearly 5 million views.
Justin Bieber
In 2015, Justin Bieber threw a quinceanera party (a Latin American celebration for a girl's 15th birthday) for a superfan after she missed her own ceremony because she was suffering from Meningitis.
Justin escorted Ashley to the party and spent the whole evening celebrating with her.
Taylor Swift
In 2014 the pop queen received an invite to one of her biggest fan's weddings.
Unfortunately, Taylor couldn't make the ceremony, but that didn't stop her from crashing Gena Gabrielle's bridal party in Ohio.
Taylor filmed the surprise and even brought some wedding gifts along too!
Niall Horan
When the One Direction singer found out that fans had been queuing overnight to see him perform on The Tonight Show with Jimmy Fallon, he decided to treat them.
Niall had to run round New York to find a 24-hour Starbucks so he could buy them all hot chocolate to warm up.
He also took time to pose for photos with fans... complete with Snapchat filters, obvs.
Example
Rapper and singer Example loves Nando's so much that he treated 12 fans to dinner there ahead of a gig in Glasgow.
In 2014 he selected the fans to come on a weekend tour, where he performed six gigs across London, Manchester and Glasgow.
The group apparently ate 12 chickens and 30 sides. Example, our diaries are open and awaiting your next piece of peri-peri generosity.
Follow us on Facebook, on Twitter @BBCNewsEnts, or on Instagram at bbcnewsents. If you have a story suggestion email entertainment.news@bbc.co.uk.