The Aces: 'Not all girl bands are the same'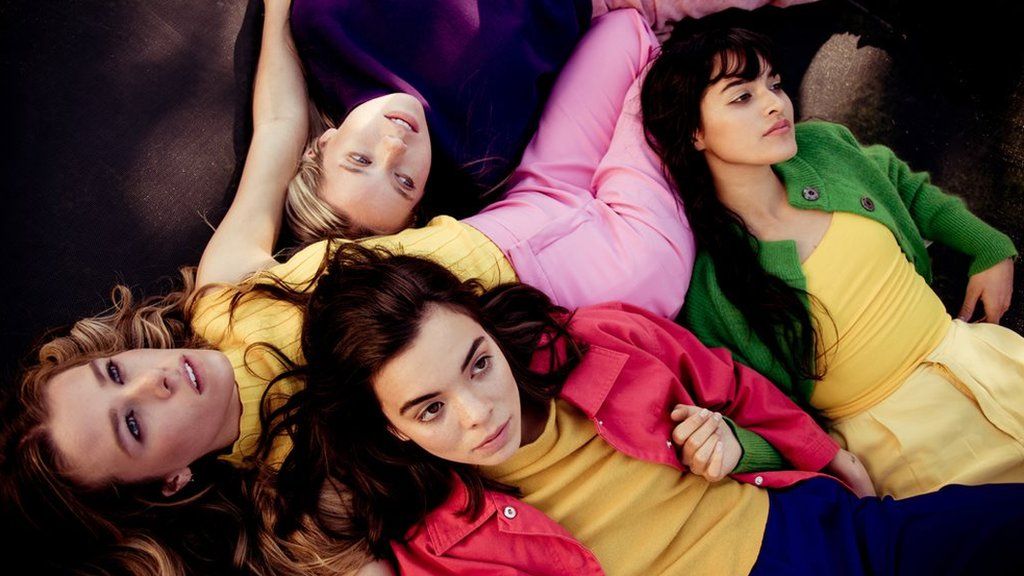 Cristal Ramirez is concerned.
"I feel like a worried mother," she laughs.
"I'm like, 'Are you sure you want that on your body for the rest of your entire life?!'
Luckily, the band's name lends itself to simple tattoos - an unobtrusive diamond or spade should do the trick - but it could have been much, much worse. They were initially called The Rock-On Pigeons.
"Oh my God!" Cristal squeaks. "How did you find that out? You dug! You dug deep!
"But yes, we were called that - before we ever started our band, when we were like eight years old.
"Why pigeons? Why not eagles? The Rock-On Eagles! What an awesome name that would have been."
So what have The Aces done to inspire such devotion from their fans?
It's not just their insanely catchy, 80s-indebted guitar pop (imagine Paramore on a double date with Whitney Houston and Belinda Carlisle). And it's not just their four-girls-against-the-world camaraderie.
The crucial factor is their lyrics, which capture the exhilaration and exhaustion of falling in (and out of) love with unblushing clarity.
Recent single Volcanic Love is a simmering proclamation of lust - "the heat you left just won't subside" - where the curlicues of Katie Henderson's guitar riff snake around Cristal's combustible vocals.
At the other end of the scale is Just Like That - a scathing kiss-off to an ex who's about to be erased from existence.
"You can come get all your t-shirts, cause I don't like the way I look in them," the 22-year-old seethes, "And just like that - there's nothing left of you."
The song was inspired by a friend who was going through a tough break-up, says Cristal, "but we've all had those moments where you're dating someone who just doesn't treat you right.
"Your family sees it so clearly - and you know it in your gut - until it finally gets to that breaking point of, 'OK, I'm done caring. If you're going to act like this, I'm done. I'm going to disappear and it'll be easy for me.'"
"But even though it's a heartbreaking song, I think it's very empowering," she adds.
"It's like, 'I'm out. I deserve better'. It's an empowering, mid-tempo jam."
Cristal has wanted to make music for a long as she can remember.
As a child, her elder brother was in "a bunch of punk and metal bands" and, obsessed with the Jonas Brothers, she would sneak into his bedroom to "borrow" his guitar.
"He'd yell at me all the time, 'I know you played this guitar, your fingerprints are all over it,'" she says, "even though I always cleaned it before I left."
Her younger sister Alisa decided to be a drummer, commandeering a neighbour's kit and setting up jam sessions in their garage.
"We'd just always go over there and play," she recalls. "It probably drove them insane."
Cristal's best friend McKenna Petty later joined on bass ("she didn't have an idea what she was doing at all") and the line-up was completed by high school friend/guitar virtuoso Katie Henderson.
"We were all friends before we were in a band, hanging out, and it was a nice, easy, natural transition," says the singer.
Soon, they were performing at events and assemblies around their hometown of Provo, Utah. And, because the state is largely teetotal, they could play the town's major venues while they were still at school.
Early songs were "rockier" and "simpler" than the polished melodies of their debut album - but they eventually succumbed to a shared love of 80s new wave, and sketched out the playful-but-pointed pop hooks of Volcanic Love and Stuck, the latter of which they released independently in 2016.
"Stuck was done in 30 minutes," says Cristal. "but I think we knew we had something really special. The response and the feedback was crazy."
Within six months, the quartet had been snapped up by Red Bull Records and Lorde's manager had offered to represent them.
The usual cavalcade of gigs, photo shoots and radio appearances followed, along with the superbly-titled I Don't Like Being Honest EP.
But, despite playing their own instruments and writing their own songs, The Aces were inevitably dismissed as a "just a girl band", with the implication they'd been put together by an oily record executive.
"I find it interesting when people come up to us and say, 'I don't usually like girl bands,'" says Katie.
"We're like, 'Girl bands aren't a genre of music! We don't all play the same thing!'"
"But we've also had a lot of girls come up to us at shows and be like, 'It's so bad-ass what you're doing. Me and my friend want to start a band,'" says Cristal.
"That's really flattering."
The group tackle sexist misconceptions head on in the video for Physical, which gleefully skewers the clichéd portrayal of girl bands as pulchritudinous sex kittens.
The band are pictured smearing on inch-thick face masks in a grotty motel room; and when Cristal gets to make out with a male model, she looks utterly unimpressed by the whole experience.
But Katie steals the show when, sharing a bathroom with a flaxen-haired lover, she casually spits toothpaste into her own bathwater.
"The funniest thing about that is, when we were filming that shot, that's not what Charli [Rutherford, director] wanted me to do," laughs the guitarist.
"She was like, 'Well, that was kind of gross, but that was kind of epic'."
The visuals fit perfectly with the song, which is "about is being bored of physicality," explains Cristal.
"Not even necessarily hurt by it like, 'Oh you're using me' but 'I'm bored of you - we just make out, but there's nothing behind it and I want a real relationship.'
"So there's a lot of eye-rolling in the video. It's very cheeky."
While the band have perfected the art of the withering put-down, they're at their most heartfelt on the single Lovin' Is Bible - which was written in New York, as news broke of the London Bridge terror attack.
"It was terrifying," recalls Cristal. "We have a bunch of family that live in London and my girlfriend has family in London - so everyone was like, 'Stop the session,' and we were texting to see if they were ok."
The experience made them want to write a song about spreading love and healing divisions.
"A lot of people, whether they grow up religious or not, I think they can sometimes forget that above your belief system, or whatever church you're going to, you just need to love people for who they are," Cristal picks up. "Don't try to make them accept your point of view, but try to understand their point of view.
"We just wanted to talk about that: Loving should be your bible. That's definitely how we try to live our lives."
Fans have been keen to repay that love - and not just in the form of tattoos.
"We just got off a two-month North American tour and each night I'd look out in the crowd and they'd be fully singing along to a song we haven't released yet," says Cristal.
"They could be detectives, I swear," observes her sister.
"Like, this fan brought us treats to our show last night and she was like, 'I'm so sorry, I know you're lactose intolerant' and I'm like, 'How do you even know that!?'"
"I'm even a little bit nervous about the future," says McKenna. "It's only going to get crazier."
The Aces' debut album, When My Heart Felt Volcanic, is released on Friday, 6 April.
Related Internet Links
The BBC is not responsible for the content of external sites.