Does The Only Way is Essex promote 'toxic masculinity'?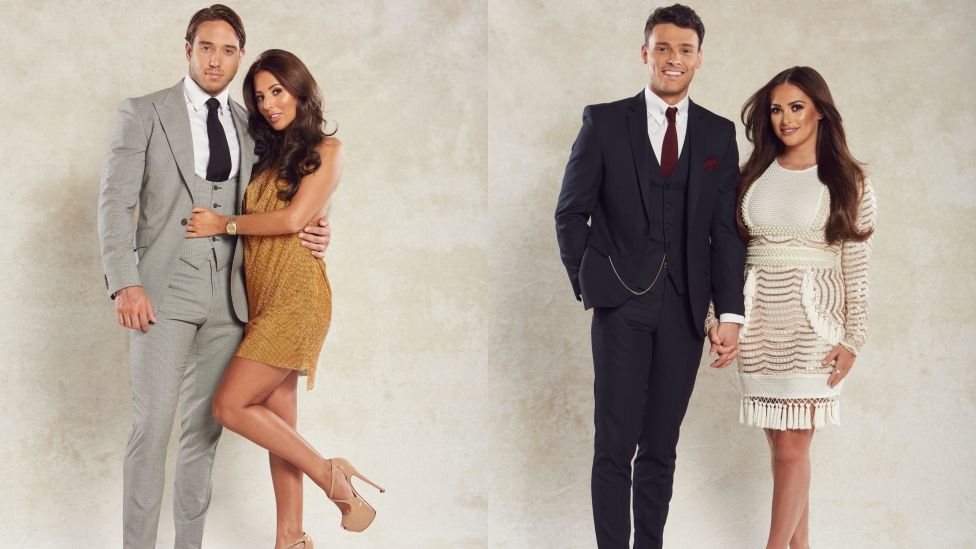 Over eight years, The Only Way Is Essex has kept viewers hooked with its glossy brand of real-life drama, served in glamorous locations along with some enviable outfits.
The show's opening disclaimer maintains that "the tans you see may be fake, but the people are all real".
However, the show's apparent reality has made uncomfortable viewing for some fans in the first two weeks of the new series.
Viewers have voiced concerns about the on-screen behaviour of some of the show's biggest stars and the way they treat their partners.
On social media, some have accused cast members James "Lockie" Lock and Myles Barnett of abusive language and behaviour.
#towie promoting and glamourising emotional abuse on national TV is NOT OK! These men are VILE and NASTY pieces of work. Your target audience is young girls. You have a responsibility to those young girls! Uncomfortable viewing this season. @ITVBe

— Ms Ali (@MissAli_Drama) April 1, 2018
WOW I cannot handle how some #TOWIE men are talking to their other halves. Get them off the TV & make an example of them. Where did they learn it was OK to speak to women like that?

— CharlotteBelle Tobin (@CharlotteBTobin) April 1, 2018
Sian Hawkins, campaign manager for domestic abuse charity Women's Aid, believes the show's latest series (its 22nd) normalises "toxic masculinity".
"The first two episodes are demonstrations of really nasty, potentially abusive behaviour by some of the central characters towards their girlfriends," she tells the BBC.
"As part of a pattern of a behaviour, it signals danger."
Hawkins refers to a scene where Myles called girlfriend Courtney Green a "dirty little dog" in the street after a fellow cast member, Jordan Wright, bragged about flirting with her.
Myles then threw a drink over Jordan before swearing at his girlfriend, calling her a "slag" and walking off.
TV critic Emma Bullimore says viewers see TOWIE as a "soap or panto".
"We know certain scenes are heightened or 'smoothed over' to make it more dramatic and exciting, to keep us on the edge of our seats," she tells the BBC.
She says no one is expecting "impeccable behaviour" from the cast and that "arguments, slanging matches, break-ups and below the belt comments" have always been part of the series.
However, she notes there has been a recent shift.
"So far this series, there have been some worrying scenes that do seem to have crossed a line," she says.
Catching up on #towie witnessing a man mentally abuse and degrade a woman on TV- switching off!

— Katie Piper (@KatiePiper_) April 2, 2018
OMG COURTNEY PLEASE DUMP MILES PLEASE GIRL U DESERVE BETTER #towie I'm actually stressed

— Havva (@havvarebke) April 1, 2018
Hawkins agrees. "It's unacceptable that Myles thinks verbal abuse is justified just because Courtney talked to another man," she says.
"It's the kind of behaviour at Women's Aid we recognise needs to be called out. If this is normalised by shows like TOWIE, it contributes to a culture that allows those behaviours to become normal as part of a relationship - we want to promote a balance of power."
Representatives for Myles Barnett and James Lock haven't responded to requests for comment.
'Reflection and apologies'
A spokesperson for TOWIE's production company Lime Pictures told the BBC the show "reflects the real lives of the cast", and pointed to the fact the behaviour was challenged by others on the show.
"The producers strive to portray the whole story without censorship or comment whilst being aware that unacceptable behaviour should not go unchallenged," a statement said.
"This is an ongoing series and we follow developments with our cast and their relationships, but in the episodes that have aired there have been scenes that showed fellow cast members' criticism and also reflection and apologies from those involved."
The argument between Myles and Courtney came a week after a row that saw cast member Chloe Lewis tell Lockie he had previously acted "aggressively" towards his girlfriend Yaz Oukhellou.
Chloe said: "That's someone's little girl. If you had a daughter one day would you want her to be spoken to by her partner in the way you speak to Yaz?"
In response to Lockie shouting at her, Chloe added: "You do not talk to me like that and you will never speak to me like that again. My boyfriend don't talk to me like that and you will certainly never talk to me like that."
When Yaz began to cry, Lockie called her a "spoiled brat" and accused her of "playing a victim".
"Lockie is isolating Yaz from her friends, blaming her for his anger and provoking her," Hawkins says.
"Yaz told her mum he was 'chipping away' at her every time they have a row - it's controlling behaviour. These patterns of toxic behaviour and toxic masculinity have a lot of negative connotations."
This is something Bullimore also notices. "These are venomous outbursts from men outraged that their girlfriends aren't doing what they're told, demeaning and misogynistic language and attempts to control them," she says.
"The line 'do not start having opinions!' from Lockie sums up the Neanderthal attitudes on display."
She does note, though, that while the scenes are "difficult to watch", they are there for the drama.
"It gets you hooked, because you want to see these characters get their comeuppance - exactly what the producers want."
"I'd be lying if I said James and I didn't row, but I've never seen him act this way, which is why I got so upset," she said.
"I was mortified. If I was some weak woman who was allowing her boyfriend to speak to her like that I would just excuse it and say it's all right.
"It's not OK and if he was to do it again I wouldn't stand for it."
'Extreme gender representations'
Hawkins says there are deeper issues with the way men and women are portrayed on the show.
"There are extreme gender representations of 'laddy' men, who enjoy that banter culture and are always going to the gym," she says.
"The women are very feminine, sometimes are submissive and subordinate and confirm to the archetypal housewife role." She wants TOWIE producers to challenge those stereotypes.
"I want to see a balance in relationships on mainstream TV, so that women are given more power."
Bullimore agrees about the need for more balance, and says the show would lose viewers if it was an "anodyne, argument-free space".
"But at a time when we're paying particular attention to the way women are being treated in our society, it's certainly worrying that we're classing this kind of chauvinistic, entitled male behaviour as entertainment," she says.
If you need support with domestic abuse or violence, BBC Action Line has information about a range of organisations that can help.