The Liver Birds return in Liverpool stage musical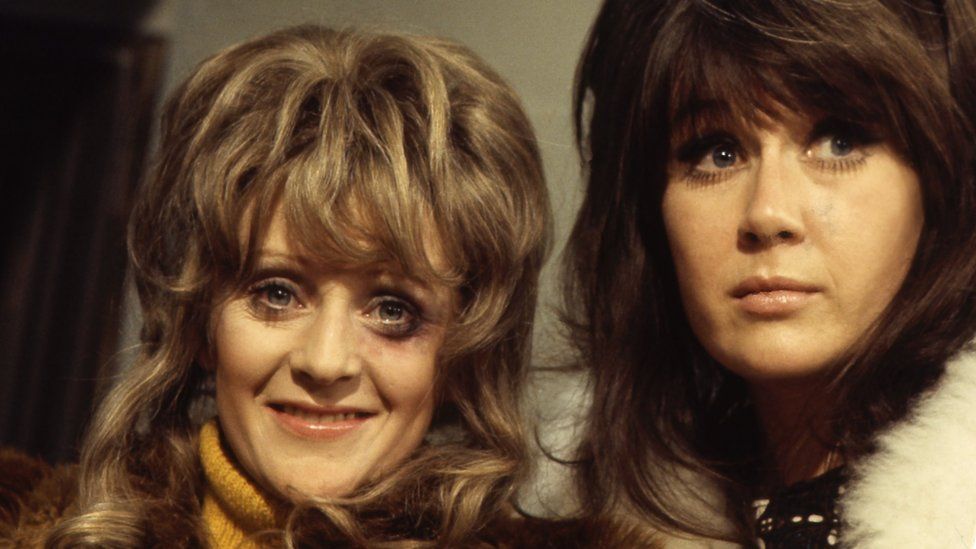 The Liver Birds, who showed us the lives and loves of young women in a trailblazing 1970s sitcom, are back.
Beryl and Sandra are returning as women in their sixties in a new musical being staged in Liverpool later this month.
The show's writer, Barb Jungr, said the series' creator, Carla Lane, had given her blessing before she died in 2016.
Jungr said the original was an "important" show, and that it would be "wonderful" to see older women on stage in The Liver Birds Flying Home.
The Liver Birds - named after the famous creatures on the top of the Liver Building in Liverpool - was the first comedy series to focus on a new generation of women who were enjoying greater freedom in the '70s.
In the new musical, which runs at the Royal Court from 13 April, Beryl and Sandra meet again, years after splitting up.
Beryl is now the chief executive of a successful biscuit company, while Sandra has returned from her adoptive home of Canada after the death of her mother.
They are reunited when they bump into each other just as Beryl is in the process of buying their former flat for her grandchildren.
The musical also uses flashbacks to show the characters as they were in the '70s - and explain why they went their separate ways.
"The start of our piece is them meeting in the street and finding out those basic things about each other," Jungr explains.
"Then, slowly, through the flashbacks and through them telling their stories, you find out what happened between them."
Lesley Molony and Joanna Monro will play the older Beryl and Sandra respectively, with Lucinda Lawrence and Nicola Munns as their younger selves.
Jungr says she wanted to put the full experiences of women's lives in the spotlight.
"That thing that women say at a certain age about becoming invisible is very much a British cultural thing," she says. "I go back and forth to America a lot and it's not so noticeable there.
"Our lead characters are both women in their early sixties and I cannot tell you how wonderful it is to see Joanna Monro and Lesley Molony play these parts."
The original sitcom was written by Carla Lane and Myra Taylor, two friends who had met at a writers' workshop, and was inspired by their own lives.
Jungr grew up around the same time near Manchester and says: "It was important to see Carla Lane and Myra Taylor, who were two women who were not from Oxford or Cambridge, who hadn't come through the usual BBC channels, and who had broken into television.
"They exemplified what was possible for those of us who had not grown up with silver spoons."
The series came at a time when single women were finding their independence outside the family home.
"Nobody had done that before," Jungr says. "Nobody prepared you for that. It wasn't like all your mates had done it - this was new territory.
"Leaving home, but not because you were getting married or going to university - leaving home to make your own life. Which boys had always done but girls hadn't in the same way. And maybe even sleeping with their boyfriends. That was unusual for the mainstream.
"It's easy to forget from the vantage point of now what an internal struggle those things were, actually. George [Seaton] and I work very hard [in the script] to deal with that."
Jungr has co-written the script with Seaton and Linda McDermott and has written the lyrics for the 23 songs. Mike Lindup has composed the music.
Related Internet Links
The BBC is not responsible for the content of external sites.