Manics: We are all 'confused and bewildered'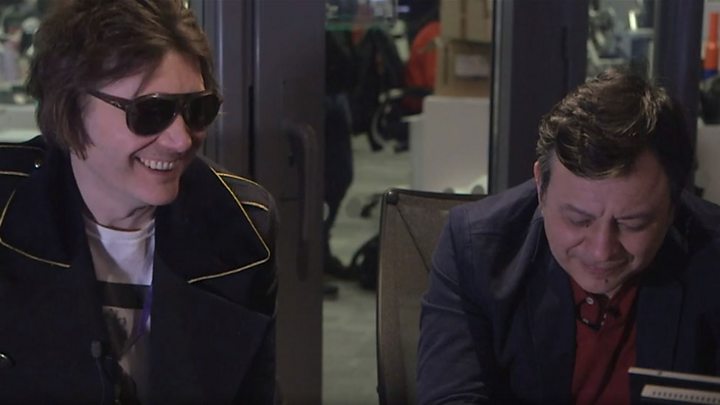 On Friday 13 April the Manic Street Preachers released their 13th studio album Resistance is Futile.
Talk about tempting fate.
The veteran rock 'n' roll agitators, however, are too long in the tooth to concern themselves with matters as frivolous as superstition.
"There's no point," declares frontman/guitarist James Dean Bradfield.
"Enough bad things have happened on dates which were not Friday the 13th!"
Back in October it seemed like the Manics - who released their hard-hitting debut, Generation Terrorists, in 1992 - were finally ready to surrender, give up their musical guns and let younger idealists (like Stormzy) shoot lyrical bullets at the establishment.
Bassist and songwriter in chief Nicky Wire told BBC Music at the time that he doubted if the band would ever make another record.
Now just six months later, and with a defiant and joyful new album out, it seems the 49-year-old was simply having an off day and was subsequently galvanised by the unexpected lightning bolt of lead single International Blue. Wire describes it as the "sister song" to one of their early hits, Motorcycle Emptiness.
"I have listened to a lot less music over the last year undoubtedly, it was a particularly crap day and it was slightly over-dramatic, I guess" he explains.
"Anything you say these days is amplified to such a degree, which I kind of knew anyway.
"Then International Blue was the track that just made the album feel like all the other songs were better.
"It happened with [1996 album] Everything Must Go. We had loads of songs but when Design for Life came it made all the other songs sound better."
Throughout Resistance is Futile there is a prevailing sense that after 30 years of fighting, the Blackwood band are finally giving in to the modern world but - crucially - not giving up.
Perhaps, like the last samurai warrior on the cover, the elder statesmen of Britpop rock are finding their new place in the post-truth digital era.
"We've been around for such a long time that we've seen everything rise and everything fail," says Nicky. "Ideologies, songs, ideas."
"Us!" adds James, also 49, with a laugh.
"I think we are all pretty honestly confused and bewildered about most situations that you view and find yourself part of," Nicky goes on.
"I don't know if that's an age thing or giving up? It does feel like a particularly harsh time for people.
"We're lucky enough to still be doing what we want to do within a band but the reflective world you live in and the constant incessant dialogue of vicious hate speak grinds everyone down, I think."
The album title itself, plus tracks like opener People Give In and final track The Left Behind, appear at first glance defeatist - yet the songs themselves sound anything but.
"There's a lot of duality on the record," explains frontman James.
"A song title like People Give In you can either look at it as 'give in' to collapse, or 'give in' to this plea for empathy that we're asking for in this song.
"We do feel like we're living in an age when things rapidly disappear and things from the past rapidly lose their meaning but we just feel as if, as an anomaly, we still have a power to convert people to 'the way' - the MO [modus operandi] of what our band does."
'Celebration of the city'
Another track, Liverpool Revisited, serves as a musical tribute to the "truly staggering" people of Liverpool and their long fight for justice for the 96 football fans who lost their lives at Hillsborough in 1989.
The band performed at the Hillsborough Justice Concert in 1997 and the following year were criticised by police for their track South Yorkshire Mass Murderer, which attacked the authorities for their role in the tragic incident.
In April 2016 a court ruled that the fans were unlawfully killed.
"The track is a celebration of the city itself and its culture" explains Nicky.
"Sometimes you write a song of a specific moment and that day in particular being in Liverpool, getting up early, walking around the city in the sun and taking Polaroids, realising all those things like Echo and the Bunnymen and The La's and all those filtered cultures that influenced you when you were young.
"It was as much about that as that sense of defiance in terms of Hillsborough and the way a group of people took on the establishment in Britain and through sheer intelligence and hard work actually defeated them.
"It's a truly staggering effort by the city itself and a group of people."
He goes on: "So it's the story of the morning and how it fades into this celebratory gig that we did as well and if there is a symbol of defiance on the record that is part of it."
Closer to home, republicans Nicky and James agree that there was "no need" to rename Wales' Second Severn Crossing as The Prince of Wales Bridge recently. The car of late Manics guitarist Richey Edwards was discovered parked close to the site of what is now the bridge by police in the weeks following his disappearance in 1995.
Now the patriotic Welshmen have enlisted the help of compatriot Catherine Anne Davies - aka The Anchoress - to duet on Dylan & Caitlin - a track about the marriage of legendary Welsh poet Dylan Thomas.
"She nailed it," both agree.
From the Mersey to the Severn and beyond, the Manics will see plenty of the country this summer as they set off on their biggest series of gigs for many a year. Their UK tour kicks off next week and then there's a subsequent European support slot for Guns N' Roses, as well as a guest appearance at Robert Smith's personally-curated Meltdown Festival in London.
Not to mention their set at the BBC's Biggest Weekend in Belfast on 25 May.
"I'm looking forward to watching James at the side of the stage watching Slash play guitar!" jokes Nicky.
"Yeah, I'm looking forward to that if I can get to the side of the stage," admits James.
"It is quite strange because obviously we made those statements about trying to sell more records than Gun N' Roses all those years ago and now we'll be supporting them on their victory lap" adds the singer.
Before playing with some of their heroes, the band are aiming for their first number one album since 1998's This is My Truth Tell Me Yours and admit there has been was no record release revelry.
Like with superstitions, the Manics are happy to leave all that to somebody else.
"There's no celebration when the record comes out," admits James.
"It's all nerves and number-crunching. The amount of ambition that we still have is kind of unreasonable."
Nicky adds: "We've had four number two albums.
"I think we lost out to the Arctic Monkeys, George Michael and lots of good acts. So it would be pretty depressing to lose out to *something about the circus."
*We can only assume he means The Greatest Showman soundtrack.
Resistance is Futile is out now and the Manics start their UK tour in Newcastle on 23 April
---
Follow us on Facebook, on Twitter @BBCNewsEnts, or on Instagram at bbcnewsents. If you have a story suggestion email entertainment.news@bbc.co.uk.