Is 'bisexual lighting' a new cinematic phenomenon?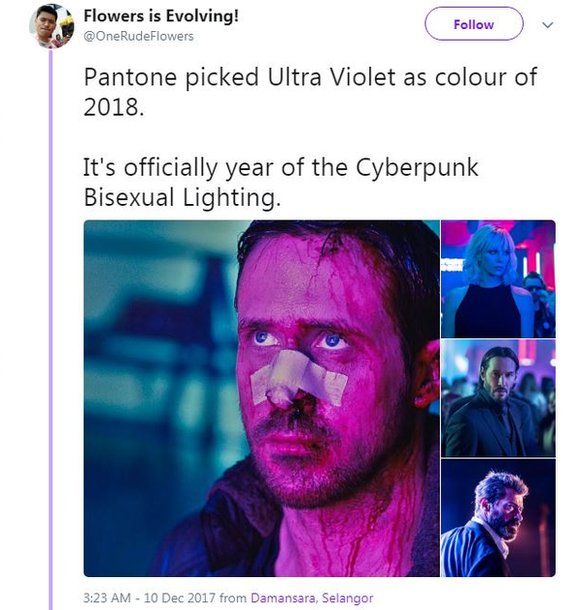 Film fans have long discussed the representation of sexuality and gender on screen.
However a meme focusing on how light is increasingly used to portray bisexuals has gained traction on social media.
Many LGBT people have been sharing examples of TV programmes, films and music videos to highlight the development of so-called "bisexual lighting" - characterised by the simultaneous use of neon pink and blue light on screen.
The under-representation of bisexuality on screen has been debated for a number of years, and some have seized on bisexual lighting as an empowering visual device.
But is it really a tool to represent bisexuality, or are people reading too much into neon-tinged stylisation?
What is 'bisexual lighting'?
An early use of the term comes from a 2014 post on the blogging site Tumblr, which discusses a pink-and-blue-washed scene in the BBC's Sherlock and speculates about the hidden desires of Dr John Watson.
A more recent, and commonly discussed, example of bisexual lighting can be seen in the San Junipero episode of the Netflix show Black Mirror.
The Emmy Award-winning episode follows the development of a relationship between two bisexual female characters.
Many point out that these colours mirror those of the bisexual pride flag, and suggest the lighting design is a direct reference to the symbol.
Madison Kircher, associate editor of the New York Times Magazine, shared a number of popular examples of bisexual lighting on Twitter.
Ms Kircher also highlighted the "important addition to the bisexual lighting cannon" made by US pop star Janelle Monae in the video for her 2018 single Make Me Feel.
Make Me Feel has been identified by some as a "bisexual anthem", and features the singer flirting with men and women.
Sara David, a journalist for news website Vice, posted many popular examples of the lighting style on Twitter, including this still from the 2016 Academy Award winning film Moonlight, which tells the story of a boy struggling with poverty and his sexuality in Miami.
The show features a number of same-sex couples, but not specifically bisexual relationships.
Analysis: Lara Thompson, lecturer of film, Middlesex University
I would have to see more examples before I see bisexual lighting as a wholly convincing phenomenon.
The pink and blue lighting combination could offer a somewhat more subtle way of suggesting bisexuality.
Cinema has traditionally shown bisexuality through costume and gesture - think Marlene Dietrich in the 1930s wearing tuxedos and kissing women - but in a contemporary context this would appear cliched.
The particular neon shade of pink and blue references the recent trend for 1980s and 1990s nostalgia in film and TV.
This is a well-documented development, spearheaded by shows like Stranger Things, Twin Peaks and films like Super Eight and Ready Player One.
This nostalgia is also present in current fashion trends.
It helps to sell films to both a youth audience and a more mature viewer, who is nostalgic for the culture of their youth.
Bisexual lighting may be a way for film-makers to reference different sexualities without challenging gender stereotypes.
This technique enables the (predominantly) women visualised to maintain a highly sexualised and feminine appearance that might sell more widely.
Ms Perrin claims "likening an already underrepresented sexuality to an 'aesthetic' is reductive, and again minimises the credibility of bisexual relationships."
The trend for the "80s aesthetic" has also been pointed out by many people online.
I'm bisexual and this is stupid. Those colors are just a reference to 80's aesthetic...

— Sara Martino (@saramartino1995) March 1, 2018
Regardless, the idea has entered into the vocabulary of online discussion around LGBT characters.
In perhaps the surest sign that the phrase has become an internet staple, many people have taken to parodying the idea.
While photographer Corey Motley used "glorious bisexual lighting" to take some snaps of his cat.