Are celebrity baby Instagram accounts OK?
By Emma Saunders
Entertainment reporter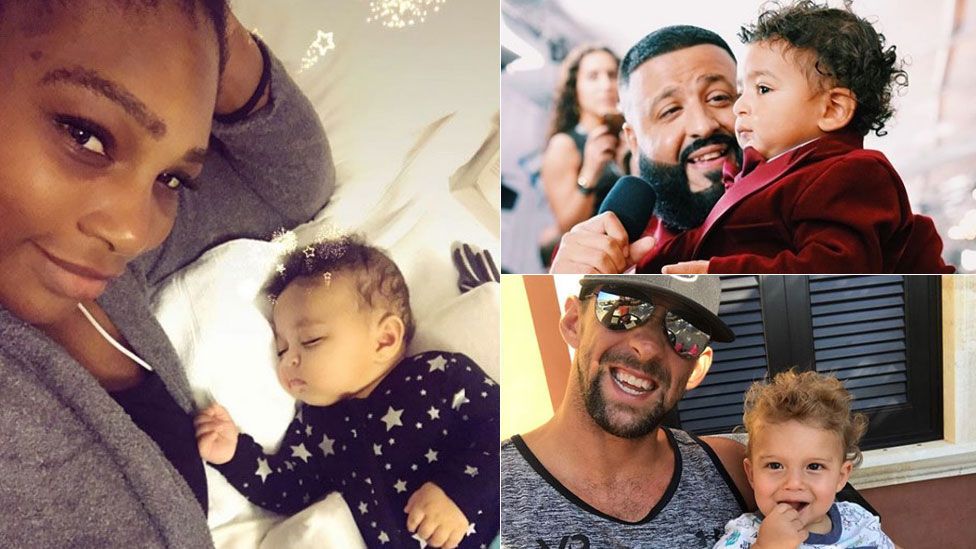 It's the news the world has been waiting for - or at least her 75.1m Instagram followers.
Khloe Kardashian announced that the name of her newborn baby was True Thompson. What was also revealed was that Baby True already has her very own Instagram account.
But is it right to set up an account and post in your child's name when they aren't able to give consent?
As is often the case, things aren't as clear cut as they may first appear.
For starters, some famous names may just be setting up a social media handle in their baby's name for them to use later on should they want it.
That could be the case with baby True, for example, whose Instagram handle is @true. There are not yet any posts on her account, although she already has 138,000 followers. Her mother has posted on her own account more than 3,000 times.
True's cousin, Dream, was born in 2016 and also has her own Instagram account - with almost a million followers. But to date, there are still no posts to the account of Rob Kardashian and Blac Chyna's baby.
On the other hand, Asahd Khaled's account features more than 350 posts and the one-year-old already has a huge 1.8m followers.
His Instagram feed mainly consists of family photos and some fashion shoots with the odd celebrity face thrown in.
Similarly, Boomer Phelps - the son of Olympic champion swimmer Michael and his wife Nicole - is a prolific poster with nearly 250 posts in his short life.
It is worth noting that Instagram guidelines require users to be at least 13 years old before they can create an account.
"I would rather see a dedicated account for a baby than to see someone's personal account swarmed with only baby pictures," Luke James Dunn posted on the BBC News Entertainment Facebook page.
Nicole James agrees: "It would be a place for me to stick all the endless baby pictures that won't annoy my friends, and it's also like a little memory book I can pass on. You can always make the account private."
Yvonne Vincent says she wouldn't create an Instagram account for her baby "but part of me thinks some celebrity kids are going to grow up without privacy anyway so what does it matter? It's treating your child as an accessory, which is pretty horrible really".
Indeed, there are many famous names who deliberately don't put pictures of their children on social media - or if they do, their faces are obscured - including TV presenters Holly Willoughby and Emma Willis.
Award-winning blogger Jen Walshaw, who runs parenting website Mum in the Madhouse, has been posting images of herself and her two boys on her Instagram account for several years.
She says it's all about being mindful of what you post, especially as they get older (the boys are now 12 and 13).
Jen has also never used her sons' real names.
"I've never posted pictures of them naked or on the potty. I've never called them by their first names [they're referred to as Maxi and Mini].
"But now I want them to be judged for themselves and tell their own stories."
The eldest has his own account, which Jen says is private and "has about four pictures of football boots!"
She cautions: "You've got to bear in my mind they're the first generation growing up with this digital footprint that they haven't created.
"If my two wanted me to delete all the posts, that's their prerogative."
But if you land financial bonuses as a result of your online life, there are more factors to consider.
Jen says if she benefits financially from her Instagram posts i.e. a free holiday "and it involves the boys, we make a decision as a family".
"The payback might be that they get the experiences," she explains.
Dr Victoria Nash, deputy director of the Oxford Internet Institute, agrees that people should think before they post.
"We are becoming much more aware... in the early days, we put pictures of kids up willy nilly.
"The major pitfalls include increasingly recognising that children have rights of consent. Who owns a child's identity?
"It's impossible to really delete anything from the internet. Even if in five years, they delete the account, someone may have screen-shotted it. You have to think about the type of picture you post - could this be embarrassing later?"
Dr Nash says we are becoming more aware of what might be appropriate - "it's more common for people to ask permission from other parents to post pictures of their children online" - but she says most of us still post our holiday pictures for all to see.
Where celebrities are concerned, Dr Nash suggests they should look at their motives: "Am I using my child to further my own celebrity? I don't want to judge as I've not been in that situation but it is a consideration."
Join the conversation on our Facebook group. It's a place to chat about everything we're watching at the moment, as well as discuss the big issues in the entertainment world.