Why Lauryn Hill still has the Ex Factor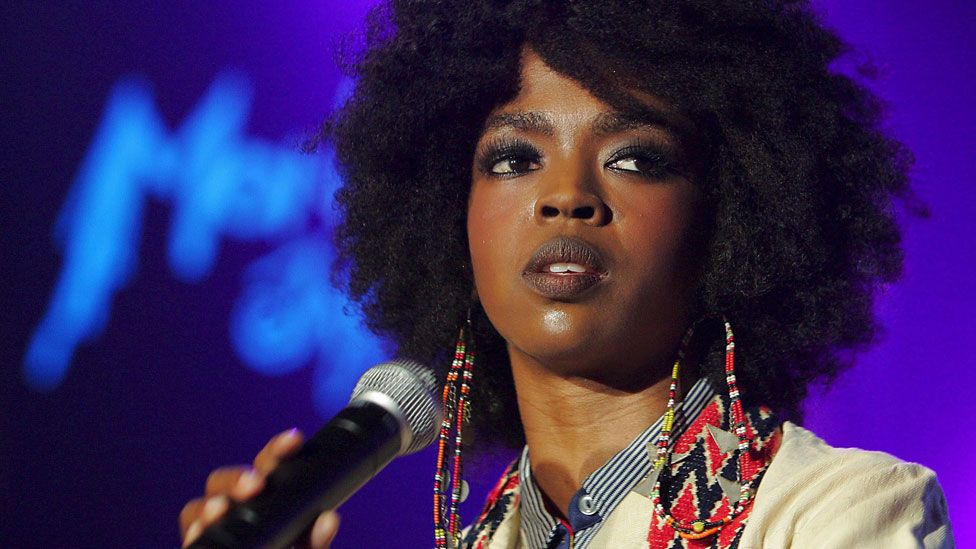 Lauryn Hill's iconic debut album, The Miseducation of Lauryn Hill, turns 20 this year, and to celebrate, the singer is heading out on tour.
Five dates have been scheduled in the UK and Ireland in November and December, in London, Manchester Glasgow, Birmingham and Dublin.
She will also be taking on a US tour, with a 20-date run across many major cities.
The singer will perform the multi Grammy-winning record in its entirety at each of the shows.
After chart success with the Fugees, Hill went solo and released Miseducation - her only studio record.
The seminal album has gone three times platinum in the UK since its 1998 release, selling more than 19 million copies worldwide.
At the 1999 Grammys, the record won five awards including album of the year. Hill brought together the sounds of reggae, rap and hip hop infused with a soulful sweetness mixed with authentic lyrics.
Speaking to BBC News, broadcaster Trevor Nelson says the importance of Lauryn Hill's album should not be underestimated.
"She is by far the single most important female artist of my time. She was the second coming," he says, going on to name her record as his all-time favourite album by a female artist.
"She was as powerful a singer, as say Mary J [Blige] - not perfect like Whitney [Houston], but really emotive - and then, for me, she was the finest female rapper of her generation as well."
The Radio 1Xtra DJ says the content of the lyrics was as key to the success as the musicality.
"It was really pure. She went against the grain and it brought credibility. People were looking at R&B records as very ghetto fabulous. At the time it was all about shiny videos, with girls in bikinis - but the substance was lacking.
"Lauryn Hill brought substance to the game at a major level. There were a lot of artists who had substance that didn't get heard but she just had it all - she had the whole package."
Lauryn Hill UK & Ireland tour dates
Glasgow's SSE Hydro - 23 November
Manchester Arena - 26 November
Birmingham Arena - 27 November
Dublin 3Arena - 30 November
London O2 Arena - 3 December
DJ and Hits Radio presenter Sarah-Jane Crawford agrees calling the content "articulate and intellectual".
"She is an incredible rapper by anyone's standards - I can't think of another female rapper doing things like that at that time.
"She talked about her family, about women respecting themselves and being honest about feelings. She was real.
"She had this emotional maturity beyond her years - every song you could connect to. And she did it all to these Afro beats and was proud of her heritage.
"She was proud to be black, she didn't straighten her hair - which was a big deal. She was an original black beauty."
Part of Hill's unprecedented success was that she broke through to white audiences as a rapper and hip-hop artist, Crawford adds.
"Lauryn Hill managed to connect to a mass global audience and manage to be socially conscious at the same time.
"She was telling young people not to be promiscuous and to have confidence. She touches on race and youth and gender."
Nelson says she was a lyricist second to none: "You feel you have to listen to the words," he says, admitting he usually prefers a song's hook or bassline. "Even if you're not a lyrical type of person. It forces you. I listened to every lyric on her album."
Unsurprisingly, Hill is still cited as one of the key influences on many of today's most successful artists.
Beyonce said listening to Lauryn Hill was a key thing that inspired her music. In an interview with Entertainment Weekly, the Lemonade singer said: "There's definitely something beyond Lauryn Hill that's in her voice and her mind when she writes songs. She's gifted and blessed."
Adele said in 2011 that her "favourite album ever" was The Miseducation of Lauryn Hill, and recalls stealing the record from her mum's collection and "analys[ing] the record for about a month at the age of eight".
"[I] was constantly wondering when I would be that passionate about something, to write a record about it - even though I didn't know I was going to make a record when I was older."
"I love her... she's brilliant," the Hello singer added.
Lauryn Hill is also credited with helping launch the career of megastar John Legend, whose major recording debut was playing piano on Everything is Everything, from the Miseducation album.
Legend says he was a student when Hill heard him play piano and "liked what she heard". She subsequently asked him to play keys on the hit track.
The Ordinary People singer says it was "pretty cool" going back to school having been a part of the LP because "it was the soundtrack to everyone's year".
In an interview with Rolling Stone, Hill herself said: "[I wanted to] write songs that lyrically move me and have the integrity of reggae and the knock of hip-hop and the instrumentation of classic soul."
She added she had been trying to make an LP with a "raw" edge to it, and had deliberately avoided using computers to compress and "smoothe" out the sound.
"I wanna hear that thickness of sound," she said. "You can't get that from a computer, because a computer's too perfect. But that human element, that's what makes the hair on the back of my neck stand up. I love that."
But now Hill is influencing a new generation of stars. Through pure chance, both Cardi B and Drake have sampled Ex Factor on their latest releases.
Cardi B's Be Careful more subtly plays on some of the lyrics from Hill's heartbreak anthem than Drake's Nice for What, which contains the sped-up hook from the record throughout his song.
The New Yorker says: "Cardi B transforms Hill's ecstatic loneliness into a warning: "Boy, you better treat me carefully, carefully", while Drake uses it to "assert his emotional acumen".
Nelson says the sampling by Cardi B and Drake is to be expected since, according to him, every artist who's followed Lauryn Hill has been influenced by her.
"They've all been influenced by her. All of them. You can put Whitney [Houston], Mariah [Carey], Mary [J Blige], Amy [Winehouse] in there. None of this is anything without Lauryn Hill."
"Look at the immediate influence of Whitney doing My Love is Your Love, (which was written and produced by Hill's Fugees bandmate Wyclef Jean). You can't tell me Amy didn't like Lauryn Hill - it's not possible.
"Two of our greatest female singers ever, Adele and Amy Winehouse, have undoubtedly been influenced by Lauryn Hill."
The founder of the MOBO Awards, Kanya King told the BBC that the "ground-breaking nature" of the album is why it remains "impactful" today.
King said: "Miseducation lifted boundaries for female artists. Recorded while she was heavily pregnant, her debut album busted through the industry's glass ceiling; rejecting society's notion that a female artist must choose between starting a family and having a successful career."
She recalls Hill's performance at the 2005 MOBOs: "I personally got to witness the dedication and effort she put into preparing for her performance of Doo Wop (That Thing). When we confirmed that she was going to be on the bill, the level of excitement from both fans and the industry is hard to forget."
Crawford says she enjoys hearing Lauryn Hill tracks sampled by other artists: "I'll always think of the original, which is no bad thing."
"They're paying homage to her, paying their respect, and it's great to hear the song in a different way."
Will she ever release a follow-up to Miseducation?
"Maybe not," says King. "But her one and only album continues to resonate with audiences 20 years on from its initial release."
Nelson also doesn't think we'll see the like from Hill again. "20 years on and no-one's made an album to touch it."
"The music business is all about timing," he adds. "We needed her at that time and we got her at that time."
"Some artists have 20 albums and don't have one truly great record. She's given us one album and that's all we needed."
A version of this article first appeared on 19 April 2018.