'This is my Adele album' says Miles Kane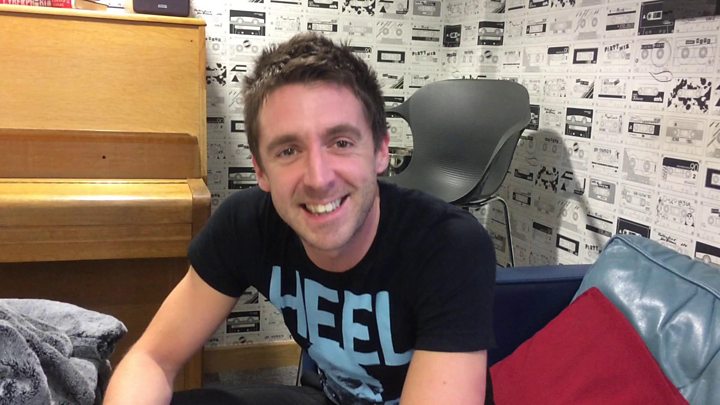 Just outside a coffee shop in hipster East London Miles Kane is studiously searching through his phone.
One of rock 'n' roll's best connected men is not looking to get hold of one of his many muso/model/footballer mates, however.
He is - as it turns out - just looking for somewhere to enjoy a Sunday roast.
The LA resident, originally from the Wirral, has been living the California dream for a few years now but is back in town, in his best grey fur jacket, to promote Loaded - his first solo single since 2013's Better Than That.
And though gravy-covered dinners may not be a staple of a lazy Sunday afternoon in the City of Angels, one thing that is universal for sure is heartbreak.
Kane's comeback track, co-written by Lana Del Rey and Jamie T in his US apartment, is the first taste of what he's calling his "break-up album"; Coup De Grace - French for "the final blow" - which is out this summer [date TBC].
"I'm giving it the Adele one!" he jokes, sitting down to chat at the BBC the next day.
"Lyrically it's very personal and the delivery of the vocal is quite different for me.
"On the verses, there's a lot more words than what I would do normally and then it opens up on the chorus.
"It's just a real mid-tempo, heavy 'get your walk on' tune, you know?"
Girl troubles
While the confessional lyrics, pointed delivery and angular riffs remind you of another Merseysider - John Lennon's Cold Turkey-era solo work, or even Mancunian rock 'n' roll star Liam Gallagher's cocksure debut solo track Wall of Glass - Loaded actually came together due to a chance meeting in his adopted West coast home.
"I've known Jamie for 10 years, it wasn't really planned," he explains.
"He was over in LA last January, so we were going to hang out for a week and just jam and see if we could write some tunes.
"From the first moment we started it just really clicked.
"Then he was playing this little acoustic gig and I went there to see him and as I walk in I see Lana."
"I'd met her a couple of times before at some festivals years ago", adds the 32-year-old.
"I had a bit of a face on me because I'd just split up with my girlfriend at the time.
"She was like 'what's up with you? Girl troubles?'
"I said 'yeah... Is that obvious?'
"Then she went 'what you up to this week?'
"I said 'me and Jamie are writing' and she said: 'I'd love to hear it'."
The next day Miss Del Rey FaceTimed the two Brits abroad while they were enjoying a coffee and arranged to come over and help them finish the "upbeat and kind of punky" track.
Loaded formed the basis for what Miles describes as "probably my favourite album to make".
"Me and Jamie, we'd do a tune a day, it was really instant and quick lyrically and melody wise.
"Whatever got put on the demo stayed, and I like that, there was no pining for weeks - it just all fit together really well.
"I've surprised myself and the people around me as well."
Thicker skin
While apparently unlucky in love at the time of writing, Miles then put the record on hold to re-discover his mojo with his other, more cinematic-sounding band; The Last Shadow Puppets.
In 2016, alongside Arctic Monkeys frontman and best friend Alex Turner, the pair toured the world, wore the suits and bagged their second UK number one album.
Now, after the Arctics officially opened up their musical lunar Hotel + Casino to the public, Miles - who played lead guitar on their 2007 track 505 - is left to go it alone once more on record, on stage and - perhaps most dauntingly - in interviews ("especially doing stuff like this, I find different").
So does the former Little Flames and Rascals singer/guitarist - who admits to having been "bored out of my brains" of late - feel he has something to prove on his solo return?
"I'd love to say no but I do feel that, I always have done to be fair.
"I think when I was younger I really felt that, now I'm older I can accept things more and I've got thicker skin.
"Every record I make I try and prove something and try and make it better than the last one but for this one... I don't know what it is but it feels different,
"I feel different, I felt different making it, I feel different singing it - in a good way.
"You always change, the root of you is the same but you've learned more stuff and been through more stuff personally and hopefully you're better for that.
"I'm 32 now, so loads of early mid-life crises!
"You've got to go through that to come out of it."
Kane was accused of propositioning Spin journalist Rachel Brodsky following an interview on the last Puppets tour.
He later apologised for his "ill-judged" remarks in a subsequent note to Broadsky, writing that he was "mortified that it made you feel uncomfortable".
Reflecting on the incident a few years later, Kane says: "In my mind guys and girls have always been equal.
"I was raised by my mum, who's a strong woman - and my aunties, and for me there's never been any difference, that's how I see it."
The Scouser, who also now has his own fashion range, has clearly had ants in his well-tailored pants to get back up on stage and kicked off his new UK solo tour last night in Carlisle.
He'll go on to perform alongside Iggy Pop and Queens of the Stone Age at their own event in London's Finsbury Park at the end of June, followed by another big gig at Glasgow's TRSNMT festival the next night, on the same bill as his old pals the Monkeys.
"I'm just buzzing to be back," beams Miles, whose cousins are in fellow Merseyside band The Coral.
"I miss being on stage so much. It just sorts my head out. Writing sorts my head out.
"I can just beat myself up and start stressing about things but once I get on stage it sort of releases all that."
Shadow Puppet to shadow boxer
As well as playing through his problems - girl or otherwise - on the guitar, Miles appears to be coming back fighting this time.
Quite literally.
The Liverpool FC fan - who admits to having "lost touch with football" [Champions League included] in LA - may have metaphorically named his forthcoming third album after his favourite wrestling move but says he now favours another athletic endeavour all together.
"If anything my sport at the minute I've been getting into is boxing.
"I do [spar] but I'm terrible.
"It's good for my mind but I'm terrible if is anything coming back at me!"
Having toughened up and let his guard down a little more these days, The Wirral riddler is aiming to deliver some knockout performances this summer.
He'll also be hoping to find himself out of trouble and back in love/the charts during a welcome extended stay back on these shores.
"There's definitely a lot of nonsense over there [LA] and you realise when you come home.
"But you can get into trouble on the moon."
Especially if your mate runs a new casino up there.
Loaded is out now and Miles' third solo album Coup De Grace is out this summer.
Follow us on Facebook, on Twitter @BBCNewsEnts, or on Instagram at bbcnewsents. If you have a story suggestion email entertainment.news@bbc.co.uk.