'Superfans' buy more than two-thirds of all vinyl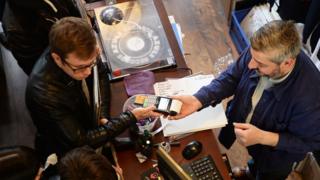 A hardcore of 'superfans' buy more than two-thirds of all the vinyl records sold in the UK, according to new data.
The Entertainment Retailers Association (ERA) says these collectors fork out more than £400 every year, accounting for 72% of sales.
With the average LP costing £20.31, superfans are each purchasing at least 19 albums.
The figure illustrates how niche the "vinyl revival" is, despite record-breaking sales over the last few years.
In total, 4.1m vinyl albums were sold in 2017, the highest number since the 1990s.
But the format only accounts for 3% of the total music market, and in 2015 a BBC/ICM poll found that almost half (48%) of the vinyl records people buy never get played.
How 'superfans' drive the market
Format
Total sales (2017)
Average price
Superfans
Vinyl
£87.7m
£20.31
72%
CD
£368.5m
£8.37
32%
DVD
£580.5m
£7.00
11%
Blu-Ray
£161.1m
£12.33
61%
Console games
£749.9m
£33.97
34%
Superfans also prop up the Blu-Ray market, accounting for 61% of sales, says the ERA.
By contrast, big-spenders only make up 11% of the DVD market. For console games the figure is 34%, and for CDs (where £400 would buy you almost 50 albums a year) it is 32%.
"Music, video and games may reach virtually the entire population, but it is these £400-a-year Superfans who are the backbone of the market," said ERA's CEO, Kim Bayley.
The data came from the ERA's quarterly tracking study which measures the entertainment consumption behaviour of more than 2,200 UK adults.
Will growth continue?
It was released as the music industry held the first ever Vinyl World Congress in Brighton, where speakers dismissed the idea that vinyl was a "passing fad".
"People pay for vinyl not because they have to but because they want to," said Paul Pacifico, CEO of the Association of Independent Music.
"They want a physical representation of their emotional connection with an artist."
Christine Gough, who oversees vinyl production for Universal Music, said the company had "records planned for the next three to five years".
"From our perspective, we don't see a decrease in vinyl sales at all," she said, characterising the boom as a "backlash" against instant-access consumer culture.
"People don't just want music on the go. You want to sit back, put that vinyl on and listen."
Follow us on Facebook, on Twitter @BBCNewsEnts, or on Instagram at bbcnewsents. If you have a story suggestion email entertainment.news@bbc.co.uk.