How Ed Sheeran is tackling ticket touts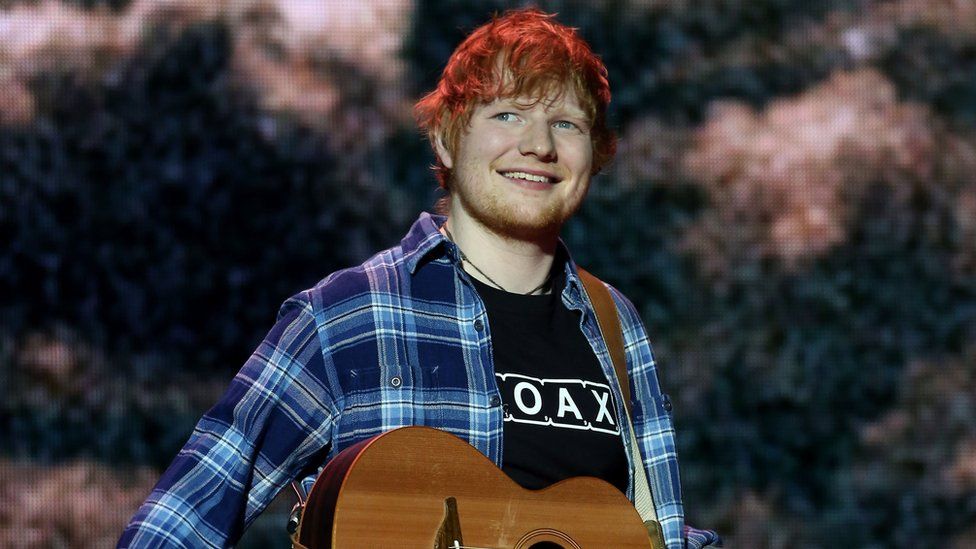 Ed Sheeran has taken an aggressive stance against touts by cancelling more than 10,000 tickets for his upcoming stadium tour.
After the tour went on sale, the star's team identified purchases by known touts and revoked their tickets.
Any tickets listed for re-sale on sites like Viagogo were also cancelled.
Fans who'd bought from those sites - often at vastly inflated prices - were given assistance in claiming refunds and getting genuine tickets.
So far, more than £240,000 has been returned to fans who inadvertently bought invalid tickets.
"We're achieving exactly what Ed wanted, which is 'we want you to come in and pay this [fixed] price,'" said Stuart Galbraith of concert promoters Kilimanjaro Live.
A further 500 tickets are going to be cancelled this week, ahead of Sheeran's first night at Manchester's Etihad Stadium, he added.
Sheeran's team decided to pursue touts after hundreds of tickets for a Teenage Cancer Trust gig were snapped up and sold for profit last March.
He imposed strict conditions on his 18-date stadium tour, including:
Names printed on tickets, with ID required at the door
A maximum of four tickets per customer
Tickets listed for resale to be cancelled
Any tickets bought by a "business or trader" to be cancelled
In addition, the on-sale date was a Saturday - rather than the traditional Friday - to make sure genuine fans had the greatest possible chance of being online.
Sheeran also partnered with Twickets - a site which allows fans to swap tickets at face value or less, in order to protect fans from the "unethical practices" of touts.
Galbraith negotiated with ticket resellers Get Me In, Seatwave and StubHub to make sure they wouldn't list tickets for the tour - in some cases, using the threat of prosecution under the Consumer Rights Act to reinforce his point.
"The only agency which listed against our wishes and ignored all our correspondence was Viagogo," said Galbraith.
Fans won't be turned away
Once tickets had been sold, the promoters "very laboriously" went through all the transactions and "identified known touts and multiple purchases".
Those tickets, and any listed on sites like Viagogo were immediately invalidated.
"We refunded everybody even though we know they're power sellers and touts, so we can't be accused of taking double income off a single ticket," said Galbraith.
When the tour launches, anyone who turns up unaware their ticket has been cancelled will be met by a customer care team, he added.
"We'll have teams that say, 'your ticket is invalid' and it'll be stamped invalid. That's important because it will enable them to go back to Viagogo and claim a refund.
"What we'll also then do is... send them to the next window and sell them a ticket at face value."
He added: "We genuinely hope we turn away as few people as possible. Because at the end of the day, even the people who've bought in the secondary market, as far as Ed is concerned, are still his [fans]."
At the time of writing, Viagogo was still offering tickets to the tour, with prices in excess of £400, compared to a face value of between £49 and £88.
Sheeran's ticketing system is not a first - Glastonbury and the West End musical Hamilton operate similar policies - but no-one has attempted it for a large-scale tour before.
It was conceived with the help of the FanFair Alliance, which lobbies against the "black market" in concert tickets, and has already been mimicked by the Arctic Monkeys for their upcoming UK tour.
Their manager, Ian McAndrew, said he and the band had grown tired of fans being "misled, confused and, I believe, fraudulently led to spend large sums of money on tickets, even when tickets are actually still available" at face value.
In total, the band sold 190,000 tickets with only a small percentage appearing on secondary resale sites. Again, only Viagogo refused a request not to list the tickets.
Asked for a response to this story, Viagogo directed the BBC to the FAQ section of its website, where it protests against concert promoters who deny entry to fans using resold tickets.
"These types of entry restrictions are highly unfair and in our view, unenforceable and illegal," it says.
Related Internet Links
The BBC is not responsible for the content of external sites.