Killer Joe: Why Orlando Bloom wanted to play a misogynist and a sociopath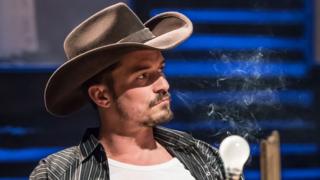 Katy Perry didn't mean to go viral last week when she left a comment on Orlando Bloom's Instagram account.
"I need a season pass for that ass," Bloom's on-off girlfriend wrote after he posted an image promoting his new West End role in Killer Joe.
A few minutes went by before she followed up with: "Oops. I meant to send that to you privately."
Fans reacted with glee to Perry's apparent mishap, but it's only when you go and see Killer Joe that you realise what spurred her to make the initial comment.
The play features a great deal of nudity - including from Bloom himself. But, the actor tells BBC News: "It was all handled very tastefully.
"I would say the sensitivity around, not just the nudity, but the characters, the world, it's all been handled with such integrity, it's made us all feel safe.
"So whilst we're in this very intimate house, and you literally have people on stage with you, I think we all feel very safe in the little trailer within that world that we created."
Killer Joe tells the story of a struggling family who live in a trailer park, who come up with a plan to have their mother murdered in order to cash in on her insurance policy.
They hire a contract killer - played by Bloom in the show's titular role - to carry out the deed. But things, of course, start to go wrong.
The Tracey Letts play was made into a film in 2011 film starring Matthew McConaughey, but Bloom says he didn't let the movie influence his performance.
"I have to say I'm a big fan of Matthew McConaughey so I did see it years ago, but it wasn't fresh," he says.
"It was a long time ago, because it was the beginning of the McConnaissance.
"It was more interesting to look at other films of that feel and that period like Blood Simple and Badlands."
The role marks Bloom's first theatre role in five years, and his first time in the West End in more than a decade, and the actor is keen for fans of his previous work on blockbusters like Pirates of the Caribbean to see him in a different context.
"I've been wanting to do something on stage for a very long time," he says.
"It's been five years since I did Romeo [on Broadway] and I haven't been in London since I did In Celebration [a 2007 production of David Storey's play].
"I was asked about [Killer Joe] a year ago, then it came back around, and I just wanted to change the conversation from Pirates and Legolas to something more dynamic, dark and interesting."
In the show's plot, one of the conditions of Joe's contract is he is allowed to begin a sexual relationship with Dottie, the 20-year-old daughter of the family, as a "retainer" until he is paid.
Seeing a young woman being used as a commodity makes for uncomfortable viewing, despite Dottie's willingness to go along with the arrangement.
But, Bloom argues, Joe has some redeeming qualities.
"This play was written 20 years ago. We are unpicking the basis of life's characters," he says.
"And we're trying to mine the gold, mine the compassion, have a sense of understanding and bring some sense of love and joy to it, because that's what each of those characters is asking for you.
"As an actor, you have to find that. To be able to stand on stage I have to look at it and go, 'what is it about Joe that I can compassionately understand for myself?'
"He's a sociopath, 100%, he's misogynistic, but there's a moral quality. I had to find things for myself."
In addition to Bloom's nudity in the show, Sophie Cookson, who plays Dottie, is also seen naked during an intense scene where Joe takes her virginity.
But the actress says: "For me it never feels gratuitous, it's very much a part of the story.
"Dottie is the joy and the lightness and the purity of the piece, so to see her stripped of all of that... and everyone talks about corrupting each other, that is a moment, even though it's consensual, it's very much a coming-of-age moment."
Bloom chips in: "I think if Dottie wasn't played as somebody who wasn't as strong as Sophie is playing it, you'd get a different take on this piece of writing."
Sophie agrees: "She could very easily be a victim." Bloom adds: "And that would be a mistake."
Critics saw the show for the first time this week, and reviews have been mixed.
The Stage gave it the most scathing review, awarding it one star and describing it as "nasty to a fault, and shocking for no other reason than to shock".
"Confused about whether it's comic or not, farce or horror, its cast of grotesques, acted to their extremist edges, encourages laughter more often than revulsion.
"That's a queasy directorial decision."
But in a four-star review for The Times, Dominic Maxwell wrote: "The acting, the torrid atmosphere, is mostly a triumph.
"I challenge anyone to explain Letts's play fully, but you come out of this unsettling, nasty, amusing evening knowing that you have had an experience."
The play also received four-star reviews from The Financial Times, Metro and The Guardian.
The Independent's Paul Taylor said: "Bloom's fine performance gathers in intensity and by the end he's in full sinister command of the stage."
But, he added: "The production will sell out because of its star but, in general, it's disappointing and leaves the play looking somewhat dated."
Others were also unenthusiastic, with Henry Hitchings giving it two stars in The Evening Standard, and The Hollywood Reporter describing it as "half-cocked".
Follow us on Facebook, on Twitter @BBCNewsEnts, or on Instagram at bbcnewsents. If you have a story suggestion email entertainment.news@bbc.co.uk.