Six acts to discover at Biggest Weekend
By Kev Geoghegan and Paul Glynn
BBC Music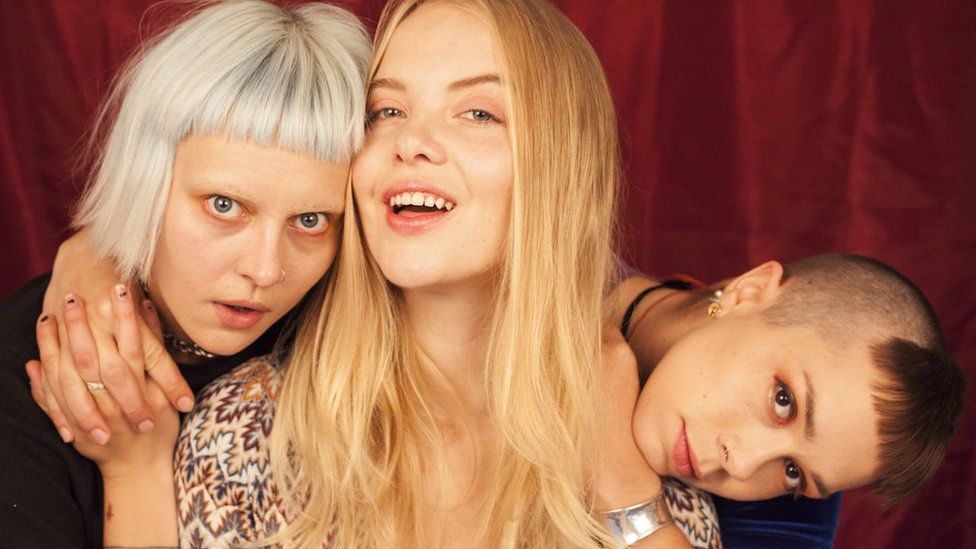 The biggest names in pop, rock, grime and classical music will be playing at BBC Music's Biggest Weekend over the next four days.
But dig a little deeper into the running order and you might find your new favourite band among the up-and-coming acts BBC Music Introducing are showcasing.
Here are a few names to look out for, whether you're attending a show or catching up on the Biggest Weekend website.
Welsh rock trio Trampolene get to headline the BBC Introducing stage in their hometown of Swansea, looking out at the school they attended just a few years ago.
"We're headlining, but everyone'll probably be watching Taylor Swift, won't they?" says frontman Jack Jones.
"Our mates don't come to watch us anyway. We played in Swansea the other day and I couldn't get my mate to come from Townhill.
"I rang him and said 'Look man, there's people here from Japan and you can't be bothered to walk two minutes down the road.'
"He said 'Yeah, sorry mate, I've got alloys to put on my car and go and get a tattoo.'
"I was like, 'Fair enough. Get your priorities right, son.'"
Dream Wife have evolved from an art school project to a jaw-dropping live act and one of the most talked-about new bands of 2018.
Their glittering pop-punk anthems bristle with attitude and bloom with melody. Lyrically, the band tackle oppression of women in Act My Age and gender equality on Somebody ("I am not my body/I'm somebody").
Icelandic frontwoman Rakel Mjoll says the band have already started to see a change in how women are treated at their gigs.
"In America, everyone is talking about enforcing safe spaces at shows," she says. "That's incredible that it's become the norm.
"But it comes in highs and lows. So don't let this conversation die down again."
"Being able to stand on stage and chat with people and laugh with them, that's my favourite thing," says Mahalia Burkmar.
The Leicester-born singer-songwriter has been working towards that goal ever since she wrote her first song at the age of eight.
She signed a major label record deal when she was 13 and was named one of BBC 1 Xtra's "Hot for 2018" artists at the start of the year.
Her calling card was the debut single Sober, a song she wrote after drunk-calling her boyfriend.
"This guy was being a bit of an idiot," she recalls. "I went out one night, got drunk and called him. Then I went home and wrote the chorus - drunk."
The Guardian described her intimate, futuristic R&B songs as "emotional diary entries, full of relatable crises, rejections, parental advice and daydreams."
For her part, the 19-year-old says she writes with "her heart on her sleeve" about love and break-ups. "Not that I've had loads of fellas!" she adds.
The Orielles are a young three-piece from Halifax comprising sisters Sidonie and Esme Hand-Halford and their friend Henry Wade.
They first met at a house party - although it wasn't as cool as that sounds. "It was for a family friend," says Henry. "I think it might have been a 40th birthday.
"It wasn't like a raging, Skins-style house party."
The band play the 6 Music stage in Belfast this weekend after releasing their debut album, Silver Dollar Moment, to rave reviews.
Packed with light-hearted stories (Let Your Dogtooth Grow is about the vagaries of dental surgery) and shuffling guitar riffs, it will instantly appeal to fans of '90s indie bands like Lush, Kenickie and Blur.
Blur frontman Damon Albarn is a fan and recently turned up to see the band in London, only to nearly get turned away at the door.
"We were trying to make space on the guest list," says Henry. "So we took Damon off as we didn't think he was going to come!"
Interviews with other Biggest Weekend artists
Watford-born Connie Constance is a former dancer who abandoned her training when she realised music would give her a better form of self-expression.
At first she felt (self-imposed) pressure to fit the template of "an R&B girl" - before realising she didn't listen to R&B and would be better off exploring her love of punk, indie and the Spice Girls.
The result is a quirky, elastic take on soul, with Connie's husky voice front and centre.
After being championed by BBC Radio 1's Annie Mac, she'll play the station's Introducing stage in Swansea for Biggest Weekend.
Connie says she can't wait to share the bill with fellow female soulsters Jorja Smith and Mabel.
"It's a good feeling being part of this new British sound," she says.
"Its nice to have unity, making music, and we all back each other when we put stuff out. It's very exciting."
Isaac Gracie triggered a record label bidding war with a series of lo-fi demos he recorded in his bedroom in 2016.
Two years later, he's toured the UK, scored a top 40 album and been compared to Jeff Buckley (with whom he shares a delicate, haunting falsetto) and Nick Cave (for the full-throated onslaught of his single The Death of You and I).
"Oh my god! Can you imagine?" he says when reminded of the article. "My first ever review in the papers, and they put that in the frickin' headline!
"But now I look at it I can kind of see why. We're [both] blonde and slightly jaded. It's all good."
Decide for yourself when Isaac performs in Swansea on Saturday.