Review: Giuseppe Penone at The Yorkshire Sculpture Park ★★★★☆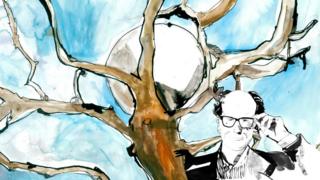 Back in 1977 when a sneering, snarling Sid Vicious joined the Sex Pistols to take the band's punk aesthetic up a notch or two, there was another young man making his own arty entrance on to the public stage.
I have no idea if Peter Murray has ever worn a padlocked chain around his neck or sported a red T-shirt emblazoned with a swastika, but I'm guessing not. He doesn't strike me as the type.
But that doesn't mean the mark he has made on the cultural landscape of Great Britain is any less indelible or incredible than the nihilistic sound of the late Sex Pistol.
While Sid was being vicious, Peter Murray wasn't.
He was hanging out at Bretton Hall near Wakefield teaching art teachers to teach art. The building was set in a nice location, the epitome of William Blake's "green and pleasant land" with rolling hills and all that.
It was the perfect landscape, the enterprising Murray thought, in which to exhibit some modern art.
And so, with a £1,000 grant from a regional arts agency, he put on a group show of contemporary sculptors that included Mike Lyons, William Tucker, Kenneth Armitage (all male line-ups were de rigueur in the 1970s. And the '80s. And the '90s. And the noughties).
That was then. Today, Murray's Yorkshire Sculpture Park spans 500 eye-popping acres, welcomes around half a million people a year, boasts one of the finest displays of sculpture you will ever rest your eyes upon, and has spawned copycat art parks across the world.
You can go there and see - for free - grade A, five-star art by Barbara Hepworth, Henry Moore, Phyllida Barlow, Joan Miró and Ai Weiwei, among many others. Their work is dotted about in fields and woods, where even the trees start to morph into sculptures.
That's not me coming over all dewy-eyed and poetic, by the way. Some of the trees really are sculptures: great big bronze trunks and branches that look just like the real thing until you give them a hug and feel cold metal rather than warm bark.
They are the work of the respected septuagenarian Italian artist, Giuseppe Penone, the subject of a new special exhibition at YSP. He is the David Attenborough of art, an observer of nature who makes work to heighten our awareness of the beauty and power of the natural world.
He says he is particularly keen on trees as he sees them as the "perfect sculpture" - an exquisitely balanced form with roots that dive deep into the watery underworld, and branches that reach up towards the light in the sky.
He talks a lot about the "forces of gravity" (often expressed through placing one-tonne balls of concrete in his trees' branches) and the "weight of life we are part of".
I asked him if his sculptures were a comment on the concept of a tree of life. He looked on me with benevolent pity, knotted his eyebrows, and replied with a winning smile: "Err…yeah…if you want it to. It's possible."
In other words, no they aren't. What then, are they about beyond the obvious homage to nature?
Getting an answer to that question from any artist is always tricky, and Signor Penone is no different.
He speaks philosophically about how we can only truly relate to the material world by seeing objects as an extension of ourselves. Which is why in a pile of real potatoes arranged against a wall in the indoor gallery space, he has added three bronze spuds onto which human facial features have been subtly moulded.
The idea of anthropomorphising nature is repeated in a marble wall sculpture called Corpo di Pietra - Rami (2016), in which the artist interprets the natural ridges on the marble's surface as the veins on the back of a human hand.
Sometimes, for me at least, he is a little too obvious when making the point about Man simply being a part of nature as opposed to being a separate or superior living entity.
There are, for instance, a series of bronze casts called Trattenere Anni di Crescita (2004-16) that consist of a tree trunk with a hand embedded in it, from which a severed arm protrudes like a branch.
They looked a bit surreal to me, but the artist repeated his charming knotted eyebrow routine again when I dared to share that thought with him. They are what they are and no more, he explained: a meditation on nature, art, and life.
It's an approach that also happens to eloquently sum up the YSP, which is why Giuseppe Penone is such a good choice for a special exhibition. Frankly, I think his outdoor pieces in the landscape are superior to those in the brightly lit gallery building, but they are all worthy of some time spent.
What's more, if they are not quite your thing, you can always set off and explore the rest of the park, which, over the last 41 years has developed into one of the great jewels of the English countryside.