Sesame Street sues over violent, puppet-based Happytime Murders film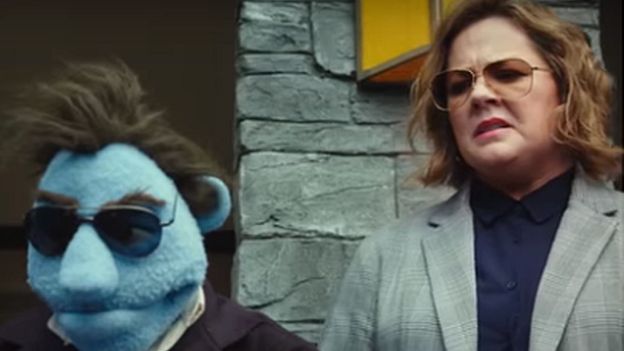 The creators of the famous children's TV show Sesame Street have launched a lawsuit against an upcoming sex, drugs and violence-laden puppet-based movie called the Happytime Murders.
The movie uses the tagline "No Sesame. All Street" on promotional material.
The lawsuit says this tarnishes the Sesame Street brand and confuses people into thinking the two are linked.
Melissa McCarthy stars in the film, slated for August release, where humans and puppets co-exist.
She is given a new puppet partner in the R-rated film to try to solve a string of murders.
Sesame Workshop, the educational organisation behind the TV show, filed the lawsuit against the film's producers, STX Productions, in New York. The lawsuit calls for punitive damages and a jury trial.
Sesame Workshop says that although the trailer for the movie is "indescribably crude", it is not seeking to block the film's promotion.
"It is only [the] defendants' deliberate choice to invoke and commercially misappropriate 'Sesame's' name and goodwill in marketing the movie - and thereby cause consumers to conclude that 'Sesame' is somehow associated with the movie - that has infringed on and tarnished the 'Sesame Street' mark and goodwill."
It says the '"No Sesame. All Street' tagline has confused and appalled viewers".
The film is directed by Brian Henson, son of the late Jim Henson, who helped develop Sesame Street characters for its launch in 1969 and later went on to create the Muppet Show.
STX issued a response via a character from the film, a lawyer called Fred, saying the movie was "the untold story of the active lives of Henson puppets when they're not performing in front of children".
It continued: "While we're disappointed that Sesame Street does not share in the fun, we are confident in our legal position."