Biggest Weekend: George Ezra says backstage 'is like school'
By Mark Savage
BBC Music reporter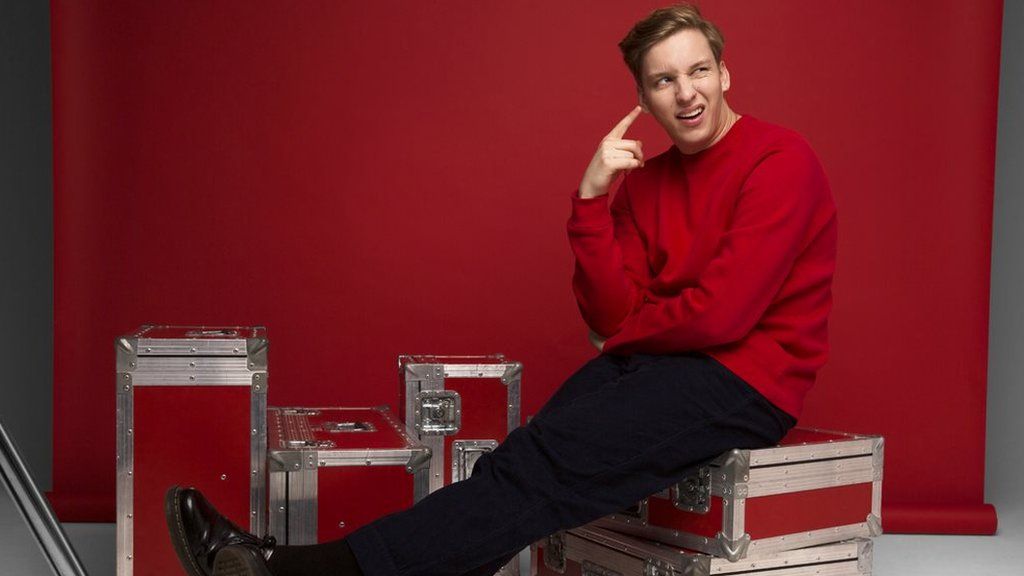 It might seem glamorous and exciting, but George Ezra says the backstage area of a music festival is more like a school disco.
"A lot of artists are quite shy - especially around each other," he told the BBC at The Biggest Weekend.
"There's a bravado, an adrenalin, that gets people on stage. But really, back there, there's a lot of insecure artists shuffling around.
"All the awkward kids at school? They're here, performing today."
He added that the festival season often comes at the end of a gruelling solo tour, meaning the performers are wiped out.
"They just look like they could do with having a nap and some time [alone]. I know I could."
Clean Bandit's Grace Chatto revealed she had woken up backstage on Saturday morning, after being driven through the night to get to The Biggest Weekend.
"Most artists woke up here this morning," she revealed, "so everyone was cleaning their teeth and stuff.
"It's really nice seeing all the artists in pyjamas with no make-up on. It was a really fun atmosphere."
Ezra and Clean Bandit are both playing in Swansea's Singleton Park for The Biggest Weekend.
The UK-wide festival also sees BBC Radio 2 taking over Coventry's War Memorial Park and BBC 6 Music at Belfast's Titanic Slipways.
One Direction star Liam Payne also took to the stage in Swansea on Saturday, playing his solo hits Strip That Down and For You alongside the One Direction classic, History.
He said there was a "lovely vibe" backstage at Singleton Park.
"What's great about working with the BBC is I always discover and see new artists at these things."
Ezra, however, admitted he'd used the on-site facilities in a different way - to get an injury checked out.
"I had to have a word with the St John Ambulance," he laughed. "I stubbed my toe last week. It doesn't look great - I've got a limp going on. I'm a bit worried about it.
"The St John Ambulance guy. He was very sweet. What did he say? Well, he said not to stub your toe. Very useful advice."
The star also talked about his recent stint reading bedtime stories for CBeebies.
"I was very nervous and I don't often get nervous" he said.
"Reading bedtime stories isn't something I've necessarily had a lot of practice at... I did a bit of babysitting as a teenager and had to read a few - but never on a national level."
In the end, though, he loved the experience "so much" that he thought about writing his own series of children's books.
"My mum's a primary school teacher and we've toyed with the idea," he said. "Maybe one day."