Ivor Novello Awards: Rapper Dave wins for political anthem Question Time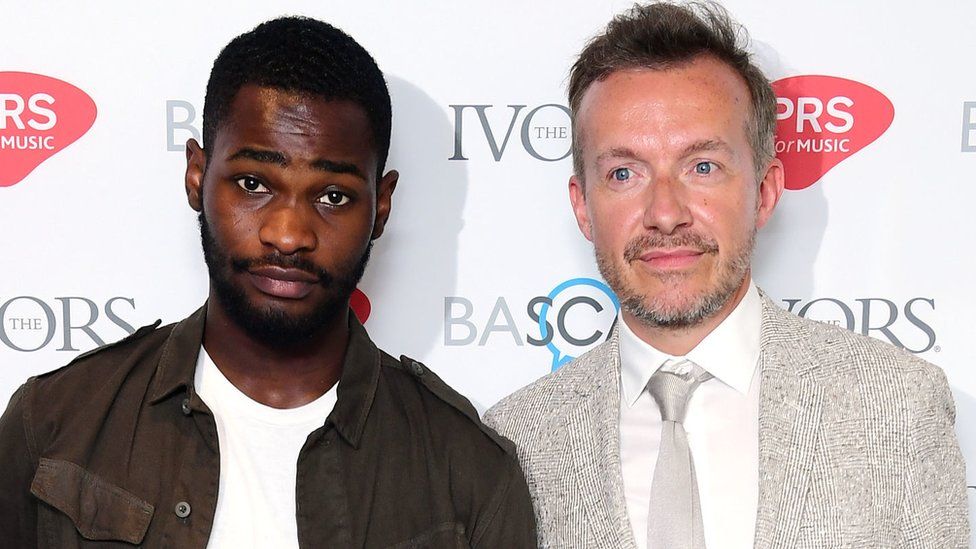 London rapper Dave's political anthem Question Time, which rages about everything from Grenfell Tower to Syria and the NHS, has won a top prize at the Ivor Novello songwriting awards.
The seven-minute track was named best contemporary song at the ceremony.
Fellow rapper Stormzy, who famously criticised the handling of Grenfell at the Brit Awards, won the album prize.
Ed Sheeran picked up two awards - songwriter of the year and most performed work for Shape of You.
Other winners included Manchester band Elbow, whose track Magnificent (She Says) was named best song musically and lyrically.
The Ivor Novello Awards are judged by songwriters, and Dave shared his trophy with Question Time co-writer and producer Fraser T Smith.
Dave (surname Santan), a 19-year-old piano-playing rapper from Streatham, south London, was on the BBC's Sound of 2017 list and was nominated for best British breakthrough act at this year's Brit Awards.
His winning song is a state-of-the-nation diatribe that takes aim at politicians including Theresa May, David Cameron and Jeremy Corbyn.
'Terrified' prime minister
In it, he vents his anger and frustration at why the government spends so much on defence instead of wages for nurses like his mum, and about how the "terrified" prime minister dealt with Grenfell.
He also raps eloquently about his horror when listening to survivors of the fire:
"When I listen to the things that the residents had seen/I was so shocked I couldn't even speak/Families they know that had died in their sleep/How you choke on the smoke when you're struggling to breathe/The glow from the fire/The panic when you hear all the sirens/The crackling, the popping and the muffled-out screams."
The best contemporary song category is for tracks that "capture the moment and/or explore the boundaries of contemporary music".
Dave beat Stormzy's Don't Cry For Me and CamelPhat & Elderbrook's Cola.
Billy Bragg, picking up the outstanding contribution award, said: "It's a great privilege to win in the same year as Dave for something so political and powerful. It really fired up my spirit somewhat."
The Ivor Novello Award winners in full:
Best song musically and lyrically: Magnificent (She Says) - written by Guy Garvey, Craig Potter, Mark Potter and Pete Turner; performed by Elbow
Best contemporary song: Question Time - written by Dave and Fraser T Smith; performed by Dave
Most performed work: Shape of You - written by Steve Mac, Johnny McDaid and Ed Sheeran; performed by Ed Sheeran
Songwriter of the year: Ed Sheeran
Album award: Gang Signs & Prayer - written and performed by Stormzy
Best television soundtrack: The Miniaturist - composed by Dan Jones
Best original film score: Jackie - composed by Mica Levi
Best original video game score: Horizon Zero Dawn - composed by Joris de Man, Joe Henson and Alexis Smith
International achievement: Billy Ocean
Outstanding song collection: Cathy Dennis
Outstanding contribution to British music: Billy Bragg
Special international award: Lionel Richie
Classical music award: Thea Musgrave
Inspiration award: Shane MacGowan