Female directors need to be 'shameless'
By Emma Saunders
Entertainment reporter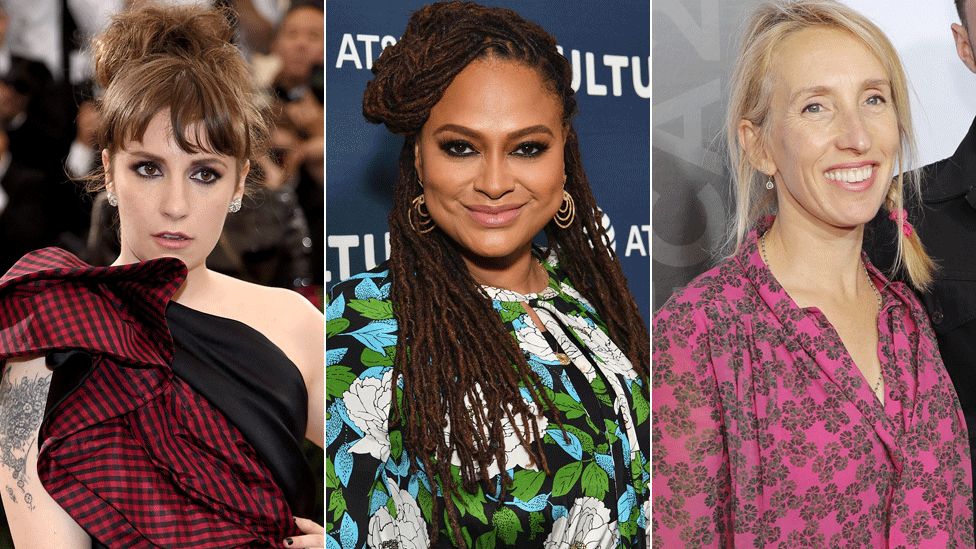 So, what do you do if you're a female filmmaker and there are so many barriers to fight against, you start "wondering if it's a pointless exercise"?
Make a film about it, of course.
Amy Adrion is showcasing her documentary Half the Picture at Sundance Festival London, which examines why there are so few female directors at the top of Hollywood.
The film features interviews with numerous women filmmakers including Lena Dunham (Girls), Ava DuVernay (Selma, A Wrinkle in Time) and Sam Taylor-Johnson (50 Shades of Grey), who reveal frankly shocking anecdotes about the prejudice they have encountered.
Sniggering in-jokes from all-male crews. Patronising over-the-shoulder suggestions about how to do their job. Sexual harassment. Demands to put naked breasts in several scenes if you want the job. You name it.
The film delves into the many reasons - or "prongs", as Adrion calls them - behind the fact that only five women have been nominated for best director at the Oscars. Ever.
"There's some deep-seated issues of discomfort with women in leadership roles, period. That exists in corporate America, politics certainly, and in film," says Adrion.
"One of the researchers looked into something called the Bigelow effect when people felt, 'women are going to get hired' and there was no Bigelow effect, it just did not happen," Adrion says.
In fact, the film says the numbers have been "stable" since 1998. Stats flash up on the screen - 50% of directing students are women but only 25% of films featured at Sundance are from women.
Patriarchy, the "who you know not what you know" culture in Hollywood, fewer female film critics and even childcare issues are all part of the problem, according to Half the Picture.
But Adrion says there's nothing complicated in the answer to a decades-long problem.
"Fundamentally, the answer is so simple - they just need to hire more women. The numbers could change next year if that commitment was made. Film is a little bit harder but in TV, you could say you want half of these episodes directed by women. There are a lot of men who are working who are very happy to be working and a lot of executives who… don't want to be told to change."
A powerful message from the film is how determined the women featured have to be to follow their dream. Yes, men have to be too, to make it in Hollywood. But nowhere near as much.
And some female directors found pushing themselves out there easier than others.
Twilight director Catherine Hardwicke says she questioned herself: "I thought it's me, I'm not good enough, I'm not working hard enough."
Whereas Lena Dunham says she was "delusionally self-confident" as a form of "self-preservation" when she faced rejection.
DuVernay uses the term "armour", Sam Taylor-Johnson says you have to "toughen up" to make it.
Adrion says: "I love the fact that Jilly Soloway (creator of Amazon's Transparent) says 'even if you don't feel it, you just have to pretend you're shameless… you need to push, push, push.'
"Some women are reluctant, they think: 'Who am I put myself out front?'
"It's a political act to do it because you're taking up the space you deserve in the world and other women see you do that and gain confidence from that."
Adrion refers to director Lynn Shelton, "who's made five incredible independent films and been at Sundance and says that guys she did the festival circuit with, time and time again, she's seen their careers explode.
"Colin Trevorrow is the poster boy for that, he went from Safety Not Guaranteed to Jurassic World. He's namechecked a lot but she said it's not just one or two guys, it's dozens that get plucked out of Sundance to make Fantastic 4 or Jurassic World or the next Spiderman and there's almost no women who have had that."
And even if you do hit the jackpot with your first big blockbuster, the offers don't exactly come flooding in.
Both Hardwicke and DuVernay say they thought more opportunities would come their way following Twilight and Selma.
And Wayne's World director Penelope Spheeris jokes: "I think I'd have directed Wayne's World II had I been a dude… but that's cool, it flopped!"
Adrion says we all have to be aware of the culture, not just men: "It's not like women have it all figured out.
"Once you're in a position of power, a position to hire, you're looking at a body of work that someone has done and you're comparing that.
"Often women haven't had access to the resources and opportunities that men haven't had."
DuVernay is just one of many women in Hollywood who is putting her money where her mouth is - every episode of her show Queen of Sugar was directed by a woman.
Adrion says: "For women and people of colour, LGBTQ, we all need to look at our peers and our circle and think is it reflective of society? It's not a crime if it's not, but we need to work harder to find… and hire those people."
Does Adrion think that finally the tide might be turning?
"I think the conversation has changed. The Harvey Weinstein mess has been instructive, in that it's really shone a light on a very dark part of the industry that exists because of the extreme gender inequality in our business.
"If there was a female counterpart of Harvey Weinstein, he would have had much less power.
"I have to be optimistic. The numbers are the numbers, you need to be realistic but you put that in a box in the back of your mind and you keep making your work. What am I going to do? Just give up? I'm going to keep working and that's part of the change."
Related Internet Links
The BBC is not responsible for the content of external sites.