Grayson Perry's Royal Academy Summer Exhibition stuns critics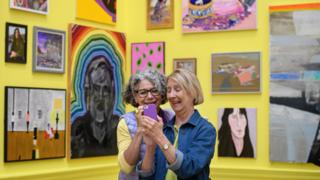 Grayson Perry has unveiled a colourful Summer Exhibition at the Royal Academy.
The Turner Prize-winning ceramic artist said he wanted to celebrate the "democratic rough and tumble" of the world's largest open-submission show.
He was asked to co-curate the show for its 250th anniversary, putting together a selection of 1,351 artworks from the 20,000 that were submitted.
Critics have praised its heavy use of colour and political tone, with one describing it as a "revolution".
The Guardian's Jonathan Jones said that by mixing established artists with "actual garbage: talentless, throwaway rubbish, a lot of it apparently made by jokers after getting home from the pub", Perry has "caught the moment".
He added: "This is the most liberating exhibition of new art I've seen for ages, because it obliterates definitions of what's good or bad, archaic or modern, and invites us to sample all the ways people can use a thing called 'art' to express feelings and ideas."
The show spreads out beyond the traditional first-floor galleries, with the Financial Times calling it a "sensory overload" in "celebration of the joy of making art".
Its writer James Pickford singles out the "lobed" multi-coloured structure from Portuguese artist Joana Vasconcelos in the Royal Academy's entrance hall, alongside "provocative political works" in the main gallery.
This includes a painting of Oswald Mosley with fascist blackshirts, references to race-relations and "a black American flag with the stars replaced by a handgun".
The contemporaneous focus is praised by Michael Glover of The Independent, who finds its artworks feel "as if they belong to our world, to the world of our current concerns.
As such, he says the "hard biscuit of Brexit has been bitten into with some aplomb".
Elsewhere, Perry has also installed Vote to Love, a Banksy image spray-painted over a placard that originally said Vote to Leave.
Glover concludes Perry's show is about works that "feel as if they belong to our world, to the world of our current concerns", rather than "yawn-inducing lessons about what art was like back then".
The "mad-cap iconoclast" has "overturned the furniture" with "pleasing unpredictability", he concludes.
The exhibition is open from 12 June to 19 August.
---
Follow us on Facebook, on Twitter @BBCNewsEnts, or on Instagram at bbcnewsents. If you have a story suggestion email entertainment.news@bbc.co.uk.