Meet Kamille: The stockbroker who writes hits for Little Mix and Jess Glynne
By Mark Savage
BBC Music reporter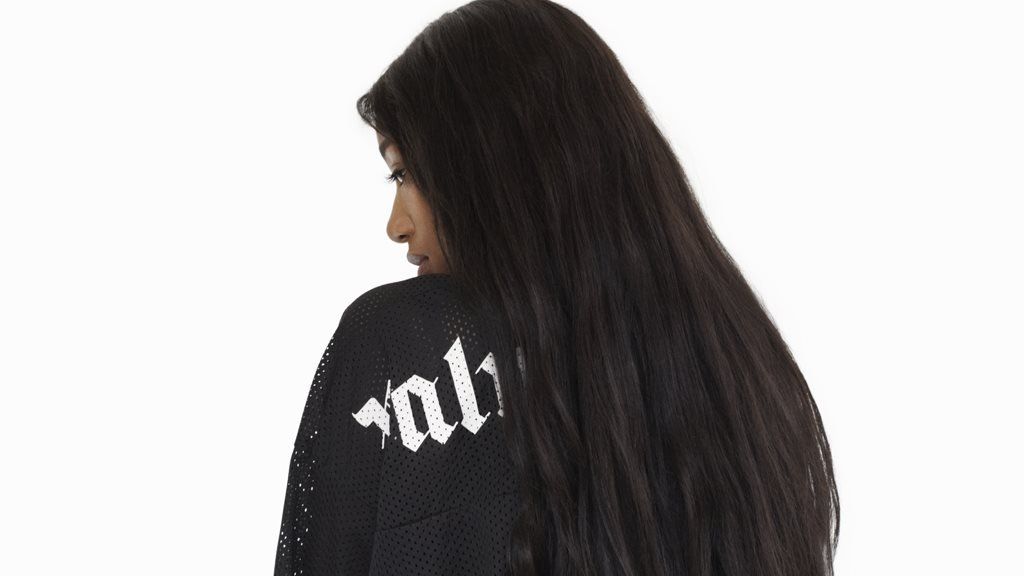 You don't get many pop stars with a degree in economics... but that's just one of the things that makes Camille Purcell unique.
The south London singer quit a lucrative job as a City stockbroker six years ago to try her hand at songwriting.
Her first song, What About Us, gave girl group The Saturdays a number one. Since then, she's become Little Mix's go-to songwriter, composing hits like Black Magic and the Brit award-winning Shout Out To My Ex.
"Camille knows us so well," says the band's Perrie Edwards. "She knows what we want to write about, she knows what sound we're going for. She's incredible. She's so talented."
Purcell also wrote this week's number one single, Jess Glynne's I'll Be There, while another of her compositions, Clean Bandit's Solo, looks set to replace it on Friday.
Meanwhile, the 29-year-old just released her own song, Emotional, under the stage name Kamille.
Hey Kamille. You're doing pretty well at the moment, huh?
I'm so happy! When I started songwriting, I walked out of my job and I had nothing. My parents were always big on education, and we fell out. They were like, "What are you doing with your life?"
So for it to go 360 and put me in a position where it's going really well, it makes me so happy.
You've worked with Little Mix since their second album. What's the secret?
I've seen the girls cry, laugh... everything in front of me. I feel like their big sister, if I'm honest, through the lyrics.
I think that's why we've been working together so long, because I'm in love with those girls. I stalk them!
The new album - you just wait. They are going to slay.
When you see how hard they work, is there a part of you that thinks, 'I'm happier over here in the background'?
I know what you mean - you'd think it would put you off, but when I see them on stage I really want to be up there so bad.
I went to see them at the O2 last year and they did eight of my songs. I was watching it from the wings and thinking, 'This is just out of control!' I couldn't have been prouder.
What can you tell us about writing with Clean Bandit and Jess Glynne?
I love that Clean Bandit track. We only wrote that a month ago and it's out already. Super-fast.
And Jess Glynne... Oh my gosh! Me and her went through break-ups at the same time and she would call me in the middle of the night and make sure I wasn't crying. I'll always have a soft spot for that song. It makes me feel really emotional when I hear it.
When you were starting out, you worked as a vocal coach on X Factor. Did Simon Cowell ever offer you any advice?
Yes! His best advice has been to give the audience what they want. Don't try and over-think it and be too clever - because the audience know what they want to listen to. That's the best advice.
How did you find working in the city?
I thought it was great. It's literally a place where you can strive and be successful. But I was too musically inclined.
People in finance often work ridiculous hours... How does music compare?
I don't go home in this job either, so there's some similarities there, but the dress code's easier. I can be wearing tracksuit bottoms instead of a three-piece suit!
And I'm such a night owl. I don't sleep. I'm probably running on about two hours sleep right now. But it's because I'm writing for myself and writing for everyone else as well.
How do you know when a song is for you and not for, say, Little Mix?
A lot of the time I get invited into a [writing] session by the label, so I'm writing for that artist specifically.
We always get to know each other at the start of the session because you can't just write a song cold. You've got to have a bit of convo. And you tend to find out things about them - break-ups, if they're happy, what they're going through. Once I'm on the piano and writing, something they've said will come into my mind.
My own songs tend to be a lot more free, lyrically. I'm not holding myself back. Those songs couldn't be for anybody else.
Oh Lord! Let's not even get into that! I've just got over it. It was a tough break-up and it made me write a lot of songs about being hurt and wishing someone could see how much you love them.
Now I'm in a much, much better place [and] singing those songs gives me a lot of strength and makes me feel empowered.
Your solo material is much more soulful than the pop tunes you're known for. Have you deliberately separated the two branches of your career?
What I'm intending to do is show all sides of me. I'm Jamaican and Cuban and that's the kind of music that was going on in my household growing up.
Every song you're going to hear from me will be something different. I'm more interested in creating a playlist for people, as opposed to sticking to a [musical] theme.
Ten years ago, a record label would have advised you to stick to one genre. What's changed?
I think nowadays fans are listening to a whole range of things on Spotify and Apple Music. They aren't listening to one genre any more, they're listening to what fits their mood.
Someone who does that so well is Drake. Every song he has can fit a different situation - whether you're in a car or at a barbecue or feeling sad or you want to have sex.
Could you do all three? Is there a sad sex barbecue song waiting to be written?
You could so have a sad sex barbecue song! I've actually got a term called "sexual sadness". It started with a song with The Script, called Rain, where the whole idea was you're standing in a club and you want to have sex but you're heartbroken: sexual sadness.
And that's kind of what I did with [Clean Bandit's] Solo as well. I wanted to write about that feeling where you've broken up with someone and you're not ready to move on but you're really horny. So I think sad sexual barbecue should be the next craze.
I can picture the video now.
That would be brilliant! What is wrong with us? That is all kinds of wrong!
Kamille's single Emotional is out now on Virgin EMI.
You may also be interested in: