Poldark's Aidan Turner: 'I've never felt objectified'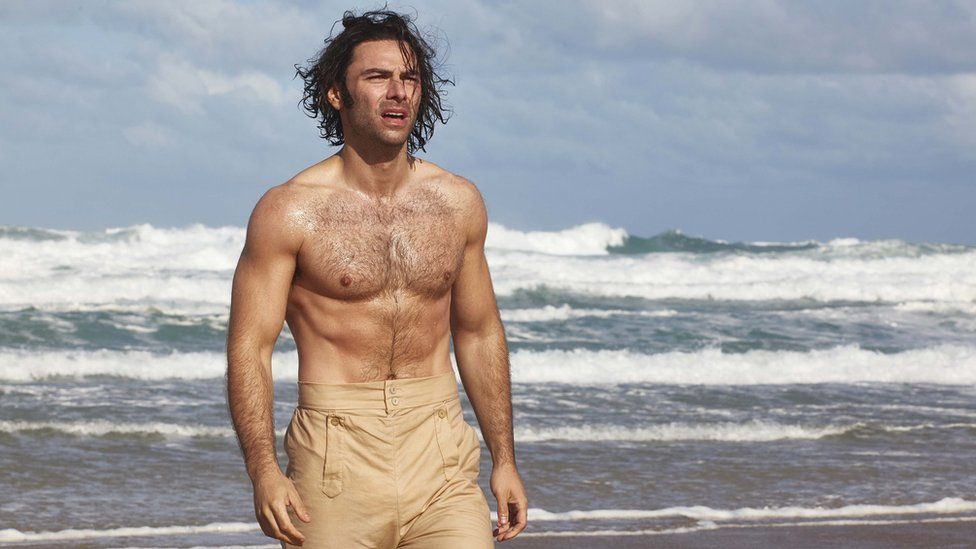 Aidan Turner has said he has "never felt objectified", despite the amount of attention he receives on Poldark.
The actor, who is about to take on his first stage role in 10 years, found himself the subject of a national debate earlier this month.
Or rather, his chest did.
Writing in the Radio Times, Mariella Frostrup highlighted the apparent "double standards" when it came to female journalists and viewers openly lusting over Ross Poldark.
Frostrup said this was something that would be highly criticised if the tables were turned, i.e. if a plethora of male journalists were to objectify a female star.
"I fear we are losing not only our sense of humour but our sense of proportion as we throw every act of perceived sexism into the #MeToo basket," she wrote.
She added that both men and women should be free to "confidently express desire" for the opposite sex.
"Sure, I think everyone should be, I don't see the problem there," Turner tells BBC News when told about Frostrup's article.
"I've never felt objectified. I think sometimes other people want to feel that for you, which can be quite a strange thing.
"But personally I haven't. You say objectify, but it just sounds like [Frostrup] was sort of admiring that character of Ross Poldark or physically how he looks or whatever."
"These photographs were stills from the show, so in context it makes sense," he says.
"When you pull them out and stick a photograph on the front page of a national newspaper it becomes something very different."
"We're not doing anything in our show that... I mean, Game of Thrones probably has far more nudity, or Vikings, or any of these shows, than we would have.
"So I never quite understood why our show was picked in particular, or why these images were concentrated on more so than any other shows, or other images of actors who've gone topless for any sex scenes..."
Asked specifically about Frostrup's argument, he said: "It seems like there is a double standard, yeah, it does seem that way. But I try not to get involved in [that debate]."
Turner may have just returned to our screens as Poldark, but he's also set to return to the stage for the first time in 10 years, in The Lieutenant of Inishmore.
His fame has obviously grown significantly in the last decade, but he still feels slightly strange about his name being plastered across the poster.
"I suppose you have to do it these days just to sell shows," he concedes. "Poldark does get a big audience, so it's marketing these days, that's the way it goes. But if I had my way we'd all be on the poster.
"I'm the title character, but I think line for line I don't know if I have the most dialogue in the show, it's an ensemble."
"It is a bit strange to see my name on it. But it's quite nice, too. It has been 10 years and I have done quite a lot of work in that time - most of which I'm proud of," he laughs.
"I was aware of this play in drama school, but he's such a big name now - everyone wants to work with him," says Turner.
The darkly comic and violent play is set in the early 1990s as the Northern Ireland peace process is taking its first steps.
"It's incredibly funny, it's dark, I think Martin just writes these Irish plays so well, he just has this great twist on the language," the actor says.
"It sounds Irish, people do speak like that, but there's a musicality to it that's quite unique with Martin's work. He has a way of just pulling difficult subjects to talk about into his own unique light."
Turner hopes one side effect of the attention Poldark has brought him will be bringing new audiences to the West End.
"I've been meaning to come back for quite a long time, it's just other things got in the way," he explains.
"Time just goes so fast, doesn't it? I was in New Zealand for a couple of years for a job over there, then Poldark... and suddenly it's a decade.
"So it was just about time, I was missing it desperately."
He adds: "It would be nice if it had an effect on the public, and see if people who wouldn't normally come and see theatre might come and check it out."
The Lieutenant of Inishmore opens at London's Noel Coward Theatre on 23 June.
Related Internet Links
The BBC is not responsible for the content of external sites.