Jeremy Vine to replace Matthew Wright on Channel 5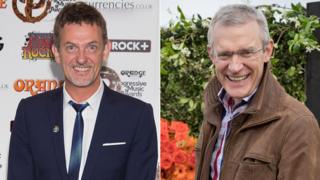 Jeremy Vine will become the presenter of Channel 5's new daily current affairs programme after the departure of Matthew Wright.
Wright announced last month that he was quitting The Wright Stuff, which he has presented since 2000.
The new look Channel 5 show will air from September with the show getting a new name for the first time in its 18-year history.
Vine will juggle his new role alongside his weekday BBC Radio 2 show.
In a statement, Vine said: "Matthew Wright has built a brilliant show that's a big part of the British TV landscape.
"I'm delighted to be carrying on all the conversations he has started, with all the guests he's made me feel I know over the years.
"Radio 2 has a beautiful editorial overlap with the serious but accessible agenda of this show. I am proud to be Channel 5's choice to front it."
Wright spoke last month about why he was leaving on ITV's Loose Women.
"There's not a lot to say really other than the fact that, you know, better than most, the demands of getting up for a daytime show," he said.
"I'm up at three o'clock in the morning these days and I go to bed at half seven.
"I've had 18 and a half years of it, Mrs Wright, we pass like ships in the night and you're looking around and thinking, at some point you've got to have a change."
Amol Rajan on Matthew Wright's departure
The Wright Stuff rated relatively well, had a proven formula, and its longevity made it a key part of the Channel 5 brand. It also made noise on social media, and occasionally generated news and profile for the channel.
Over the past several months, the show has maintained its audience share, but away from the cameras there has been tension aplenty.
ITN is an outstanding international production company, with an exceptional record in News. The Wright Stuff is an entertaining chat show. It is certainly driven by the news and presented by a former tabloid hack; but its jovial and fun spirit struggled to make the transition into a new culture.
On Twitter, there was mixed reaction to Channel 5's new signing.
Meanwhile, there was much speculation over what the new show was likely to be called with the new presenter at the helm.
Ben Frow, director of programmes for Channel 5 said: "Jeremy Vine is a brilliant broadcaster whose supreme ability to make challenging stories accessible to a wider audience, not to mention his intellect, energy and wit, makes him the perfect choice to present our daily current affairs show."
Jeremy Vine will continue to host his award-winning weekday radio show on BBC Radio 2 between 12pm and 2pm.
Follow us on Facebook, on Twitter @BBCNewsEnts, or on Instagram at bbcnewsents. If you have a story suggestion email entertainment.news@bbc.co.uk.