Leslie Grantham's dramatic life on and off screen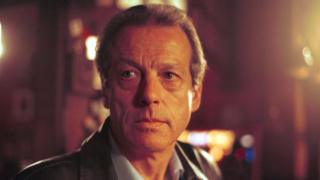 At Christmas in 1986, more than 30 million sat down to watch an East End landlord serve divorce papers to his long-suffering wife.
It was an acting masterclass in sneering, scowling, superbly-controlled spite. The pleasure taken in inflicting pain was both unforgettable and unbearable.
That scene still ranks as a landmark in British TV history. In the era of multi-channel television, the viewing figures are unlikely ever to equalled.
Dirty Den was one of the most memorable soap opera characters - at times a rough diamond, at others a really nasty piece of work.
He was complex, attractive and tough: a guy who got an innocent teenager pregnant, fell in with criminal gangs and served time inside for arson.
Leslie Grantham, who has died at the age of 71, was the man plucked from obscurity to play him. But like Den Watts, Grantham was no angel.
Leslie Michael Grantham was born in Camberwell, south London, on 30 April 1947 and grew up with his parents on a Kent council estate.
In his youth, he secretly longed to be an actor - but it was not an ambition he found easy to admit.
"You couldn't tell people," he said. "I used to go to the theatre in Bromley and make out I'd been to the football."
After school, Grantham enlisted in the Royal Fusiliers and became a lance corporal. At the age of 18, during a posting in Germany, he bungled a robbery. There was a struggle which ended in him shooting and killing a taxi driver.
In a statement to the police, he insisted he did not know the gun was loaded and it had gone off by accident. The jury didn't believe him and convicted him of murder.
The next 11 years were spent in British jails, including Leyhill, Portsmouth and Wormwood Scrubs. Looking for a way to "buck the system", he rekindled his youthful ambition to act.
"I knew I'd done wrong, so I had to make the best of it," he told one interviewer. "I had to come out the other side. My way was by getting involved in drama."
Prison, he said, was where he learned to play the hard man. The need to keep face in front of other inmates was paramount - any weakness was carefully hidden.
"You learn to play the tough guy, even if you're soft," he insisted. "To this day, I can keep up a front. I've been to prison, I did something terrible, but I'm not a genuine hard man."
Starting again
In 1978, he was released. While living in a hostel, he was offered a place at drama school, working as a painter and decorator by night to make ends meet. Finally, he felt, he had a direction.
"What I did to end up in [prison] was a terrible thing," he said. "But then life is like that - what's that thing that you see on the side of a golden syrup tin - from adversity comes strength?"
One day, James Cagney - his hero - was in town. The star-struck Grantham hung around the set until a limo drew up. The great Hollywood tough-guy was wheeled in surrounded by bouncers.
"I shouted at him that I wanted to be an actor," he recalled. "This voice came back at me, 'Acting's about walking through the door, planting your feet and telling the truth. Good luck.'"
Grantham said that told him more about acting than any of his years at drama school.
He met his first wife, Jane, at drama school and got bit parts in local theatre, some minor TV roles and even an episode of Doctor Who. Not bad for a convicted murderer looking to carve a new life for himself, but nothing to suggest he was on course for stardom.
Albert Square calls
But then came EastEnders. Grantham auditioned to play Pete Beale, Albert Square's fruit and vegetable man. But the producers wanted him for Dennis Watts.
The landlord of the Queen Vic was not quite a gangster, but he was hard, selfish and morally unscrupulous.
What Julia Smith, the show's creator, saw in Grantham was a "tensed up, internal emotion of some sort, that was being held in", she said. "There was something behind the eyes, too. Barely contained violence almost."
Just before they offered him a contract, he told Smith about his past. The new BBC soap would be on national television, with his own murder conviction bound to hit the headlines.
But she had her man and refused to change her mind. In her opinion, Grantham had served his time and it was a "Christian duty to forgive".
On screen, Den became EastEnders' unlovable but unmissable monster. He had affairs, drove his wife to attempt suicide and got his teenage daughter's best friend pregnant.
When Den served divorce papers to Angie (Anita Dobson) after finding out she had faked a terminal illness in order to persuade him to stay with her, he snarled the immortal words: "Happy Christmas, Ange."
Off screen, Grantham was beginning to think of life after EastEnders. He had signed up for 10 episodes and ended up doing four years.
The producers did not want him to leave at the same time as Anita Dobson, reluctant to lose two of their biggest stars. So they banked up the equivalent of a year's filming with him in a few intense weeks.
Grantham's character fell out with everybody, including 'The Firm', a shadowy criminal gang running an illegal gambling den. Viewers saw a mysterious assassin with a gun hidden in a bunch of daffodils. There was a shot and a splash, as a body fell into a canal.
Maybe it was the end of Den Watts, maybe it wasn't. Nobody could quite be certain. They deliberately left it ambiguous in case, one day, Grantham could be persuaded to return.
'Hello Princess...'
Grantham would complain that, when he was interviewed, he would always be asked two questions: "What about the murder conviction" and "What did you do after EastEnders?".
About the first, he remained tight-lipped, insisting it was all in the past with the details between him and his God.
About the second, he was more forthcoming, proud that he continued to act, including roles in the BBC's Paradise Club and Sky One's The Stretch (which reunited him with Anita Dobson).
In truth, however, many of these parts were pale imitations of Den Watts, identikit hard men trying to keep their criminal empires on the rails.
He co-hosted a game show, Fort Boyard, with Melinda Messenger, but even that required him to snarl at the contestants. He was never out of work, but it was proving hard to escape his typecasting and the shadow of Albert Square.
Finally, he gave in to EastEnders, which had never given up on a comeback. In September 2003, Den turned up at the nightclub now owned by his adopted daughter Sharon.
It was the most keenly anticipated TV moment of the year and Grantham had lost none of his controlled menace. "Hello Princess," he rasped.
But the brief return would go sour after Grantham was caught exposing himself on a webcam to a Sunday newspaper undercover reporter called 'Amanda'. Absurdly dressed as Captain Hook, he also insulted various fellow cast members, including Shane Richie and Wendy Richard.
He released a statement apologising and insisted he had been set up. But a month later, it was confirmed that Grantham would be leaving show, his character killed off and the "coffin lid nailed shut".
His new on-screen wife, Chrissie, did the deed with an iron doorstop and the body was buried in the cellar of the Queen Vic.
Scriptwriter Tony Jordan said after the internet scandal: "Suddenly, I couldn't believe in the character any more. I was starting to love the character and buying into all of it, but after that I saw him as Leslie Grantham - not Den Watts.
"He was older, and flawed in all the wrong ways. I think a lot of viewers felt the same."
The public humiliation pushed him to the edge. There were several suicide attempts and he separated from his wife. They eventually divorced in 2013.
'Huge amount of frailties'
Life after EastEnders was always busy. There were pantomimes and celebrity appearances; he wrote his autobiography and a children's book.
There was even a starring role in a Bulgarian TV series, The English Neighbour. But nothing compared to Dirty Den, Albert Square's most memorable scoundrel.
He will be remembered as a fine character actor, who only played one part but played it to perfection.
In his autobiography, he admitted his personal weaknesses.
"I could have gone out and written how marvellous I am, like everyone else does, but I'm not a marvellous person," he said. "I've got a huge amount of frailties, a huge amount of complexes and a huge amount of problems."
In life, Grantham may have been as flawed a man as the part he played. But he was also capable of self-deprecating, self-critical analysis. These were redeeming qualities that, perhaps, proved there were limits to the comparison with his famous on-screen creation.
Introspection, humility and regret were certainly beyond the reach of Dennis Watts.