Frida Kahlo: Getting personal with the artist who was ahead of her time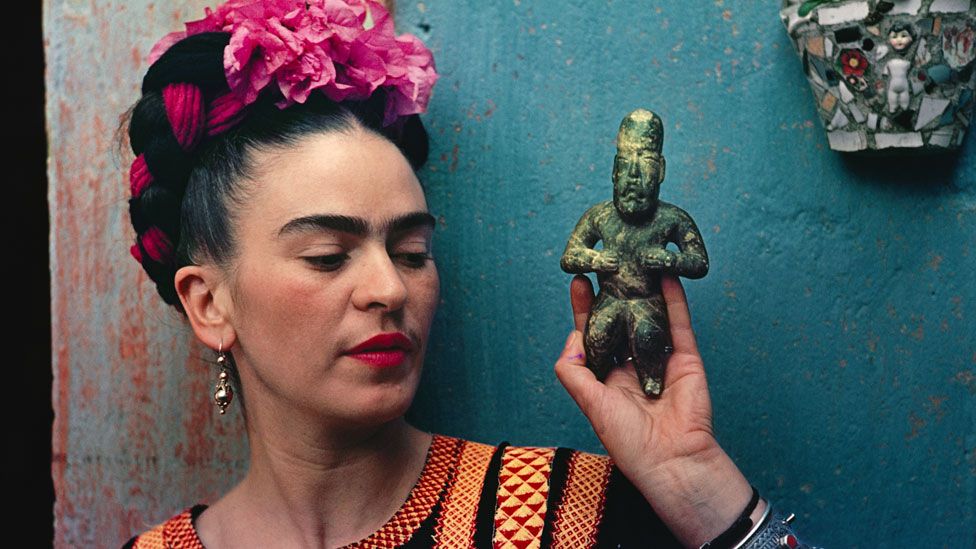 A major new Frida Kahlo exhibition promises a new perspective on an artist who remains one of the most inspirational and influential in modern art.
In recent months, Frida Kahlo has been turned into a Barbie doll, been featured on a bracelet worn by UK Prime Minister Theresa May, and has made a cameo appearance in Oscar-winning animation Coco.
Besides that, she's seen on T-shirts, murals, jewellery and shoes, with the iconography threatening to overshadow her actual art.
Much feels familiar about Kahlo - there's the braided and flowered hair, her direct gaze under that unibrow, the distinctive outfits she wore, and of course her artworks. So much so that she feels - and looks - like she belongs in 2018.
Why does her image and her attitude still feel so fresh, more than 110 years after she was born, and almost 65 years after she died?
"She was ahead of her time. The reason she's so contemporary now is that she was contemporary then," says co-curator Circe Henestrosa.
Kahlo resonates for many reasons in the modern world, she says. "It has to do with what she represents today. Whether you're a woman, whether you're disabled, suffering from some illness, suffering from a romantic break-up - it connects on so many levels.
"She was a Mexican woman, with dark skin, who was disabled and looking for a place as a female artist in a male-dominated environment in Mexico, in the world of art.
"Aren't these the same things we're fighting for as women today, to have a voice?"
Now, for the first time outside Mexico, her personal effects - which were sealed in her bathroom for 50 years after her death and only revealed in 2004 - have been gathered alongside her artwork.
The V&A Museum in London is putting 270 pieces from Casa Azul - the Blue House, where Kahlo was born, lived and died - on show in an exhibition titled Frida Kahlo: Making Her Self Up.
There's the prosthetic leg, complete with red ankle boot, which she wore after an amputation following years of chronic health problems - she had polio as a child, and then a near-fatal road accident when she was 18, which caused her a lifetime of pain.
We see too the necklace Kahlo made of burial beads, the jade that had been buried with Mayan dead centuries previously, now experienced in double - both in a display case, flecked with paint from when Kahlo wore them, and in a self-portrait on a nearby wall.
But then, more prosaically, there's the large pot of Pond's Dry Skin Cream, the empty bottles of perfume, and even the Revlon eyebrow pencil she used.
"This is the nearest we will ever get to meeting her," says Henestrosa. "It's the nearest we'll ever be to her. We meet her intimately for the first time.
"I think it's very different to other exhibitions where you just see her paintings.
"We find the woman who was very sophisticated, loved perfume and make-up, was incredibly feminine and loved to dress up. Through her art and her dress, she dealt with her political beliefs, her relationship with [her husband] Diego Rivera, her disabilities.
"She expresses herself through her dress, and that's what makes this exhibition unique."
Henestrosa says Kahlo "defined herself on her own terms", which is something that resonates with people today. Instead of seeing Kahlo as a victim, people are now celebrating her unconventionality.
"She suffered - but she also drank tequila, had lovers, dressed up and had a lot of fun.
"She enjoyed her life and lived it intensely."
Asked what she thinks makes Kahlo so well-loved today, co-curator Claire Wilcox, the V&A's senior curator of fashion, says: "For everyone who comes here, it will have its own significance for them.
"She was so photographed in her lifetime, as much as a celebrity would be. She was stopped in the street in San Francisco. Her appearance was so flamboyant. She attracted attention.
"So it's not a surprise to me that she's still so avidly followed in this way, and that her personal passions will be of interest to so many people, as well as her paintings."
What did surprise Wilcox in her research were some of the details about Kahlo's life - the fact that her and Rivera's initials were sewn into their bed linen and that her clothing had flecks of paint on them, as did the jade necklace that appeared in a painting, as if Kahlo had been attempting to match the exact shade of green.
"These were not dressing up clothes," she says of the Tehuana dress she adopted. "It was her everyday wardrobe."
She adds: "My hope is that people will come away with an understanding of who Frida was.
"Although she represents some kind of modernity to us in terms of independence of spirit, her fantastic outfits and her acceptance and defiance of her disabilities, she was also a product of her time and its politics."
'Art star for selfie age'
The exhibition has had some mixed reviews, with Jonathan Jones in The Guardian saying: "She wouldn't want us to be gawping at her possessions, however arresting they might be."
However, he admired the "beautiful, spooky moment" of seeing one of her paintings exhibited alongside the very outfit she is wearing in the artwork. "This is an archaeological exhibit, not an artist one," he wrote, awarding it three stars.
The exhibition fared one star better in Time Out, with Rosemary Waugh commenting: "The displays... feel intensely personal - more so than if the V&A had just hung up her pants."
There were four stars too in the Evening Standard, where Karen Dacre remarked upon "the inescapable darkness that hangs over this exhibition".
It offers, Dacre added, "a masterful insight into [Kahlo's] life as a manipulator of her own look."
Holly Williams, writing in the i newspaper, called Kahlo "an art star for the selfie age", while noting that her face is "emblazoned on all sorts of tat".
The show is "a bit short" on paintings, she continued, adding: "[Kahlo] was not only a clothes horse - she was a painter. And here, the woman overtakes the work."
Yet Williams still described the exhibition as "a useful reminder of the pain beneath the petticoats [and] the tenacity it must have taken to produce work."
Frida Kahlo: Making Her Self Up is at the Victoria and Albert Museum in London from 16 June to 14 November.
Artworks, personal items and clothing courtesy of Diego Rivera and Frida Kahlo Archives, Banco de Mexico, Fiduciary of the Trust of the Diego Riviera and Frida Kahlo Museums.
Related Internet Links
The BBC is not responsible for the content of external sites.