Drake goes back to Degrassi in new video
By Mark Savage
BBC Music reporter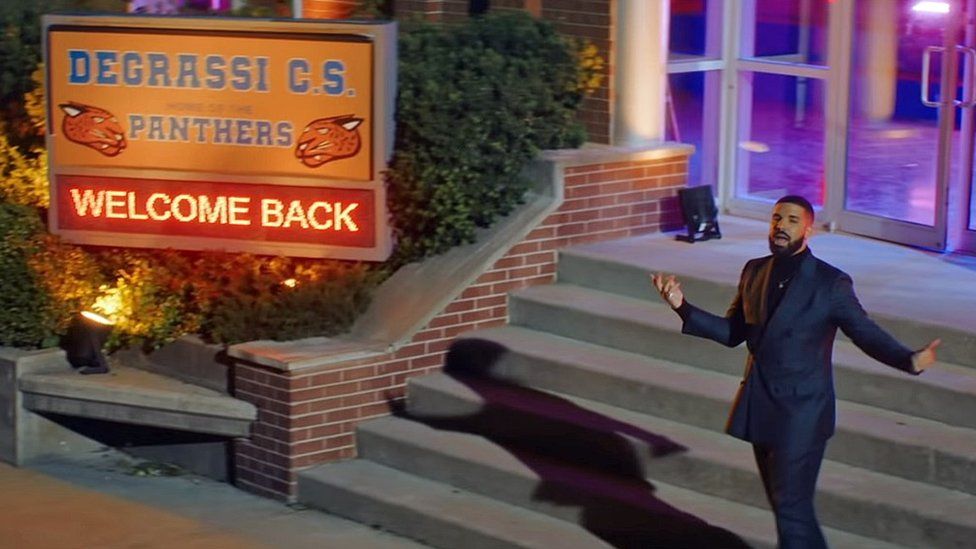 Drake has reunited the cast of the teen drama Degrassi: The Next Generation in a new video for his previously-released single, I'm Upset.
The musician got his first taste of fame on the show, playing Jimmy Brooks, a basketball player who became disabled after he was shot by a classmate.
The star is walking again in the I'm Upset video, which is based around a Degrassi high school reunion.
And his shooter is seen being chased down the corridors by Drake's posse.
The video's storyline - and language - is a little more adult than the popular teen series, which ran for 14 years from 2001.
The school's headmaster (Stefan Brogren) is seen scoring drugs from cult comedy characters Jay and Silent Bob (Jason Mewes and film director Kevin Smith).
Meanwhile, the former pupils dance in the halls, drink on the bleachers, abuse a photocopier and have a few steamy moments in the locker rooms.
Things ultimately descend into chaos and the party ends in a fiery blaze.
Degrassi​ co-stars Stacey Farber, Adamo Ruggiero, Lauren Collins, Miriam McDonald, Cassie Steele, Nina Dobrev, Jake Epstein and Andrea Lewis (who played Drake's girlfriend Hazel Aden) all appear in the video.
The closing credits take a nostalgic turn, thanking each actor in turn, while showing footage from the original series alongside clips from the video.
After the video premiered, Drake announced his new album, Scorpion, would be released on 29 June.
The Canadian star, who is the most-streamed artist in the world, has often made affectionate references to Degrassi in his lyrics.
On one of his first mixtapes, the star rapped about fans' confusing his musical persona with his TV character: "They like, 'Damn, who's Drake? Where's Wheelchair Jimmy at?'"
"Wheelchair Jimmy" became a meme as Drake's pop career took off; and the star's musical commitments eventually cost him his acting job.
"I'd spend a full day on set and then go to the studio to make music until 4 or 5 am," he told W magazine in 2015.
"I'd sleep in my dressing room and then be in front of the cameras again by 9 am. Eventually, they realised I was juggling two professions and told me I had to choose.
The musician's former co-stars celebrated the release of I'm Upset by sharing behind-the-scenes photos from the video shoot.