Millie Bobby Brown quits Twitter after being trolled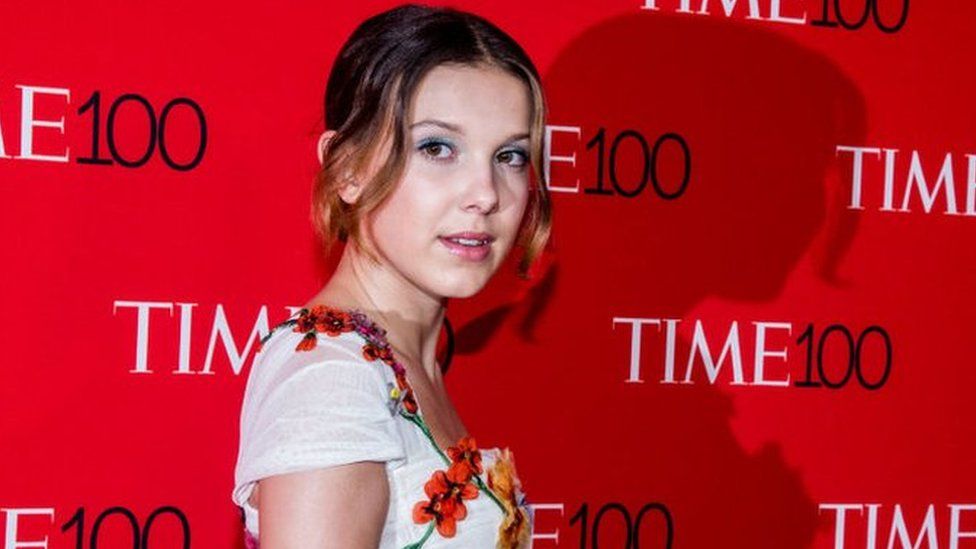 Millie Bobby Brown is the latest star to quit Twitter after being trolled.
The 14-year-old Stranger Things actor was the subject of homophobic memes on the social media site.
Users added "quotes" onto her selfies and photoshopped her into memes to make it appear that she was spreading anti-gay messages.
It's not known whether the deactivating of her account is related to the online trolling.
This is part of a trolling trend, as three years ago some Twitter users added fake captions to pictures taken by Demi Lovato on Snapchat and Instagram.
The captions discriminated against overweight and disabled people but were nothing to do with Lovato.
Celebrities who have spoken out about social media
Selena Gomez says when she found out she was the most-followed person on Instagram in 2016 (she currently has 138 million followers) she "freaked out".
"It had become so consuming to me. It's what I woke up to and went to sleep to. I was an addict, and it felt like I was seeing things I didn't want to see."
That's the reason she regularly takes breaks from posting content, she told Vogue in 2017.
Justin Bieber's Instagram followers - which now number 100 million - got too much for him in 2016 when he accused them of online bullying over his then-girlfriend Sofia Ritchie.
"If you guys are really fans you wouldn't be so mean to people that I like," he wrote in a post on the platform.
The problems didn't stop, so Bieber quit the platform for six months.
Star Wars actress Daisy Ridley said becoming famous made her delete her social media. The 25-year-old quit Instagram last year.
In an interview with Radio Times, she says she did it because of how bad it is for mental health.
Ridley said: "The more I read about teenage anxiety, the more I think it's highly unhealthy for people's mental health.
She added: "It's such a weird thing for young people to look at distorted images of things they should be."
Cinderella actress Lily James agreed with her comments, telling the BBC: "I'm not on Twitter, I don't want to always have something to say, I want to save that for my life.
"Also I think, especially as a young person, you change your opinions every second, so [you shouldn't] put something down in concrete that's going to come back and haunt you."
Ed Sheeran famously took a year-long break from social media in between his second and third albums as he said he was spending too much time on his phone.
"I find myself seeing the world through a screen and not my eyes so I'm taking this opportunity of me not having to be anywhere or do anything to travel the world and see everything I missed," he wrote in December 2015.