Leslie Grantham: EastEnders' Dirty Den dies aged 71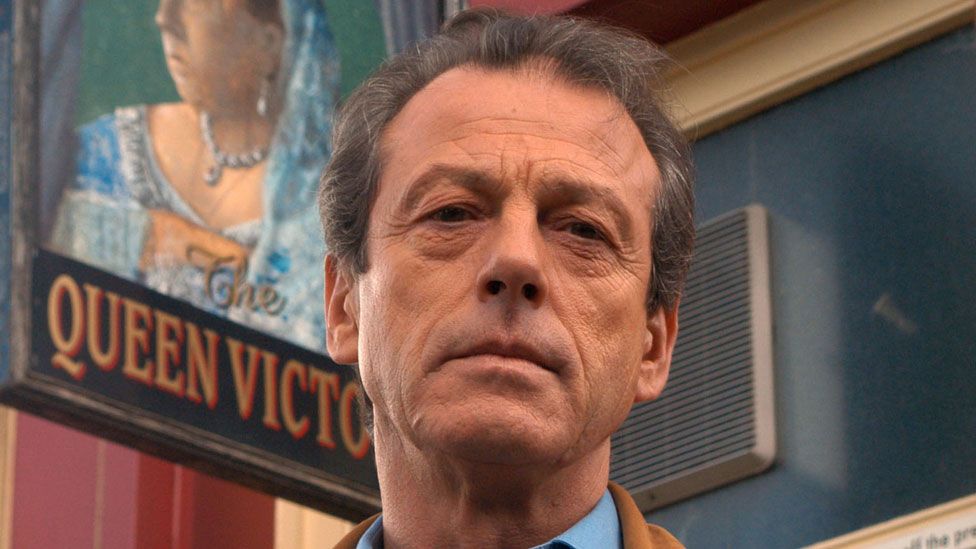 EastEnders actor Leslie Grantham, best known as the roguish "Dirty" Den Watts in the BBC One soap, has died aged 71.
Grantham had the opening line in the first episode of EastEnders and was at the heart of Walford life until 1989.
He returned in 2003 before leaving for good two years later, following a tabloid scandal.
Tributes have been paid by his EastEnders co-stars. Anita Dobson, who played Den's first wife Angie, said she was "deeply shocked and saddened".
His agent said he died on Friday morning and that a private funeral will be held.
The announcement of his death follows news earlier this week that Grantham had returned to the UK to receive medical treatment.
EastEnders executive consultant John Yorke told the BBC: "Everyone at EastEnders is deeply saddened to hear that Leslie has passed away.
"We extend our deepest sympathies and condolences to his family and friends at this extremely difficult time."
Dobson said in a statement: "I loved working with Leslie and I will never forget our time together on EastEnders."
'The chemistry was magic'
Speaking in London this afternoon, the actress said he had been "fun to be around" and "the archetypal charming rogue".
"There was always that look about him that you didn't know what he was going to do next," she told the BBC. "That was his ace in the hole.
"We were both really lucky that we were cast opposite each other," she went on. "The chemistry was magic... it just happened."
Dobson said she had been intending to visit Grantham in hospital on Friday to say goodbye and tell him "you made TV history".
June Brown, who plays Dot Cotton, said she was "very fond of Leslie and am so sorry that he has gone".
In a statement, she added: "I always enjoyed talking to him, he made me laugh and always had a twinkle in his eye when he said outrageous things.
"He was a wonderful and special actor, witty and very talented. I shall remember him very fondly and with affection."
Letitia Dean, who played Den's daughter Sharon, released a statement saying "thank you for everything" to Grantham.
She said: "I have very special memories of working with Leslie and will cherish them always. He and Anita looked after me in my early days and showed me the ropes, always with care and kindness.
"He never failed to make me laugh and I will remember him with love, affection and gratitude forever. See you up there Leslie!"
EastEnders actor Leslie Grantham, best known as rogue "Dirty Den" in the BBC One soap, has died aged 71. Sad news. He was a lovely guy who I adored working with for 3 years. He was also a great supporter against Section 28.

— Michael Cashman (@mcashmanCBE) June 15, 2018
Really sorry to hear about Leslie Grantham. A very very good actor and one who created an iconic character with Dirty Den #RIPLeslieG

— Tracy Ann Oberman (@TracyAnnO) June 15, 2018
Gillian Taylforth, who plays Kathy Beale, said she was "deeply saddened" and had "so many happy memories of working with Leslie".
"He was always great fun and we shared many laughs," she wrote, adding that the Christmas episodes in which Grantham appeared "will always be part of EastEnders history".
Grantham rose to fame when he was cast as the landlord of the Queen Vic, the east London public house around which the action in EastEnders revolves.
More than 30 million viewers tuned in to watch a Christmas Day episode in 1986, in which his character handed divorce papers to Angie.
But Grantham's life was not without controversy. In 1966, he was convicted of murdering a German taxi driver while serving as a soldier.
And in 2004 he was revealed to have taken part in webcam sex sessions from his EastEnders dressing room at Elstree Studios.
Shane Richie, who played Alfie Moon, said Grantham had "had his demons" but had nonetheless been "a natural charmer".
"There's no denying he was & will always be @bbceastenders greatest landlord," he wrote on Twitter.
Dirty Den was an EastEnders stalwart from its first episode and stayed for four years, despite Grantham having only signed up for 10 episodes.
Viewers were gripped when he was revealed to be the father of teenager Michelle Fowler's baby and by his apparent canalside death in 1989.
After returning to Albert Square 14 years later, Den was definitively killed off in 2005 and his body buried in the Queen Vic's cellar.
Grantham stayed busy after leaving EastEnders, appearing in pantomimes and stage plays, as well as writing a fantasy novel for children.
He was reported to have been living in Bulgaria before his death, having gone there to appear in a TV series called The English Neighbour.
Tributes have been paid to the actor by other EastEnders cast members, among them Michael Cashman and Tracy Ann Oberman.
Cashman, who played Colin Russell in the soap, said Grantham was "a lovely guy", while Oberman, who played Dirty Den's second wife Chrissie, called him "a very very good actor".
Their sentiments were echoed by Dean Gaffney, who played Robbie Jackson and who described Grantham as "an EastEnders icon".
Other tributes have come from glamour model Linda Lusardi, who said he was "such a character", and the broadcaster Paul Ross, who remembered him as a "talented, kind and very funny man".