'Shocking' level of sexual harassment at music festivals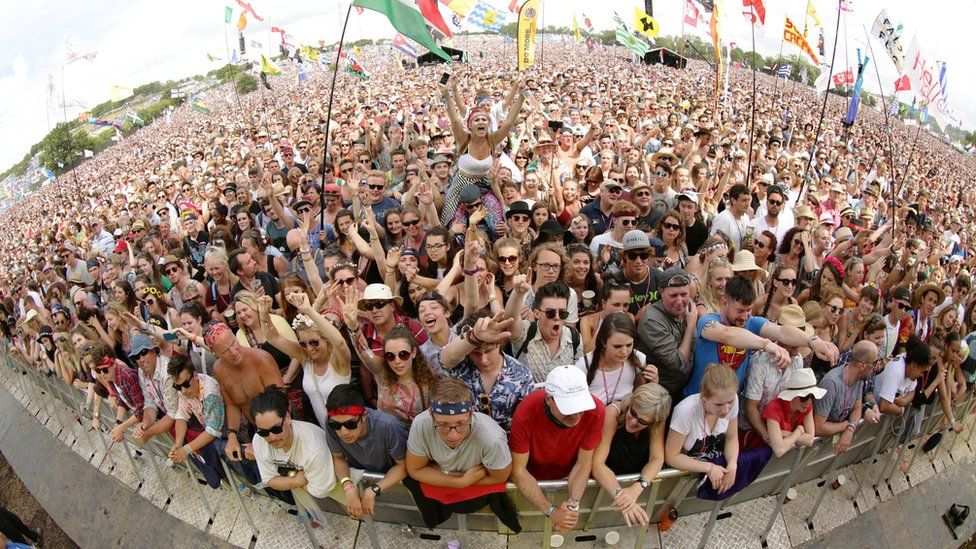 Nearly half of female festival goers (43%) under 40 say they have faced unwanted sexual behaviour at a music festival, a new survey suggests.
Overall, 22% of all festival goers have faced assault or harassment, rising to 30% of women overall.
The most common forms were unwelcome and forceful dancing and verbal sexualised harassment.
YouGov surveyed 1,188 festival goers. The poll also suggested only 2% of such incidents were reported to police.
Earlier this year, separate data released in the Crime Survey for England and Wales in February showed more than 80% of victims of sexual assault did not report it to police.
Those statistics also revealed that one in five women had experienced some form of sexual assault since they turned 16.
The festivals YouGov survey, which was commissioned by the Press Association, also found that only 1% of women reported sexual assault or harassment to a member of festival staff, either before or after the event, although 19% of men did report their experience to staff.
What to do if you are a victim or a witness of a sexual assault or harassment at a music festival this summer
Rape Crisis's Katie Russell spoke to BBC News with some advice:
"As a bystander, do as much as you can to engage the perceived victim - be aware that they may feel humiliated and/or unempowered.
"Ask them what would they like to happen next? Try to avoid putting yourself in immediate physical danger and use your judgement.
"Our advice would be similar for a survivor in any circumstance.
"Try to be with someone you trust, who can stay with you, someone you can disclose to.
"You might be in shock, so try to stay warm and hydrated.
"If you want to report it, what we'd like to see is festivals working with specialist local services, so security staff are properly trained to show respect and empathy.
"They should have consideration if someone wants to report (an incident) to the police and know where the nearest sexual assault referral centre is.
"We'd love to see festival organisers inviting local services to have a presence at festivals with preventative messages and information on site."
She says victims should know "it wasn't your fault" and points out that just because drink/drugs are prevalent at festivals and there's a more relaxed vibe, "none of those things mean you're partly to blame".
"Everyone is entitled to enjoy themselves without worrying."
Regarding harassment, Katie used examples such as "degrading language, or invading someone's personal space".
"Within friendship groups, show zero tolerance to your friends, calling out to mates who might say stuff to bar staff that's making them feel uncomfortable, for example.
"Peer intervention can be powerful."
Do festival organisers need to step up?
Tracey Wise, founder of campaign group Safe Gigs For Women (SGFW), said: "We have struggled to find anyone with any definite statistics on this before now.
"It gives us something to show to festival organisers so we can say 'you need to take this on board'."
Jen Calleja, a co-director of the Good Night Out Campaign, called the research "shocking but not surprising", saying it "helps prove what we already know through anecdotal evidence".
She added: "We know that the vast amount of harassment and sexual assault is not reported and we know this comes down to stigma, fear of not being believed and a minimisation of what harassment is.
"The idea we want to put forward is that harassment is everybody's problem, it's not just the person who is being assaulted," Calleja said.
The poll also found that 70% of those who experienced sexual assault or harassment at a festival said the perpetrator was a stranger.
The survey was carried out online between June 4 and 6 2018. The figures have been weighted and are representative of all GB adults.
Paul Reed, chief executive of the Association of Independent Festivals (AIF), said festivals "have a duty to make their events as safe and secure and enjoyable" as possible, and encouraged festival goers to report incidents if they witness them.
"If people don't intervene, then this behaviour becomes normalised," he added.
"People shouldn't feel that they need to tolerate the type of behaviour at festivals that they wouldn't tolerate in the street.
"If people don't intervene, then this behaviour becomes normalised."
What kind of stories are we hearing?
Beth Granter, a 35-year-old campaign manager with social network Care2, said she was flashed by a man at Reading Festival when she was 17.
She said she told him to go away and tried to laugh it off.
"Laughing was a defensive strategy to de-escalate the situation," she added.
She said she did not report what happened but felt vulnerable for the rest of the festival.
"I think this kind of thing happens more at festivals than in the street during the day, but I haven't seen any evidence that it happens more at festivals than in nightclubs. I have lost count of the times I've been sexually assaulted in a nightclub," Ms Granter added.
'None of my friends said anything'
Another anonymous victim said she had been sexually assaulted by her drunk then-boyfriend inside their tent at a festival.
"Even though there had been a scuffle and I was upset, none of our friends said or did anything. I think people are particularly disinclined to intervene in something they see as a 'domestic' row."
She added: "I've never been to a festival where I felt it was clear who I could talk to about sexual violence or harassment."
"Specially-designated reps at a festival who are marked out as having responsibility for ensuring that people feel safe and supported would be helpful."
What is being done to help?
The Press Association contacted 21 of the UK's biggest festivals to discuss the new research on sexual assault and harassment at UK music festivals and ask about provisions and policy at their events.
Only five responded - Glastonbury, Reading and Leeds, Creamfields, Latitude, RiZE and Wireless were among those that declined to comment.
Somerset Police recorded two incidents of sexual assault, two incidents of rape and one incident of indecent exposure at last year's Glastonbury Festival.
A spokesperson for The Green Man festival said: "Stewards are positioned throughout the festival and are trained to report any harassment, or violence, to security to be investigated. Crew and service staff are also trained or advised on ways to report minor harassment, or violent behaviour or violence."
A spokesperson for Bestival said: "We have a Harm Reduction protocol with Dorset Police and other agencies that is designed to address issues such as this."
Related Internet Links
The BBC is not responsible for the content of external sites.