XXXTentacion: Police disperse fans at murder site
By Mark Savage
BBC Music reporter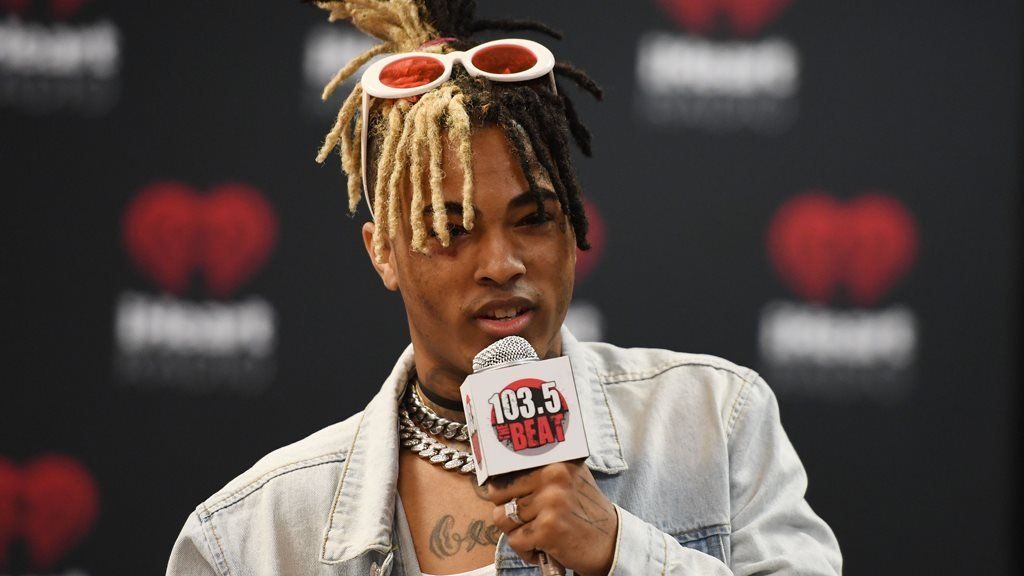 Fans of XXXTentacion have gathered in Florida to pay tribute to the rapper, who was shot dead on Monday.
Hundreds of mourners laid candles, flowers and teddy bears at the site of his murder, and raised their arms in an "x" symbol at the makeshift memorial.
In a separate event in Los Angeles, between 300 and 500 fans gathered at Melrose Avenue, blocking traffic.
Police eventually became involved and dispersed the mourners shortly before 9pm local time.
By that point the event had become rowdy, with fans riding on top of moving cars, forming impromptu mosh pits and jumping off buildings.
Mourners also joined in a chorus of the rapper's song Al.one: "Please, I don't wanna be alone. I don't wanna be alone".
At least 300 people have amassed on Melrose Avenue, near Spaulding, to pay tribute to rapper XXXTentacion, who was fatally shot during a robbery in Florida yesterday pic.twitter.com/K8kmxFQVZl

— KTLA (@KTLA) June 20, 2018
XXXTentacion was one of the fastest-rising stars in rap, and recently scored his first number one album in the US.
Fellow musicians including Kanye West, Diplo and J Cole paid tribute to the musician after his death. But others felt differently - criticising his violent past, including charges that he severely beat and abused his girlfriend.
At the time of his death, he was awaiting trial for domestic battery by strangulation, false imprisonment, and aggravated battery of a pregnant woman.
"His favourite thing was to just backhand my mouth," she told the paper. "That always left welts inside my lips".
After his death, Ayala took to Twitter to respond to apparent trolling by XXXTentacion's fans.
"Please stop tagging me in disrespectful threads and arguments," she wrote. "I honestly don't care for any of the hype. I lost someone close to me. Leave me alone."
She added: "I didn't lose my life. He did. It's permanent. I'm still here. Like, how do you think that makes me feel? Everyone expecting me to be relieved or happy?! No, I'm broken."
Thousands of pounds were subsequently donated to Ayala's fundraising page, which seeks to cover medical bills for repairing her optic nerve after what she described as "an aggressive hit" by the rapper.
Onfroy had consistently denied Ayala's allegations; and his lawyer called for the case to be dismissed following his death.
The rapper, whose real name was Jahseh Onfroy, was shot multiple times on Monday after being approached by two armed suspects upon leaving Riva motorsports, an upmarket motorcycle dealership in Deerfield Beach, Florida.
The 20-year-old was pronounced dead a few hours later at the hospital. His lawyer says police believe the incident was a random robbery.
The suspects fled the scene in a matte black SUV. No arrests have been made.
Despite his history of violence, the star's great-grandmother recalled the Onfroy as an empathetic and generous young man.
"He put his blanket on the floor and lied on my bedside when I was sleeping; he's very devoted," she said, likening his behaviour to that of a "little dog".
Jones said she had called her great-grandson "Hercules" because "he acts strong".
"He loved to hear me say that," she said.