BBC announces action to boost staff from BAME backgrounds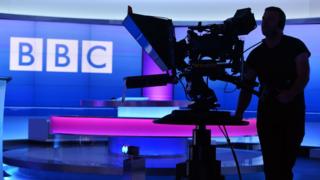 The BBC's director general has spoken of the "importance" of a report into the Black, Asian, Minority Ethnic (BAME) culture at the corporation.
Tony Hall addressed staff on Wednesday saying he was "determined" to implement findings from the two-year long review.
The recommendations address ways in which the BBC can boost diversity and further the careers of BAME staff.
Among the suggestions was to appoint two BAME members to the BBC's executive committee by 2020.
The report's aim states that by the same year at least 15 per cent of the corporation's leadership should be from a BAME background.
The findings found that although BAME leadership numbers are at their highest level in the corporation's history, they fell well below the 2020 target at just 10.4 per cent.
In certain areas BAME employees in leadership are below four per cent and there are currently no BAME members of the executive committee.
The findings showed that during the lifetime of the report, the BBC's BAME workforce has increased from 13.1 per cent in 2015 to 14.8 per cent in 2018.
This is the highest percentage of BAME employees at the BBC ever, the report says, with the largest proportion of BAME employees found in the Professional Service and World Service Group areas.
Figures in the BBC's Nations and Regions, however, are said to be "very low", even though many office locations are in cities and towns with high BAME populations.
Numbers of BAME employees in the creative areas are also low.
Here are a number of recommendations the report made:
Introduce a policy that ensures shortlists for all jobs at Band E (editor/manager level) and above include at least one BAME person by the end of summer 2018.
Dramatically increase BAME representation across interview panels.
All development and leadership programmes to have significant BAME representation.
Diversity and inclusion targets and BAME career progression should be incorporated into senior leadership team objectives and progression reviews.
Cultural awareness training should be compulsory for all team managers.
A number of high profile mistakes across BBC News in the last 12 months were also highlighted in the report - including getting the Mayor of London's nationality wrong and the use of footage of the wrong Bollywood star in a TV news obituary.
The report said: "A more ethnically diverse newsroom is more likely to have picked these issues up before broadcast." It also added: "More should be done to understand other cultures and any disinterest to learn challenged."
Lord Hall said he was going to personally "champion" the recommendations made in the report.
He told staff: "In some areas we simply haven't moved fast enough. I'm determined that we are going to change. It's 2018, and it's time for a new chapter for the BBC."
Tunde Ogungbesan, who led the review, said the report was "more than just about numbers and tokenism - it is about culture and also recognising that what got the BBC to where it is today, will not get it where it needs to be tomorrow without a substantial culture change."
He went on: "I am proud that the BBC as an organisation has come together to address these issues and I fully endorse the recommendations that we as a group have come up with."
Follow us on Facebook, on Twitter @BBCNewsEnts, or on Instagram at bbcnewsents. If you have a story suggestion email entertainment.news@bbc.co.uk.