Cardi B reveals she married Offset nine months ago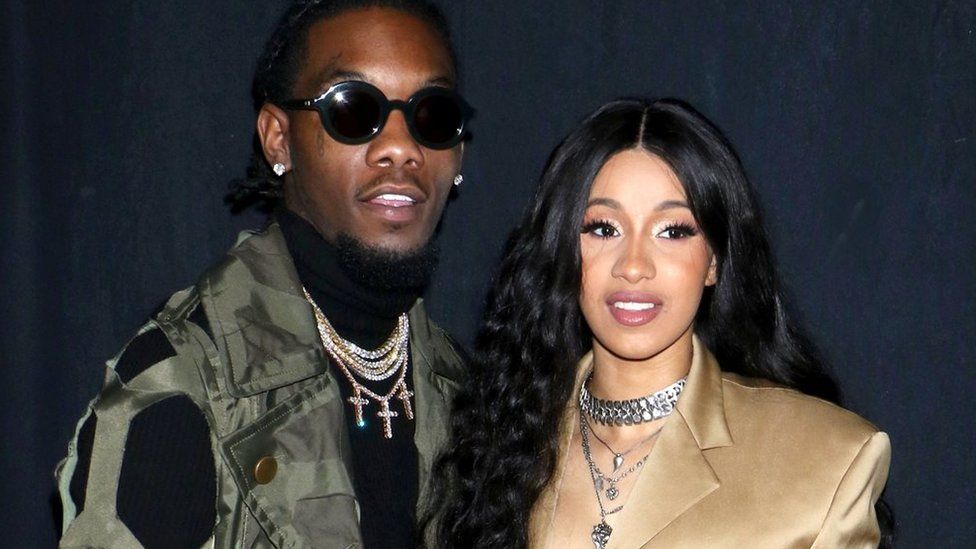 Cardi B has confirmed she got married in secret nine months ago.
The rapper revealed she tied the knot on the same day her boyfriend Offset, from rap trio Migos, proposed to her.
Writing on Twitter, the 25-year-old said: "There are so many moments that I share with the world and then there are moments that I want to keep for myself. Getting married was one of those moments!"
The couple are expecting their first child this summer.
The rapper seemed irritated by the revelation, writing on Twitter: "This why I name my album Invasion of Privacy, cause people will do the most to be nosey about your life".
However, the post was accompanied by a long note, explaining why the couple had kept the marriage secret.
"Our relationship was so new - breaking up and making up - and we had a lot of growing up to do; but we was so in love we didn't want to lose each other," she wrote.
"One morning in September, we woke up and decided to get married.
"We found someone to marry us, and she did, just [t]he two if us and my cousin. I said I do, with no dress no make up and no ring!"
Bizarrely, one month later, Offset proposed to Cardi on stage during a concert in Philadelphia.
She addressed the proposal in her message, saying: "I appreciate and love my husband so much for still wanting for m[e to] have that special moment that every girl dreams of."
Cardi B and Offset aren't the only artists to keep their marriage secret from fans. Here are some of the others who managed to keep their vows private.
Penelope Cruz and Javier Bardem - Although they started dating in 2007, the actors never confirmed their relationship - "He's a friend and the best actor in the world," was Cruz's standard response to questions about Bardem. They married in a private ceremony in the Bahamas in 2010, a spokesperson later confirmed.
Beyonce and Jay-Z - Rumours had circulated for years that the musicians were dating, but fans were astonished when they filed a signed marriage licence in New York in April 2008. Six months later, Beyonce confirmed the wedding to fans.
Janet Jackson and Rene Elizondo - News of Jackson's second marriage only came to light when she divorced video director Rene Elizondo in 2000. The couple had, however, worked together for 15 years. Elizondo had co-writing credits on dozens of her songs - and it was his hands that covered her breasts on an infamous Rolling Stone cover.
Janeane Garafalo and Rob Cohen - Incredibly, this comedy power couple were married for 20 years without knowing it. Garafalo (The West Wing, The Truth About Cats and Dogs) drunkenly tied the knot with Big Bang Theory producer Cohen at a drive-through chapel in Las Vegas in the 1990s. They only realised the ceremony was legitimate in 2012 when Cohen started making plans to marry his new fiancee and his lawyers dug out the marriage certificate. The couple immediately filed for divorce.
Margot Robbie and Tom Ackerley - The couple never announced their engagement, and married in secret in Australia two years ago. Robbie eventually confirmed the union in an Instagram post showing off her wedding ring.
Cardi B, whose real name is Belcalis Almanzar, rose to fame last year with the song Bodak Yellow while her current single, I Like It, is a contender for 2018's song of the summer.
A former gang member and stripper from the Bronx, she took a modern route into music, establishing her name via reality TV and social media.
She and Offset were recently photographed together for the cover of Rolling Stone magazine. In the accompanying interview, Cardi said motherhood would not affect her career.
"Just because I'm a mom, my street credibility's not gone, my sex appeal's not gone," she said, adding that she planned to bring her along when she tours with Bruno Mars this September.
"What I envision is my tour bus has my own personal room, and I just want to be with my baby.
"Only time I don't have my baby with me is when I'm getting my hair done, make-up done, performing."