Let's Eat Grandma show their teeth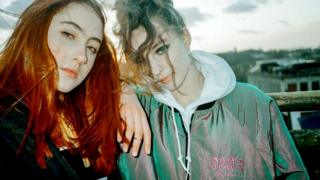 Are you a cat person? If not, it could have a serious impact on your ability to enjoy I'm All Ears, the new album from Let's Eat Grandma.
Tucked away towards the end of the record is a song called The Cat's Pyjamas, which features the vocal "talents" of Adam - the resident feline at Manchester's Eve Studios.
"Some people have said it's really unnerving," admits Rosa Walton, one half of the alt-pop duo.
"I think a cat's purr is one of the nicest sounds, but apparently some people think its creepy."
"They say it's menacing," concurs her bandmate, Jenny Hollingworth.
The Cat's Pyjamas may be a throwaway interlude, but it perfectly encapsulates Let's Eat Grandma's experimental, playful approach to music.
Even their name is a joke, based on an internet meme about the importance of commas ("Let's Eat, Grandma" versus "Let's Eat Grandma").
When they first emerged in 2016, people didn't get the teenagers' sense of humour. "They thought everything we did was serious," marvels Jenny.
"We said a couple of times we were witches in interviews," laughs Rosa. "Just as a joke, but that made it escalate further."
The band's eerie image probably didn't help. Jenny and Rosa would pose with their hair intertwined to symbolise the closeness of their friendship, while their theatrical live shows saw them screaming in unison and lying prostrate on the stage.
The Guardian called them "freaky teenagers", while Vice branded their music "weirdo pop". They were compared to characters from The Shining and The Ring.
"Was it frustrating? Yes," says Rosa. "It felt like everything was a bit 'novelty act'.
"Now we've done a second record, that's starting to change."
If there's any justice, that second record - I'm All Ears - will blast people's misconceptions to smithereens.
It's a tremendously self-assured record: sharp-tongued, musically adventurous, melodically rich and rippling with crescendos.
The lead single, Hot Pink, is a smouldering R&B track that analyses power dynamics in relationships and, according to Rosa, "how femininity is seen as inferior, when it shouldn't be."
"I'm just an object of disdain to you," sing the duo over a spluttering drum break. "[But] you won't believe the [expletive] that I can do."
It was partly inspired by their fury at being denied entry to one of their own gigs.
You might also like:
"They kept asking us for ID, which is funny cos we're 19," says Rosa.
"And then the [owner] was really patronising and rude," adds Jenny.
"He spoke completely differently to us than he did to our tour manager, just because of our age and gender. It's often like that - so we wrote Hot Pink."
The song's forthright focus is a world away from the meandering daydreams of Let's Eat Grandma's debut album, illustrating their evolution as songwriters.
"We've got better at thinking, 'Okay, that verse has gone on long enough, we're gonna move to the chorus,'" says Rosa.
"But I don't like the idea that everything becomes overly polished and you take away the soul in it," says Jenny, finishing the thought.
"That's what makes this album ours, the emotion. It's really emotional and vulnerable - but really bold at the same time."
The proof comes in a song like It's Not Just Me, which captures the giddy rush of discovering your long-harboured crush has designs on you too.
"It's not just me, I know you're feeling the same way," they sing gleefully in the chorus. They also rhyme "so unstable" with "peanut bagel", which deserves a trophy by itself.
Elsewhere, Falling Into Me reflects the collision between technology and relationships.
"You left a dent in my home screen," Jenny tells her partner, after obsessively stabbing the messages icon to see if he's been in touch.
The pair, who have never known a world without mobile phones, are somewhat surprised to have the lyric singled out.
"That came off the top of my head," says Jenny. "It's just something you think about in this age."
"I guess it's about how someone makes a mark on you," adds Rosa. "How they have an effect on your life."
Up to now, the people who have had the biggest impact on the duo's lives have been each other.
They have a symbiotic, twin-like empathy that can only emerge from spending years together. You can hear it in their back and forth banter as they recall their first encounter.
Rosa: We met at school when we were four. We were on the drawing table.
Jenny: I was such a quiet child.
Rosa: I think we were both pretty shy as kids, actually. But we managed to make friends. Jenny was drawing a snail and it was orange and blue. I remember thinking she was cool.
Jenny: [sarcastically] I was just so arty from the beginning.
Rosa: And then we used to play with our pet rocks at lunchtime.
Jenny: I remember once this mean girl threw my pet rock into the bushes and I was, like, crying.
Rosa: I probably came to the rescue.
Jenny: I don't remember you doing that. But nobody could find the rock.
Rosa: Because it looked like all the other rocks.
Jenny: [protesting] It had a smiley face on it!
Outside of school, they spent all their birthdays and holidays together and started making music when Rosa got a guitar for her 13th birthday.
"We started doing covers, and then we discovered songwriting and how much more exciting that was," Rosa recalls.
Soon they were arranging gigs in pubs around Norwich, which quickly drew attention from London.
"It was really funny," says Jenny. "We had, like, five labels at one gig we played.
"They all spotted each other in the room and were like, 'Oh, you're here too!'" laughs Rosa. "I think they ended up getting the train home together."
The band eventually signed a deal with Transgressive Records, for the simple reason that "they didn't treat us like kids".
Debut album I, Gemini, received critical acclaim. But the duo felt they had more to learn and enrolled in Access Norwich, a creative college whose alumni include Ed Sheeran.
While the new record sees them compress their ambitions into taut, three-minute pop songs, it also has space for an expansive, mood-shifting track like album-closer Donnie Darko.
Perpetually evolving over its 11-minute running time, the song's electronic pulse ebbs and flows as the duo essay a corrosive relationship.
"The beatings just get harder, and we'll never grow them out," they sing. "'Cos the hand that does the dealings is the one that feeds your mouth."
It's the sort of song that can only have appeared in the deep of night - a fact the band are only too happy to confirm.
"I was trying to think 'When have I written in the morning?' and it's never," laughs Rosa.
"I wouldn't be able to wake up and start writing," adds Jenny. "The morning is for things that require a lot of concentration... like if you have to do a tax return or something.
"The afternoon is for cleaning, because you don't really need to use your brain as much. And then the evening is creativity."
"So that's our day," Rosa concludes. "Tax return in the morning, cleaning in the afternoon, songwriting in the evening. Sorted!"
I'm All Ears is released on 29 June.
Follow us on Facebook, on Twitter @BBCNewsEnts, or on Instagram at bbcnewsents. If you have a story suggestion email entertainment.news@bbc.co.uk.