Michael Jackson: On the Wall exhibition explores images of the star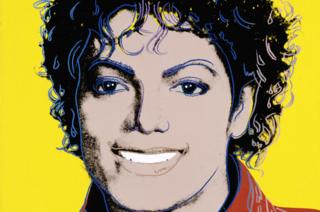 A new collection of paintings and images of Michael Jackson goes on display at the National Portrait Gallery this week.
The exhibition includes the final portrait commissioned by the singer before his death in 2009.
It'll be the first time Kehinde Wiley's painting of the superstar as King Phillip II of Spain has been seen in the UK.
Wiley has sometimes inserted African Americans into images borrowed from Western art history, to provoke discussion of the status of black people in society.
It's one picture that exhibition curator Nicholas Cullinan is particularly delighted to have in the show, starting on Thursday.
"Wiley's picture was the last portrait actually commissioned by Michael, who'd encountered his work in the Brooklyn Museum during a photo shoot," says Cullinan.
"The two men alighted on the idea of a portrait which emulated Pieter Paul Rubens' famous portrait of Philip II of Spain.
"Kehinde told me that when he was working on the painting, Michael asked him about the different viscosity of the brushwork in early Rubens versus late Rubens. I think Michael had a forensic interest in craft and artistry."
Music's greatest showman
Cullinan took over as director of the National Portrait Gallery in London in 2015 and his first curated exhibition there takes the gallery into ambitious new territory.
It's nine years since Michael Jackson died in Los Angeles yet his fame remains undiminished and his records still sell in huge numbers.
The singer would have turned 60 this August and the gallery has used the milestone to investigate how visual artists have used the image of one of music's greatest showmen.
Michael Jackson: On the Wall - a play on the singer's 1979 Off the Wall album - isn't meant as a survey of the singer's life or music, Cullinan explains.
"But now that a few years have passed since he died, I thought it was time to look at his legacy and his impact on an array of contemporary artists," he says.
"There's probably no one else in recent history who attracted so much attention from artists wanting to capture his image."
There are 48 artists represented in the exhibition, of whom 46 are still living. The exceptions are Andy Warhol and Keith Haring.
New pieces emerged
"Andy Warhol always had a keen eye for coming talent and he was the first artist to use Michael as a subject," says Cullinan. "We have a whole room devoted to his images. Their relationship extended for around a decade until Warhol died in 1987.
"The exhibition isn't really about Jackson memorabilia but we do display some that Warhol collected.
"When, in October 1982, Michael appeared on the cover of Interview magazine (which Warhol owned) it was a major step up for him.
"And there is also the Warhol silkscreen from 1984 which was used on the cover of Time magazine. It's probably one of the more familiar images in the exhibition."
When Cullinan, who has curated exhibitions on subjects ranging from Edvard Munch to Henri Matisse, started thinking about On the Wall, there was no definite plan to commission new work. But he says new pieces seemed to emerge organically.
"I'd mention the idea to artists who would either say they already had a Michael Jackson piece - or in some cases that they would love to attempt one.
"It confirmed for me how often artists were attracted to his image. Ultimately, we commissioned half a dozen pieces from scratch."
'His image spread around the world'
Cullinan says many of the images in the exhibition are based on photographs. He has no problem with that: "Especially after the success of the album Thriller in 1982, pictures of Michael were everywhere.
"Hundreds of millions of people knew his videos. Even people who didn't particularly like his music knew the image - so it's fitting that many of the works we've assembled were based on photos.
"By the 1980s Michael was famous in an almost unprecedented way. So his image proliferated, was reproduced, fragmented and it spread around the world.
"He meant different things to different people but an important and often moving part of the exhibition is what he achieved as an African American - which is why it was important to include Kehinde Wiley, for instance."
Wiley has recently become better known because of his official portrait of Barack Obama, unveiled this year, but Cullinan says he was also pleased to secure the work of Todd Gray, who's much less well known.
Exquisite Terribleness in the Mangrove (2014) uses some of the shots Gray took as Jackson's official photographer in the Thriller era.
"Todd Gray was able to record Michael close-up: the images are resonant in themselves. But he's also made photo-collages using those pictures, in some of which Michael is fragmented or obscured. There's a beautiful one where you see Michael at Disneyland with Mickey Mouse. Todd Gray said Michael confided in him that he wanted to be as famous as Mickey was," adds Cullinan.
'Joyful and moving'
The National Portrait Gallery director knows there are issues such as Michael Jackson's family life and his relationships which, in a more biographical show, might need to be addressed.
"But that's not what we are doing," Cullinan explains. "As we approach the 10th anniversary of his death there are still people with hugely positive and very negative views of Michael Jackson. But it's rare to find anyone who finds him entirely uninteresting."
The final room contains a 2005 piece shot in Berlin called King (A Portrait of Michael Jackson) by the artist Candice Breitz. "I didn't want to end with the sadness of his passing," says Cullinan.
"King is a video piece with 16 young people all performing Thriller from first to last. It's joyful and moving - I hope people will think it sums up the whole show."
Michael Jackson: On the Wall runs at the National Portrait Gallery in London until 21 October. It then travels to Paris, Bonn and Espoo in Finland.
Follow us on Facebook, on Twitter @BBCNewsEnts, or on Instagram at bbcnewsents. If you have a story suggestion email entertainment.news@bbc.co.uk.