Kermit The Frog: 'I try to lead a clean life'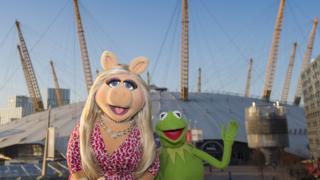 The Muppets are playing the O2 arena in London this weekend in which is billed as their first full-length show in Europe, and comes 42 years after they first appeared on TV screens in their own show.
Guests will include Kylie Minogue, Steps and David Tennant.
But the star of the show will inevitably be Kermit the Frog, who took time out to tell us about his preparations and his career.
How does the O2 compare with the Muppet theatre?
It is much larger. Which means that we'll have to project our voices more. It also means that those hurling tomatoes at the stage will have to throw harder. I understand that Statler & Waldorf, those two old guys in the balcony, are bringing a catapult.
How have your backstage demands changed in 42 years?
Personally, I have very few backstage demands. I don't even need a dressing room, since I usually work naked (It's a frog thing). But there are some in our cast who are very demanding. They want what they want when they want it, and when they get it, they want something else. I'm contractually forbidden to mention this cast member by name, but her initials are MP.
What's the biggest culture shock about playing in the UK having spent so much of your career in the US?
The UK is where we made the original Muppet Show, so playing here is like coming home again. We love it here and, for some strange reason, you seem to like us too. Thanks! Culturally, folks in the UK laugh at the same things they do in the US, and fortunately one of those things they like to laugh at is us.
Who's been your favourite musical guest on The Muppets and why?
Gee, I can't really pick a single favourite. We've worked with so many great singers - Lady Gaga, Imagine Dragons, Elton John, Johnny Cash, Jack White, Dave Grohl to name just a few. Each artist brings something special to a song, a unique talent and style. And all we bring is frogs and pigs and bears, yet somehow it seems to work.
Which singer or musician would you like to work with?
There are a lots of artists we'd love to work with, great singers like Adele and Stormzy. So if you're out there and you're a singer who wants to sing with frogs and pigs and bears, have we got a gig for you.
Central to The Muppets is your relationship with Miss Piggy - what's the secret to maintaining a successful 40-year relationship?
Unless you were living under a rock (which some of my amphibian cousins do, by the way), you probably heard that Miss Piggy and I are no longer dating each other. We have moved on romantically. But we still have a wonderful professional relationship and still enjoy performing together. And Miss Piggy still treats me with as much respect as never… I mean, ever. (Some things just don't change.)
I have nothing but love and admiration for her. She is a force of nature, unstoppable, indefinable and usually unavoidable. And we wouldn't want it any other way.
Have you thought about laying your relationship bare like Jay Z and Beyonce have done on their latest record Everything is Love?
I think our relationship is as bare as it needs to get. Besides, we've moved on. I've been too busy to be actively seeing anyone, but from what I understand Miss Piggy is dating heavily, with no available openings until Spring 2020.
When you began, it was Streisand, Midler, Ross. Today it's Bey, Rihanna, Gaga - where does Piggy sit amongst the great divas of our times?
Boy, are you lucky that you asked me that question instead of her. Let me put it this way - Miss Piggy is a real diva about being a diva. In fact, she was recently voted the Diva's Diva in a poll taken by her assistant Uncle Deadly (who always knows exactly what she wants to hear). And frankly, I think she deserves the title.
No-one has ever mastered the art of being difficult, impossible, capricious and demanding like Miss Piggy. And nobody knows that better than me.
Has the stigma improved about Bein' Green - how has the representation of green people changed?
It's good being green. Oh sure, I still blend in with so many ordinary things - but that really comes in handy when you're trying to avoid the paparazzi. I think the whole world has become more understanding of what it means to be green… or any other hue. It's simply who I am and it's what I want to be.
Do you think the song Bein' Green was a positive force for change, relating to issues like social acceptance and self-confidence?
The great songwriter Joe Raposo wrote that song especially for me… and it's always an honour to sing it. Over the years, a lot of people have told me that Bein' Green has helped them start believing in themselves. That's pretty amazing. And it just goes to show you - if a singing frog can make a difference in the world, so can you.
Who's recorded your favourite cover of the song?
Over the years, so many incredible artists have recorded Bein' Green - from Frank Sinatra and Tony Bennett to Van Morrison and Don Henley. But I think my all-time favourite cover is by the great Ray Charles. I even had a chance to duet with him on it back in the day. Nobody swings a song quite like Ray.
How have you steered clear of the pitfalls that claimed many other stars of your generation such as drugs and alcohol?
I try to live a clean life… and I soak in pond scum daily. (It's another frog thing.) Trust me, if you soaked in a pond scum daily, you'd be as clean and green as me.
You haven't aged a day in 60 years - what is your daily regime?
You mean besides the pond scum? Well, I get a lot of exercise, mostly chasing around cast members as I try to pull together this show. I also try to have periods of restful meditation. There's nothing quite as relaxing as sitting in the swamp, listening the crickets chirp… then eating them. Yum.
Looking back at your career, which five songs best sum it up?
Well, of course, Bein' Green. And I'm a big fan of Happy Feet, which is one of many songs we'll be performing at the O2. Together Again from The Muppets Take Manhattan always makes me smile, and so does that Groucho Marx classic Lydia The Tattooed Lady, for no other reason than it's wonderfully silly. But if there's one song that sums it up best about the Muppets and me, it's Rainbow Connection by Paul Williams and Kenny Ascher.
"Who said that every wish/Would be heard and answered/When wished on the morning star/Somebody thought of that/And someone believed it/And look what it's done so far."
I think that says it all. See you at the O2!
Follow us on Facebook, on Twitter @BBCNewsEnts, or on Instagram at bbcnewsents. If you have a story suggestion email entertainment.news@bbc.co.uk.