Outnumbered: Hugh, Claire and six more couples who met on screen
By Lucy Todd
Entertainment reporter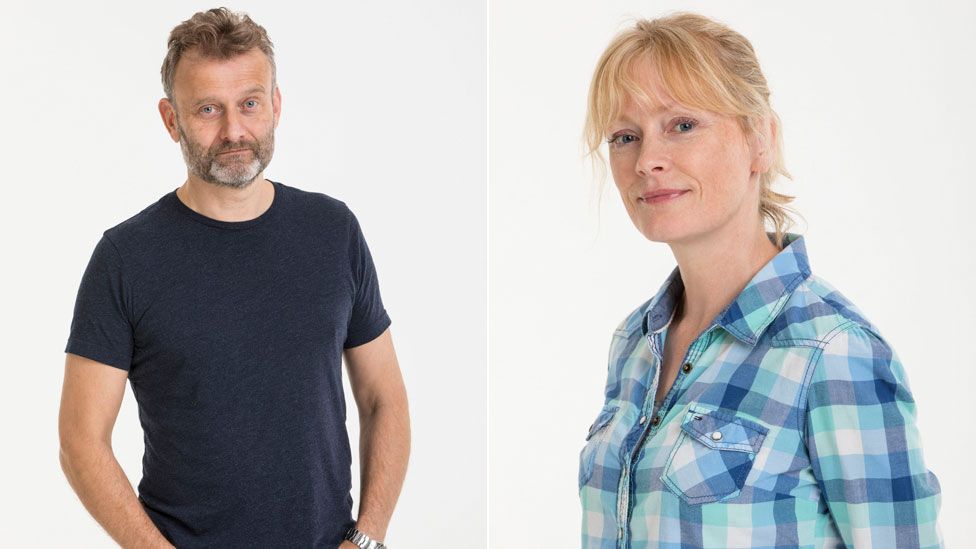 It's been revealed that on-screen partners Hugh Dennis and Claire Skinner have become a couple in real life.
The pair starred as Pete and Sue Brockman in all five series of Outnumbered, the BBC sitcom about a couple bringing up three children.
Dennis confirmed the relationship to the Mail on Sunday, saying: "I am very, very happy, we are so very happy... It's nice and yes, it's so lovely."
Dennis, 56, and Skinner, 53, have both had previous long-standing marriages.
Fans of their show took to Twitter to say how happy the news had made them.
I've just heard that the parents from Outnumbered are now together and I don't think I've ever been happier in my life

— Zoe Palmer (@zoepalmer_29) June 30, 2018
The parents from outnumbered are now DATING IN REAL LIFE after both of their marriages broke down and I don't know why this makes me so happy pic.twitter.com/vRtEB12tNf

— sam (@samjxnes) June 30, 2018
Skinner and Dennis first met on the set of Outnumbered, where they played the frazzled parents to three children.
Despite working together since 2007 - when the show first aired - the couple only got together in the last year.
During the filming of the show's 2016 Christmas special, Skinner and Dennis were both single. Within six months, Outnumbered's mum and dad were an item in real life.
Here are six other couples who knew each other before their relationship blossomed into something more.
Cheryl and Liam, who have just announced they are separating, first locked eyes in 2008 when the former Girls Aloud star was a judge on The X Factor.
"I think you've got charisma," Cheryl told him after he performed jazz standard Fly Me to the Moon, adding: "I think you're really cute."
Eight years and two marriages later, the pair officially announced they were a couple by posting a picture of themselves on Instagram.
They went on to have a son named Bear in 2017.
2. Mila Kunis and Ashton Kutcher
Kunis and Kutcher met on the set of sitcom That '70s Show, which first aired in 1998.
But they didn't officially start dating until 2012, after Kutcher's eight-year marriage to actress Demi Moore broke down.
The pair were engaged in 2014 and welcomed their first child, Wyatt, later that year. The stars reportedly tied the knot in 2016.
3. Judi Dench and Michael Williams
Dench and Williams starred together in ITV sitcom A Fine Romance, about two people who reluctantly fall in love as they approach middle age.
In real life, Dame Judi and her late husband had a similar story of slow-blooming love.
According to Dame Judi, they first met in a London pub in 1960 while they were acting in separate plays. Their paths crossed regularly for the next nine years.
But it wasn't until they both did a stint at the Royal Shakespeare Company in the late 1960s that they finally started dating, marrying in 1971.
The couple had one daughter, Finty Williams, also an actress. Michael died in 2001, aged 65.
4. Jennifer Garner and Ben Affleck
Affleck and Garner first met on the set of Pearl Harbor in 2000. At the time Garner was married to fellow actor Scott Foley.
Two years later they made Daredevil, their next film together, and a romance began.
"We met on Pearl Harbor... but we fell in love on Daredevil," Affleck said in a 2014 interview.
This was despite the fact Affleck was in a relationship with singer Jennifer Lopez - even going on to propose to her later in 2002.
By 2004, however, the engagement was off and Garner had split from her husband, paving the way for the pair to get together.
Affleck and Garner were married in 2005 and went on to have three children. They later divorced in 2017.
5. Goldie Hawn and Kurt Russell
Hawn and Russell met on the set of 1968 film The One and Only, Genuine, Original Family Band, when she was 21 and he was a fresh-faced 16-year old.
But the duo didn't begin dating until 15 more years had passed.
Their paths continued to cross and they eventually worked on Swing Shift together in 1983. By this time Goldie had split from her second husband, and the pair have been together happily unmarried ever since.
On the idea of marrying Russell, Hawn has previously said: "I would have been long divorced if I got married. If you need to be bound to someone, then it's important to be married.
"If you are independent, then it's important to not be married. We like the choice and we chose to stay."
6. Michael J Fox and Tracy Pollan
Fox and Pollan first met on the set of Family Ties in 1982. Although they had an on-screen romance, the pair didn't become a real-life item straight away.
It wasn't until later - after Pollan ended her relationship with actor Kevin Bacon - that the stars got together while working on Bright Lights, Big City in 1987.
They tied the knot in 1988 and celebrate their 30th wedding anniversary this month. They have four children.