Love Island: Ofcom receives 2,500 complaints after Sunday's episode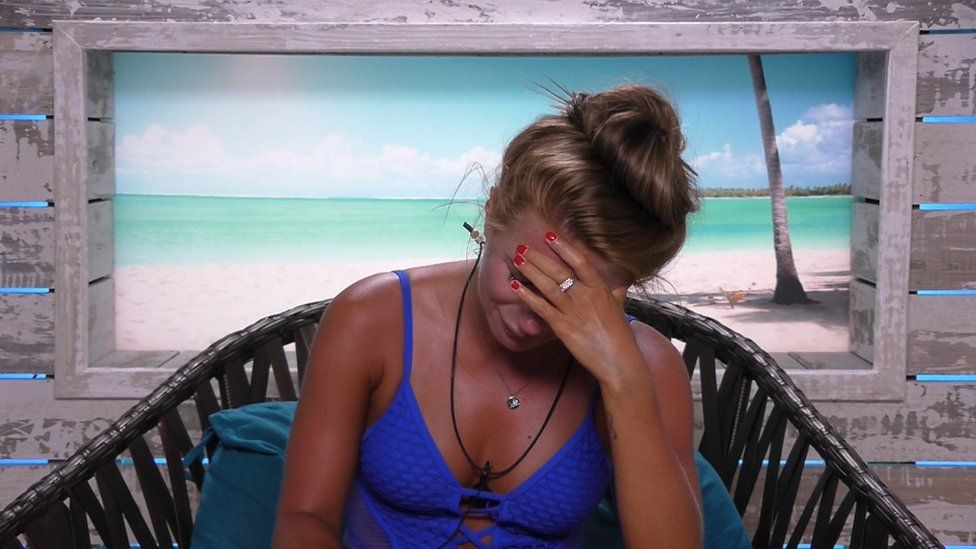 Ofcom has received more than 2,500 complaints over Sunday night's episode of Love Island.
The complaints are directly related to a scene where Dani Dyer is shown a misleading video of boyfriend Jack Fincham.
The couple were put in separate villas, after the boys and girls were split up as part of a plot twist.
It was revealed in the clip that an ex-partner of Fincham's was in the new villa with him.
A spokeswoman for Ofcom confirmed that there had been 2,525 complaints in total relating to Dani being shown the video of Jack.
She added: "We are considering these complaints against our broadcasting rules, before deciding whether or not to investigate."
The number of complaints is irrelevant - Ofcom will investigate if it considers a broadcaster or service provider may have breached its codes.
ITV2 declined to comment on the complaints.
Dyer, who has been paired up with Fincham since the beginning of the series, burst into tears as she watched the video of Fincham react with shock at seeing his ex, Ellie Jones, arrive.
Although he did not give an overtly positive response to Jones's arrival or make any mention of any romantic intentions towards her, Dyer was visibly distressed.
Viewers were shown Dyer's full reaction.
She said: "It always happens to me, as soon as I'm happy with someone, something happens to me, it's like I'm not allowed to be happy.
"Imagine it's some girl that he's been recently seeing, he clearly has feelings if he was seeing her and now she's in here."
Speaking in the beach hut to camera, she said: "Jack looked so shocked in the video, saying 'oh my god, oh my god' - all right mate, do you want to say 'oh my god' one more time?
"I just knew it was too good to be true."
However, the clip has been criticised by viewers for being misleading.
In Friday's episode, Fincham was seen taking his bedding outside into the villa garden after refusing to share a bed with one of the new female contestants.
He also spoke on the show about how much he "loved" Danny Dyer's daughter and how he missed being with her, having been in a couple with her since the show started three weeks ago.
Neither of these incidents were shown to Dyer.
Monday's episode saw more fall out from the video, as Dyer worried about what had happened with Fincham and his ex in the other villa.
However, at the end of the episode when the villas combined, it was revealed that Fincham had stayed loyal to Dyer and the pair re-coupled, with much relief from the other islanders.
It was not without some jealousy from Dyer as ex Ellie Jones entered the villa paired with another islander.
Dyer and Jones saw each other for the first time and will meet face to face in Tuesday's episode.
Hate how upset Dani is over Jack being with his ex when in reality the guy has stayed away from every girl and has admitted that he loves her😭 why twist the video 😩 #loveisland

— VB🌷 (@vickynadine) July 1, 2018
Whilst Ofcom has received 2,525 complaints, there have been many more on social media.
Viewers took to Twitter to criticise the scene, with some saying the show was not considering the mental health of contestants.
Keysie tweeted: "Following the recent events and with people's mental health being pushed this is in very, very poor taste.
"Even previous contestants should be disgusted in this as they preach about talking to someone about mental health."
#LoveIsland after Sophie Gradon's death, the love island producers assured us that the islanders' mental health was their top priority but then they go and deliberately cause dani to get upset and completely mess with her mental health JUST FOR THE DRAMA? not acceptable.

— Oakzzz (@Hxllyoakz) July 1, 2018
Others criticised the show for pushing apart the couple, who are favourites to win and the only current stable pairing.
Jake Hayden tweeted: "Why send the clip of Jack saying he's seen his ex and not the clip of him going off to bed on his own or saying he's falling in love with Dani?
"We all like drama but trying to push apart Jack and Dani for good TV is not on."
Actually HATE the Love Island producers, purposely making the Casa Amor story to look like Jack was interested in his ex to play with Dani's emotions. Horrible to watch 🤬 #LoveIsland

— Abigail (@abigaillaurenx) July 1, 2018
But some viewers felt Dyer's crestfallen tears amounted to an over-reaction.
Others branded her "way over analysis" relatable.
Dani's WAY over analysis of Jack saying Oh My God is the most relatable thing ever tbh #LoveIsland

— Doireann Garrihy (@DoireannGarrihy) July 1, 2018
Other viewers backed the decision to show the scenes, saying that Love Island is a "game show" and contestants know what they are letting themselves in for.
"The contestants didn't sign up for love, they signed up to win £50k and if that fails, the cheap fame and wealth that comes with being on Love Island."
Daniel Evans added: "Everyone's complaining to Ofcom about Love Island, I'm sorry but Dani Dyer is on a show notorious for throwing in surprises and people hooking up with other people and is on a game show.
"Sorry but even if the fella she found is a good guy, she knows what she signed up for."
Related Internet Links
The BBC is not responsible for the content of external sites.