Back to the Future shoe sells for nearly $100k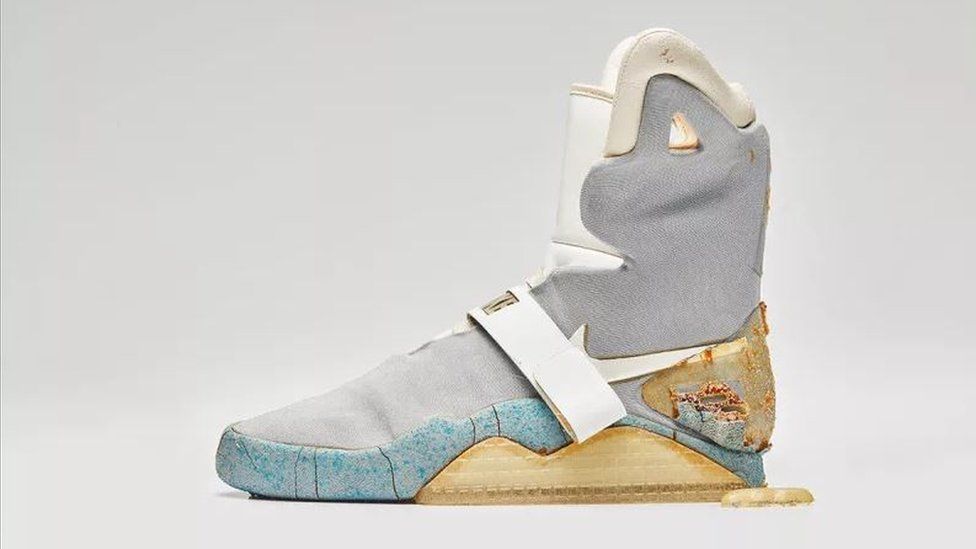 A disintegrating Nike trainer worn by Michael J Fox in the Back to the Future sequel has sold for $92,100 (£70,143).
The left shoe, made for Fox in his role as Marty McFly, is part of the film's pair of self-lacing Nike Air Mags.
The 1989 sequel sees McFly and Dr Emmett "Doc" Brown travel to a futuristic 2015, where shoes have 'power laces'.
The money raised will go to Fox's foundation for Parkinson's research.
Fox launched his Michael J Fox Foundation after being diagnosed with Parkinson's disease in 1991.
The trainer, originally part of a Nike employee's personal collection, was made available for pick up only from Portland, Oregon - as it is so fragile it's thought it would not withstand transportation via courier.
Despite its poor condition, the shoe received 220 eBay bids before its eventual sale.
Alongside its iconic power lace, the shoe features a blue-flecked foam sole, LED lights in the (crumbling) heel, and a glowing Nike logo on the strap.
In 2011, 1,500 pairs of the shoe were produced and commissioned for auction to benefit the foundation, but these did not have the power-lace capability.
The automatic lacing system patent was filed by Nike in July 2013.
Fox's foundation, established in 2000, has since become the largest non-profit funder of Parkinson's disease research in the world, investing more than $650m (£495m) in research to date.
In Parkinson's, the brain is progressively damaged and the cells that produce the hormone dopamine are lost.
It leads to a tremor, difficulty moving and eventually memory problems.
Therapies help manage symptoms by boosting dopamine levels.
Fox, 57, has returned to the screen in recent years, most notably starring as Louis Canning in The Good Wife.