Will Gompertz reviews the documentary about singer Whitney Houston ★★★☆☆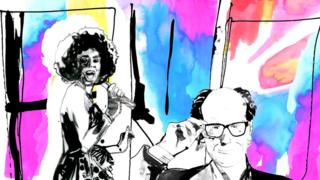 On 27 January 1991, Whitney Houston stood on a small stage in Tampa, Florida, waiting for her cue.
It was early evening. The pop superstar was wearing a baggy white tracksuit with a red stripe, a pair of Nike sneakers and a white headband. The outfit was the epitome of 1980s exercise-video chic.
In front of her was a single microphone on a stand: behind her, the Florida Orchestra. The occasion was Super Bowl XXV, Buffalo Bills versus the New York Giants. The stadium was packed. Tens of millions of television sets were tuned in across the USA.
"The Voice", as Houston had become known, was about to launch the sporting festivities by singing The Star-Spangled Banner.
Emotions were running high.
America was at war in the Gulf.
The country needed and wanted to be brought together, to unite behind its national anthem.
As gigs go, it was massive.
The sort of event one would imagine a performer rehearsing for all day, every day, for weeks if not months.
No doubt Whitney Houston would have done just that had Gareth Southgate been her manager.
He wasn't. Whitney Houston was managed by her father, who, as it happens, was also partial to a waistcoat, but was otherwise not - shall we say - cut from the same cloth as the current England football manager.
Mr Houston allowed his daughter to prepare as she pleased. And what pleased her was not to prepare. Even though she was about to try something she had never done before in front of an expectant nation.
At her request, Rickey Minor, her musical director between 1989-1999, changed the anthem's metre from a 3 /4 metre waltz, to a 4 /4. This was to give an extra beat for each measure to allow her the freedom to hold some notes longer so she could add some gospel soul to the militaristic number.
According to Minor, she listened to the music only once in his studio. Her eyes were closed and mouth shut.
"All right, I got it," she told him when the music finished.
And that was it. As Rickey Minor says in Kevin Macdonald's feature documentary Whitney, when Houston started to sing that evening in 1991: "What the world heard was her first take."
It was a good one.
She knocked it out of the park.
Her performance was one of the most memorable renditions of America's national anthem ever heard. It was not the apogee of her career - The Bodyguard and its associated megahit ballad I Will Always Love You was still a few years away - but it was certainly one of her career highpoints.
The Super Bowl episode is the highpoint of Macdonald's film, which, for the usually excellent Oscar-winning filmmaker, is a slightly disappointingly run-of-the-mill affair with a misjudged and overly censorious ending.
He gets full marks for access, though. The film is awash with rare archive footage, chatty family members, and a decent range of colleagues who were central characters in her story.
Some of the old video clips are a treat to see. We get to watch a very young, precocious Whitney leading the singing in her local church, and then - just a few years later - blowing the minds of the audience with her sensational first professional performance. It is all very watchable.
Macdonald has seamlessly knitted together domestic footage, contextualising archive news-reels, and his own down-the-barrel interviews with great expertise. The tone throughout has an understandably dark hue; we know the story doesn't end well: it is an inescapable fact, which therefore has to inform every facet of the portrait.
The problem with the film is it lacks an incisive editorial line to make it more than a bunch of well edited clips and talking heads telling us what we already know with added - and often extraneous - gossipy snippets (the singer liked sex, for example).
There is too much focus on Whitney the personality and not enough on Whitney the artist. It feels like a missed opportunity, particularly as the interrogation of her personal life leads to a series of dead ends.
Her ex-husband Bobby Brown refused to talk about what happened to precipitate her tragic descent into a living hell of drug addiction and professional self-destruction.
Her mother, Cissy, says next to nothing about anything, a taciturn approach also adopted by Clive Davis, the man who signed Whitney to his record label and had a front row seat in the spectacle that was her rise and fall.
There are also several no-shows of key protagonists. Robyn Crawford, the singer's great friend, companion, and long-time associate, is conspicuous by her absence. So is Dionne Warwick, the world famous cousin with whom Whitney sang, and whose sister Dee Dee, we are told, allegedly sexually abused her when she was a child. (Dee Dee Warwick died in 2008, and so can't respond to the claims.)
This is a revelation towards which the film builds as the mood darkens markedly in its second hour. Fine. But the way in which it is done is heavy-handed, the conclusions it appears to draw, simplistic.
And yet, as you will discover if you watch this film, there was absolutely nothing simple about Whitney Houston.